Preamble
A 1970s built fertilizer plant electrical switchgears, transformer to substation switchgear bus ducts, associated systems flashed often and shutdown the system. Thanks to redundancy, the crew isolated the affected section and transferred the loads to the healthy section.
NH3 plants are difficult to start after a crash shutdown. Fortunately provided steam turbines for the various NH3 plant's major compressors and their auxiliaries e.g. lube and seal oil pumps, boiler feed water pump feeding 3‑waste heat, and 2 fired boilers the poor electrical reliability did not affect the NH3 plant excessively. However, the urea and 3 NPK streams often shutdown affected the NH3 plant their main raw material provider.
The first maintenance manager (MM – an US cititzen), assigned the electrical reliability-increasing task to Indian Origin US citizen electrical consultant and the US shareholding Co switchgear expert.
His successor an Indian citizen of long experience and reputation assigned reputable high-tech engineering colleges to the task. All attributed plant emitted pollutants reducing the electrical insulation unacceptably low as the Root Cause – well-known fact to the plant personnel!
Hence, they recommended shifting the Electrical Load Centers (LCs) far away from the plants and substitute imported switchgears in place of the poor-quality indigenous switchgears. Unable to implement the longtime taking, nearly impossible and prohibitively expensive tasks, the plant lived with the near life-threatening safety hazards posing system, 10-15% production loss, and high maintenance costs for 3 years
The Plant Electrical Engineer, an electrical engineering graduate of long experience on taking over as the third MM deputized the Mechanical Engineering graduate author to handle the electrical problem in addition, to his duties as Instrument Engineer.
The author pointed out the 'stalwarts' failed attempts and his mechanical engineering qualification. However, the MM pointed out, "many including the US instrument engineer gave up many instrument problems; but you, using Root Cause Analysis (RCA) approach and perseverance solved all. 
Go ahead and try! All of us will support you." Thus, talked into, the author started with a vigorous prayer and succeeded thanks to the vigorous cooperation of all colleagues.
Root Cause Analysis (RCA)
The author attributes his problems solving success to the following:
Every one's cooperation
Root Cause Analysis supported by input from the problems-sufferers, instruction manual studies, comparing design and actual operating data, gathering knowhow from relevant literature, tech journals articles and advertisements especially on new products
In short 'avoiding the popular industry joke, "When all else fail read the instruction books"
Consider input from anyone. – no matter his/her qualification and hierarchical rank – thankfully and credit his / her contribution
The author learnt mere experience does not suffice, as mostly many have one-year experience repeated so many years by not solving problems by root cause analysis and living with it; it makes most persons complacent, leads to take the problems as a way of life and live with them, and prevents finding root cause analysis solutions. Experience combined with adequate job knowledge-based root cause analysis only can solve problems; not years and years of experience alone.
Good Luck to all plant problems solving troubleshooters. The free plant personnel from the drudgery of annoying repeat low-tech tasks, midnight, off days, and during vacation calls and the associated ill effects e.g. the inconvenience and family wrath from missed family times and functions.
Electrical Engineering Problems and Solutions
This root cause analysis (RCA) is from real-time scenarios that happened in industries during the tenure of two or three decades ago. These articles will help you to improve your troubleshooting skills and knowledge.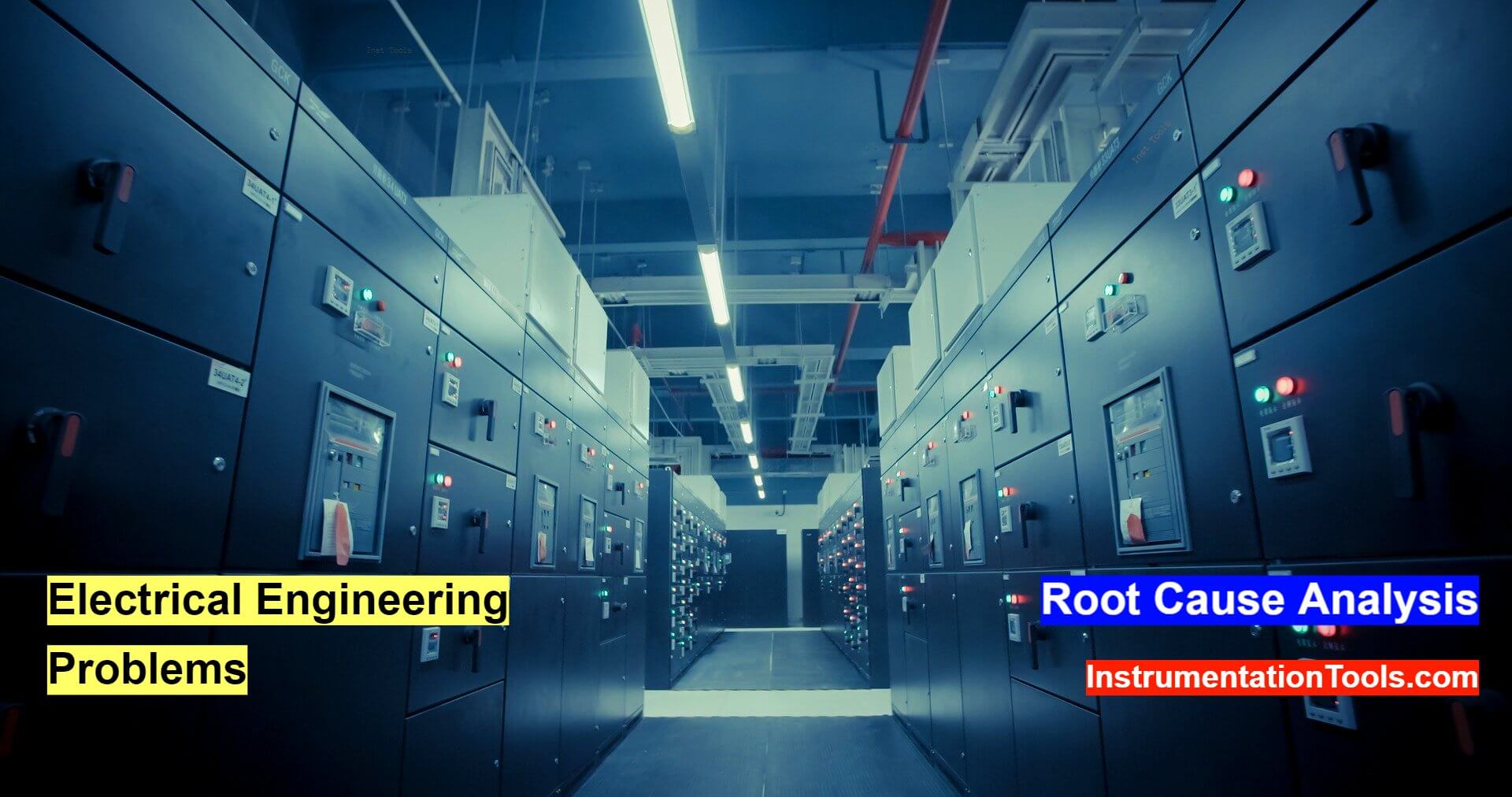 The below is the list of electrical solved problems.
| S.No. | Electrical Problems and Solutions | Article |
| --- | --- | --- |
| 1.   | Recurring Short Circuit Flash Overs Safety Hazards & Damages | Click Here |
| 2.   | Frequent Feeder-A Lightning Arrestor (LA) Bursts | Click Here |
| 3.   | Alternate 110 KV connection to Feeder F-A | Click Here |
| 4.   | Poorly built Switchgears – Damage of Breakers | Click Here |
| 5.   | Burst Transformer | Click Here |
| 6.   | Premature AFB failures – Arc Fault Breaker | Click Here |
| 7.   | Short AFB lives generally – Arc Fault Breaker | Click Here |
| 8.   | Replace Failed Motors quickly and easily | Click Here |
| 9.   | Pulverizers' Poor Availabilities | Click Here |
| 10.   | Aluminum Cable Terminations Repeat Failures | Click Here |
| 11.   | Plant Air Compressor Low availability | Click Here |
| 12.   | Critical High KW motor winding burnout threats  | Click Here |
| 13.   | Considered not possible HT motors' DOR Changed | Click Here |
| 14.   | Repaired HT Motors, shop run tested though no shop HT supply | Click Here |
| 15.   | Poor Power Factor boosted | Click Here |
| 16.   | Fasteners & General corrosion of Motors | Click Here |
| 17.   | Frequent Totally Enclosed Fan Cooled (TEFC) motors burnouts eliminated | Click Here |
| 18.   | Corrosion posed HT motors burnout threats | Click Here |
| 19.   | Plant illumination external corrosion | Click Here |
| 20.   | Weigh Feeders Variable Speed Drives | Click Here |
| 21.   | Cement kilns, Rotary Drum Driers Simplest Drive | Click Here |
| 22.   | Welding Machines Poor Availabilities  | Click Here |
| 23.   | Screen Vibrators  | Click Here |
| 24.   | 11 kV Bus A to B Phase Check | Click Here |
| 25.   | Miscellaneous Electrical Tasks | Click Here |
| 26.   | Misbehaving HT Motor disciplined | Click Here |
| 27.   | 110 KV Minimum Oil Circuit Breakers (MOCB); No Vendor Spares & Service threaten their sudden failure and indefinite outage | Click Here |
| 28.   | Poor Electrical Heating Element Lives | Click Here |
| 29. | 11 kV, 3.3 kV, and 400 V systems IR values made infinity forever | Click Here |
| 30. | Burst Transformers and 11 kV Input Breakers | Click Here |
| 31. | Transformers Coolers Problem | Click Here |
Also Read:
Author: S. Raghava Chari
Do you face any similar issues? Share with us through the below comments section.
If you liked this article, then please subscribe to our YouTube Channel for Instrumentation, Electrical, PLC, and SCADA video tutorials.
You can also follow us on Facebook and Twitter to receive daily updates.