Electrical engineering root cause analysis (RCA) related to aluminum cable terminations repeat failures.
| | |
| --- | --- |
| Article Type: | Root Cause Analysis (RCA) |
| Category: | Electrical |
| Equipment Type: | Bus ducts, Switchgear, Transformers, |
| Author: | S. Raghava Chari |
Note: This root cause analysis (RCA) is from real-time scenarios that happened in industries during the tenure of two or three decades ago. These articles will help you to improve your troubleshooting skills and knowledge.
Aluminum Cable Terminations Failures
Many failed Aluminum (Al) cable conductor's terminations particularly at electric motors during the seventies because of technology infancy posed pain in the neck problems to electrical crew and reduced production.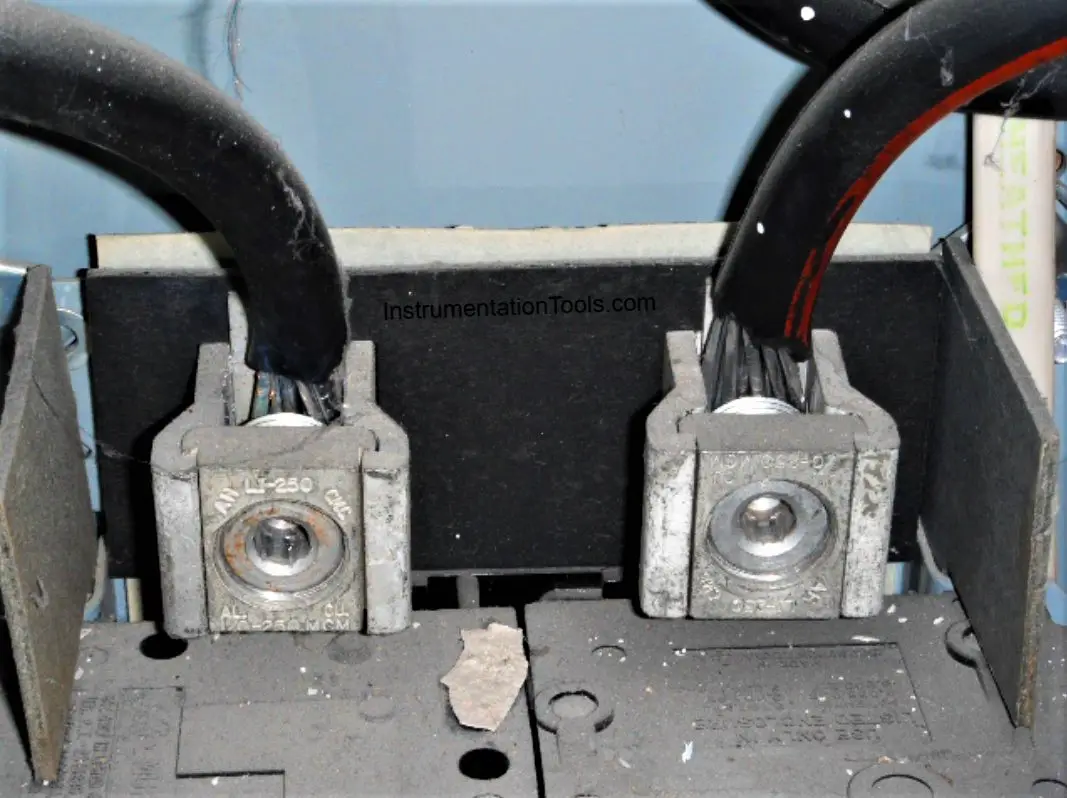 Authors Root Cause Analysis
Why problems with aluminum conductor terminations?
The motors' copper cable terminal boxes were too small for the much larger aluminum cables.  Hence, the field crew substituted homemade sheet steel with larger terminal blocks (TBs).
Unfortunately, these were not as water and dust-tight as the originals. High contact resistance terminations because of easily entered water vapors and pollutants corrosion worsened the knowhow lack done aluminum (Al) conductors terminations' already high contact resistances.
Consequent, hot terminals, charred insulation, and phase to phase and or phase to earth shorts, long motors restoration times reduced production and increased maintenance costs.
Solution
The authors below given RCA solution steps eliminated the problems forever:   
Install purchased from motor vendor large enough to accept aluminum (Al) cables IP 55 class external corrosion resistant cast iron TBs
Enter the cables via TB bottom screwed glands only. No top entry. Follow best gland practice to prevent dust and moisture entry
Internally delta-connect direct on line (DOL) start motor windings as 3‑terminalas motors, to eliminate field jumpers and their potential loose connections problems. The clutter free and roomy TB helps easy Al cable connections. Specify internal delta connection in new motor orders / rewinding orders.
Strictly supervise and ensure crew sticking to the below given Al lead termination procedure till they imbibe as a habit:
Terminate even aluminum (Al) leads on tinned copper lugs only
Stock required sizes no stud hole copper (Cu) lug only
Drill stud hole of dia 1 mm more than stud dia
Emery clean each lead strand and smear oxidation inhibiting compound immediately. Bunch the emery cleaned and compound smeared strands, immediately insert into Cu lug and specified pressure crimp it.
Lug the other conductors also like wise
The aluminum (Al) cable lasts as good as the former copper cables
Author: S. Raghava Chari
Do you face any similar issues? Share with us through the below comments section.
If you liked this article, then please subscribe to our YouTube Channel for Instrumentation, Electrical, PLC, and SCADA video tutorials.
You can also follow us on Facebook and Twitter to receive daily updates.
Read Next: