Root Cause Analysis (RCA): Too poor antifriction bearings lives caused machine changeovers posed upsets / outages.
| | |
| --- | --- |
| Article Type: | Root Cause Analysis (RCA) |
| Category: | Mechanical |
| Equipment Type: | Miscellaneous Rotating Machine Problems |
| Author: | S. Raghava Chari |
Note: This root cause analysis (RCA) is from real-time scenarios that happened in industries during the tenure of two or three decades ago. These articles will help you to improve your troubleshooting skills and knowledge.
Antifriction Bearings Caused Machine Changeovers
An always running turbine driven 800 KW 3000 RPM BFWP and its rarely run motor driven auto-start standby feeds 5 Nos. boilers-hence highly critical as waste heat boilers shutdown is not easy in case of failed boiler feed water (BFW) supplies
Yellow zone shock pulse meter readings within two months service and consequent motor driven a daylong run and the external very unreliable power supply threatened the entire fertilizer plant shutdown (SD) for long periods.
Boiler
P
SPR
Process Waste Heat Boiler E-101
40
100
 
Process Waste Heat Boiler G-101
40
100
Process Waste Heat Boiler E-104
10
100
 
2 Nos. oil fired boilers
40
50
 
Total 5 Nos.
 
 
 
P-pressure kg/Cm2; SPR-Steam Production Rate T/H
Author RCA solution
The author, read to the maintenance group from bearing vendors catalogs, "Designers select AFBs of 50,000 hours (≈6.5 years) service lives for 24×365 service machines, and even 200,000 hours (≈27 years) service lives for 24×365 highly critical machines e.g.
Boiler Feed Water Pumps (BFWP). He exhorted the 'experts' to Root Cause Analyze the problems and take steps to realize at least 50% of possible lives.
The 'experts' accustomed to 10‑yearlong frequent AFB changes and of spurious bearings mindset ridiculed the author behind his back as impractical theoretician. In the absence of response, the author Root Cause analyzed the critical BFWP poor AFB lives:
The pump manual specifies New Departure Co USA L1A suffix AFB. The 'experts' said suffix numbers are unimportant and equivalent basic number SKF AFBs they substitute are sufficient.
The author read to the group from bearing catalogs that suffix numbers too are important as they specify the selected bearing's special features to meet specific operational requirements!
Local SKF office forwarded to the author SKF Sweden office advice: ND L1A suffix means C3 clearance – higher than normal clearance – and nylon cage AFBs because of the two reasons given below:
110oC BFW wetting the rotor and 3000 RPM friction heat expand the AFB inner race appreciably and reduce the designed in clearance. Hence, the pump manufacturer specifies higher than normal clearance bearings, which attain near design clearances at operating temperatures
The combined effects of hot water heat soak and friction heat generation at the high rpms increase the bearing temperatures; to give some relief they minimize friction heat generation by providing nylon cages. No wonder, normal bearings lacking these features run too hot and fail quickly. 
RCA Benefits
Implemented RCA solution benefits are:
The C3 clearance Nylon cage bearings last and last
Consequent benefits are
Far fewer pump changeovers and hence vanished plant upset risks
Gone are the long motor driven BFW pump runs risks, what with the sudden power failures and voltage dips prone purchased power
More on RCA
Delving further the author found the following:
The original AFB shock pulse meter readings were in green region i.e. healthy, even after 18 months run
It failed because; someone accidentally broke the tubular level gauge (LG) and oil drained out of the bearing housing.
Fortunately, the crew realizing this substituted bottle type level indicator (BLG). It offers better visibility, and no oil drain out even if the bottle breaks as ¼" steel pipes from bearing housing hold the bottle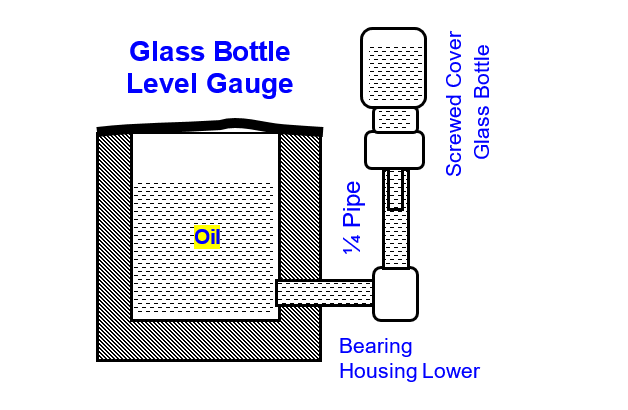 Primary Reformer FD fan
The primary reformer a critical process's 750 RPM FD fans grease lubricated AFBs too lasted 6 Months only. Changing to oil lube increased the lives to 9-Months.
Fit up and alignment errors were absent. Hence, the author concluding selected bearings insufficient load capacity, substituted a cylindrical roller bearing of 4 times the dynamic loading capacity modifying the pedestals to accept the new plummer blocks. The bearings lasted and lasted
Benefits of the modification
Benefits of the modification are:
The process adjustments for 50% plant load when one FD fan only runs posed total plant shutdown risks gone
Everyone welcomed smooth reformer runs
The increased production and safety paid back the modification costs in a day
Instrument air Dryer Blower
This 4600 RPM 20 kW machine runs for 2 hours in every 8-hr shift. Tired of the few days AFB lives the plant engineer retired the machine, and hose connected plant air supply for instrument air dryer alumina gel drying.
The author came to know of this unauthorized modification. He studied and found bearing fit up and other problems are absent. He substituted 4 times higher dynamic load capacity bearings with necessary pedestal changes. The problems vanished
Modifications Benefits
Throttling 7 kg air to the 0.05 Kg required for the instrument air drying is highly energy wasteful. Remember bulk of compression energy gets rejected to the jacket cooling and intercooler waters
Frequent disturbances in plant air supply upset other users especially the painting contactors sandblast surface preparation. The enormous air bills paid to the painting contractors vanished
Author: S. Raghava Chari
Do you face any similar issues? Share with us through the below comments section.
If you liked this article, then please subscribe to our YouTube Channel for Instrumentation, Electrical, PLC, and SCADA video tutorials.
You can also follow us on Facebook and Twitter to receive daily updates.
Read Next: