Home-made Rotary Drier Shell to Split Gear drive eliminates too frequent drive failures.
| | |
| --- | --- |
| Article Type: | Root Cause Analysis (RCA) |
| Category: | Mechanical |
| Equipment Type: | Pipelines and Miscellaneous Problems |
| Author: | S. Raghava Chari |
Note: This root cause analysis (RCA) is from real-time scenarios that happened in industries during the tenure of two or three decades ago. These articles will help you to improve your troubleshooting skills and knowledge.
Problem
The manufacturer provided S-links welded to the girth gear rim and shell OD to couple the drier shell to the girth gear broke often posed excessive maintenance down reduced the plant availabilities  by as much as 30% and increased the maintenance expenses to unreasonable extent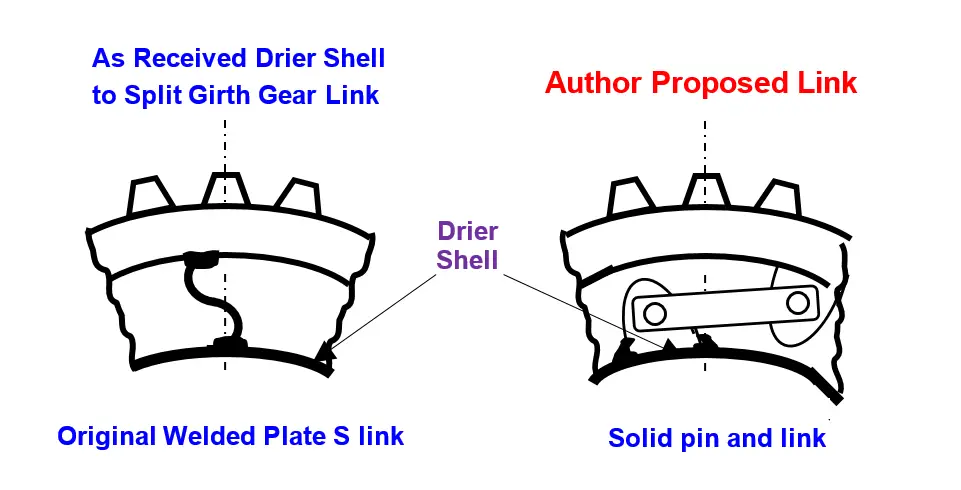 Solution
The author suggested the right-figure shown solid coupling not subjected to flexing stresses.
Plant design section designed the system, the workshop made it and the field crew positioned the components and welded them to the shell and girth gear. 
The system became so trouble free that the operations manager sanctioned as much overtime as necessary to implement the system for the other two driers to ASAP.
Author: S. Raghava Chari
Do you face any similar issues? Share with us through the below comments section.
If you liked this article, then please subscribe to our YouTube Channel for Instrumentation, Electrical, PLC, and SCADA video tutorials.
You can also follow us on Facebook and Twitter to receive daily updates.
Read Next: