In general, spares in the control system (PLC or DCS) are defined as consumable spares, commissioning spares, installed spares, 2 years operational spares, and mandatory spares.
Control System Spares
Consumable spares and commissioning spares
Consumable spares and commissioning spares are normally recommended by the system vendor supplier.
These spares are meant to be consumed before the system is fully operational and these are required to avoid using any of the recommended operational spares. These spares are ordered along with main items.
For instance, Fuses, terminals, relays, printer cartridges, A3/A4 papers, and so on.
Installed spares
Installed spares as the name indicate, are installed within the control system. These spares are utilized when there is the failure of a component within the system so by using installed spare; the system is operational without any downtime.
The requirement of installed spare shall be defined as part of the project scope. Assume if one channel from 16 channel I/O card is not working then it is reconfigured with an installed spare within that I/O module.
Wired spares (as part of installed spare) are a ready-to-operate condition when field cable is connected to spare assigned terminals. Installed spares serve the purpose of replacement and/or future expansion/modification of the system.
Therefore, it has a significant role in overall control system design and its capacity.
2 Years Operational Spares
2 Years operational spares are essential for the continual operation of the control system. This set of spare includes small items (fuses, relays) to large items (Controllers, servers). The scope of supply of these spares depends upon the project scope.
However, a list of recommendations can be provided by the control system vendor. These spare parts are in form of loose supply and not installed into the system.
On contrary, few spares take longer delivery time, hence, it is beneficial to have them in the warehouse to ensure the continual operation of the plant.
Mandatory Spares
Once in a while, the mandatory spares are described as a part of the project scope. These are also loose spares like 2 Years operational spares and can be used in a lieu of 2 years operational spares.
These spares are used for the substitution of failed components or can also be used for future expansion.
Predominantly, spare space is also considered within the control system to ensure future capacity expansion.
Spare Requirement
It is paramount to understand the spare requirement defined in projects.
20% installed, wired, and fully functional I/O for all types(including Field Termination Arrays or equivalent)
Spares in I/O modules are not necessarily identical as spares required in mutlipair/ or multi core cable.
Spare pairs of the incoming cables should be terminated on spare terminals in the marshalling cabinets.
Since I/O Module is specified as wired, it means that wiring up to I/O module is also needed along with associated accessories.
These spares are required for each type of I/O channels; these shall be fully wired from the terminal block, relay, fuses, barriers, etc. This is a paradigm of installed spare.
For instance, if you have analog input as 2 wire, 3 wire, 4 wire, analog interface with MCC, IS type, Non IS type then you should have all these I/O as spare for each type. Analog input channels with different I/O adaptor should also be considered as different I/O type.
Also, this spare should be dedicated to each type of system (e.g. DCS, ESD, and F&G). Each system should have evenly distributed spare I/Os. It is worthless to provide 30% Spares in DCS and 10% spares in ESD and 20% in the F&G system.
These spares are required as cumulative, not as per individual location/cabinet wise. Suppose your control system is spread over various locations within the plant (Remote I/O panels), then in each location, you may not need to meet 20%. However, as a total, you should meet the requirement.
Since installed spare I/Os are wired up to I/O modules, processor loading should be inclusive of installed spares then processor spare capacity should be calculated. This is grey area for many. Hence, this shall be mutually agreed upon.
Spare Space in the cabinet: Minimum 20% free space.
20% spare capacity in trunk/duct after cabling and wiring has been installed
Even if the installed spares are installed within the cabinet, 20% free space is also necessitated to install components like I/O modules, Terminals, barriers, or even controllers for future capacity expansion. Hence, the associated cable duct should also have some spare space for wiring.
Spares Calculation
Additional examples of installed spares are as follows
Cable gland plate: 20% spare space in cable gland plate of the cabinet
Fibre Optic: 100% spare fibers in fiber optic cable
Power supply: 25% spare capacity after completion of SAT
System memory (RAM): 50% spare capacity in each workstation/server
Storage capacity: 50% spare capacity in each workstation/server after completion of SAT
Software license: 50% spare capacity in each workstation/server
Controller /processor loading: 40% spare capacity after completion of SAT
Network loading: 40% spare capacity after completion of SAT
Understanding of Spare Parts and Spare Space
Sometimes, it is pivotal to have a clear mutual understanding of spare parts and spare space when there are ambiguous requirements specified.
Location-wise or cabinet wise spare I/Os or terminals requirement.
When you have universal or configurable I/O types then spare I/O types requirement can be optimized and overall spare requirement can be mutually agreed upon as part of the contract.
Spare space should be altogether considered in each type of cabinet. It has no meaning to provide one spare cabinet and fully load the other cabinets.
It is essential to consider spare accessories like a relay, barriers/isolators, adaptors, fuse along with each type of I/Os especially when spare accessories are not specified in the project specification.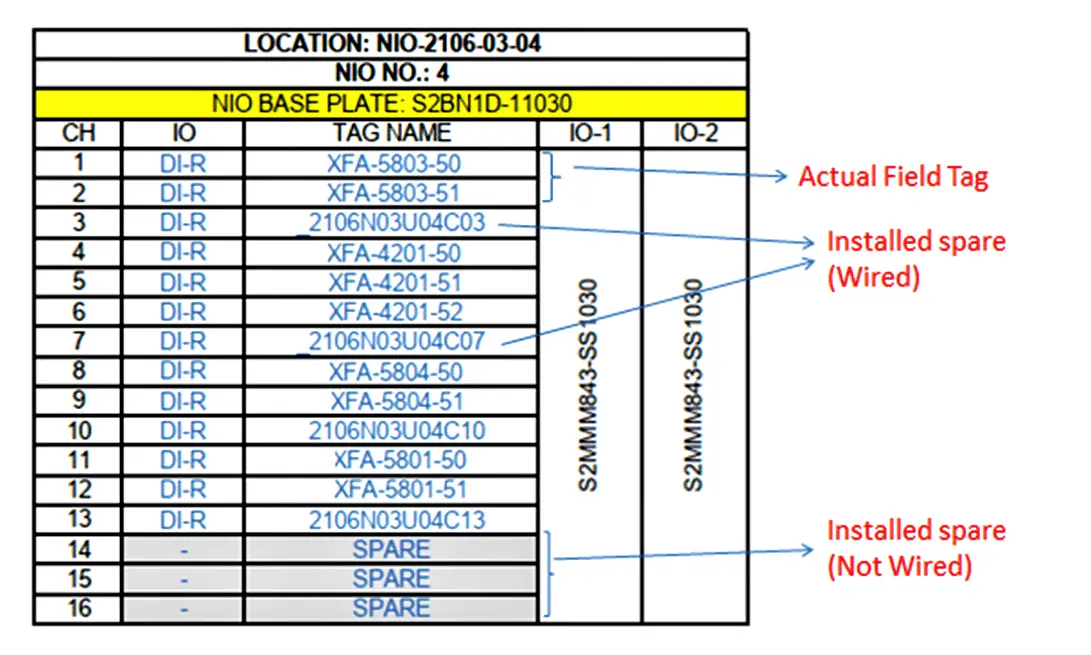 It is more appropriate to ask in case of unclear requirements as it will have an impact on overall control system design and related deliverables such as
I/O assignment,
Cabinet GA Diagram,
Bill of Materials, etc.
Author: Jatin Katrodiya
If you liked this article, then please subscribe to our YouTube Channel for PLC and SCADA video tutorials.
You can also follow us on Facebook and Twitter to receive daily updates.
Read Next: