Electrical engineering root cause analysis (RCA) related to cement kilns, rotary drum driers simplest electrical drive.
| | |
| --- | --- |
| Article Type: | Root Cause Analysis (RCA) |
| Category: | Electrical |
| Equipment Type: | Cement Plant |
| Author: | S. Raghava Chari |
Note: This root cause analysis (RCA) is from real-time scenarios that happened in industries during the tenure of two or three decades ago. These articles will help you to improve your troubleshooting skills and knowledge.
Cement Plant Rotary Kiln Electrical Drive
Another ideal Design out Maintenance system is a Saudi Arabian cement plant rotary kiln entirely electric drive is (below figure).
Gone are the gearbox, open meshing gears, their lubrication, hazard-prone lube spills, and the pain in the neck links coupling the large split girth gear to the shell'.
The new drive (below figure) is unbelievably simple and maintenance-free! Its description follows: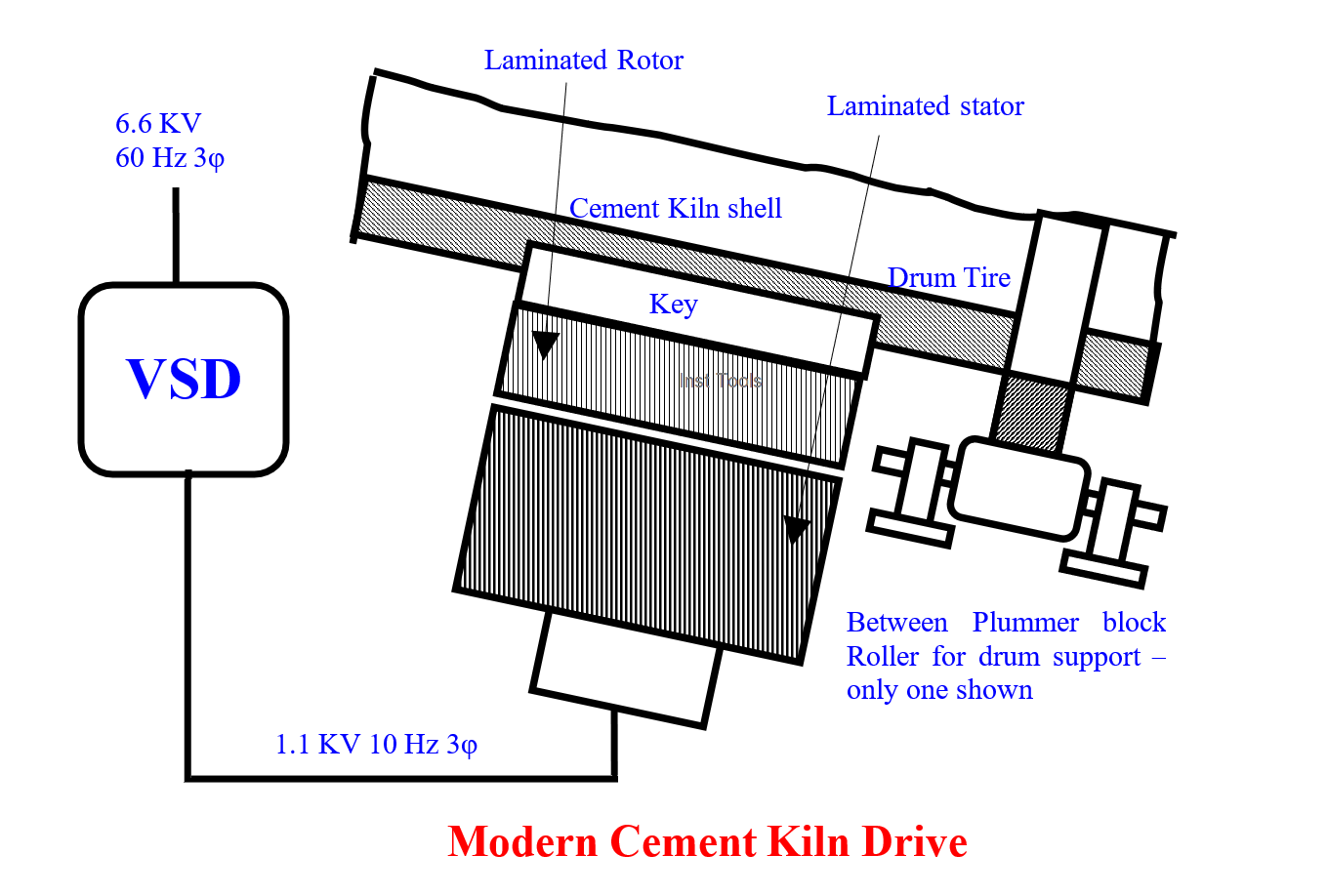 The kiln shell has the silicon steel rotor laminations keyed to it. Thus, the shell doubles as a rotor also. Windings concentric to the rotor laminations constitute the '120‑pole induction motor stator.  The shell and stator windings thus constitute an induction motor!
Powered by a VFD accepting 6.6 KV 60 Hz 3 φ AC and set to output 10 Hz 3 φ AC, the  'motor rotor' i.e. the kiln rotates at 10 RPM!  Look how simplified and maintenance-free the drive has become – Indeed a magnificent 'design out maintenance' example! 
The author recommends all Rotary Kiln, Rotary Drum Dryer, and Rotary Granulator users to check the retrofit modern drive feasibility and derives the benefits the Saudi Cement Plant enjoys.
Author: S. Raghava Chari
Do you face any similar issues? Share with us through the below comments section.
If you liked this article, then please subscribe to our YouTube Channel for Instrumentation, Electrical, PLC, and SCADA video tutorials.
You can also follow us on Facebook and Twitter to receive daily updates.
Read Next: