Root Cause Analysis (RCA): Poorly engineered, built & often failing plant Air Comp drives made 100% reliable very economically.
| | |
| --- | --- |
| Article Type: | Root Cause Analysis (RCA) |
| Category: | Mechanical |
| Equipment Type: | Miscellaneous Rotating Machine Problems |
| Author: | S. Raghava Chari |
Note: This root cause analysis (RCA) is from real-time scenarios that happened in industries during the tenure of one or two decades ago. These articles will help you to improve your troubleshooting skills and knowledge.
Failing Plant Air Compressor Drives
The author was aware of the mechanical crew struggling with the jackshaft drive coupled to the plant air compressor when he was Instrument Engineer.
On assuming the position of Instrument, Electrical & workshop Root Cause Analyzed and learned the following:
1. Two additional plant air compressors were necessary because:
The 70s plant lacking adequate emission control provisions suffered extensive external corrosion
Painting contractors charged exorbitantly for sand blast surface cleaning air
The MD pressed meeting the corporate goal keep the plant young"
Hence two plant air compressors were necessary
2. Budget constraints permitted buying compressors only
3. Undaunted the maintenance manager though an electrical engineer overlooked the poor efficiency and consequent exorbitant electricity bills used two Nos. surplus 3.3 kV 450 kW 1500 RPM Journal Bearing Motors and jackshaft coupled them to the 250 Kw compressors (fig 1) as JB motors unsuit pulley on motor belt drives (fig 2).
4. The mechanical crew who completed the installation could not provide the very essential belt tensioning device to move the motor as necessary to get correct belt tension – the essential for long belt lives
5. In addition, because of the shop made motor & between plummer block jackshaft mounting base and other poor workmanship all over the motor to jackshaft alignment drifted often and damaged the motor bearings
6. The too often motor bearings and belts changes and the long time necessary for belt change and jackshaft to motor alignment reduced the drive availability to 50%.
7. The compressors deficiencies worsened the situation
8. Hence the much-needed plant air compressors' availabilities were around 30% only. Hence the sandblast air costs paid to the contractors did not reduce significantly.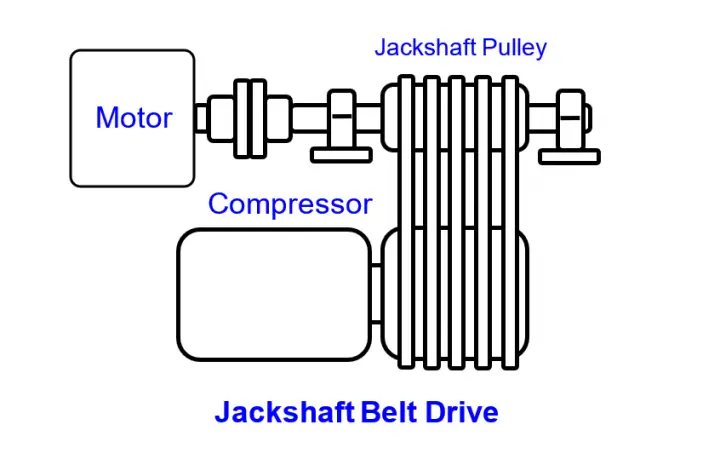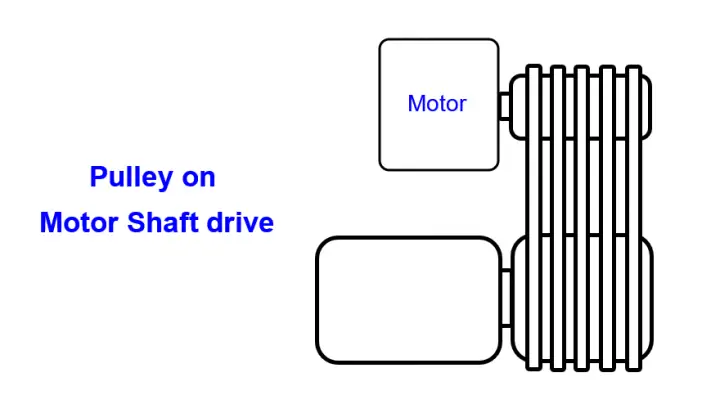 Author Solution
The author reviewed the serving HT motors and implemented the below-given solutions:
He found the three Nos. 300 kW AFB motors tire coupled to fans overload trip on most starts and reduced NPK plants availabilities
He tire-coupled two of these to the compressors for pulley on motor shaft drives (fig 2)
Found a way to change the 600 HP motor DOR change. This enabled. tire-coupling the two released from plant air compressor 600 HP motors + 1 out of the two Nos. warehouse surplus to the fans
Modified the electrical protection to suit both applications
Motor Shift Savings
Below given are motor shifts savings:
Motor Shift Savings
Motor
450 KW
Motor
300 KW
Efficiency at 250 kW load
0.85
0.94
Yearly Power cost = 8000*250*5/E
11764706
10638298
150 belt set change / yr @ 200 /set for 450 kW motor and 2 for 300 kW motor
30000.00
400.00
Crew overtime
100000.00
20000.00
Other miscellaneous costs
50000.00
10000.00
Yearly Ownership costs
11944705.88
10668697.87
Yearly savings from motor shifts Say 1.28 million
1276008.01
 
RCA Solution Benefits
RCA Solution Benefits are"
Compressors drives availabilities reached near 100%
Yearly savings were around Rs 2 million. Purchasing the vendor offered motor and compressor package at Rs 250000 would have been paid for in 1½-2 months. Unfortunately, all overlooked this. 
The optimally loaded 600 HP motors' reliable fan runs increase NPK production 5% – another enormous savings.
Savings while buying rotable spares for periodic reconditioning and replacements after 3 reconditioning.
Author: S. Raghava Chari
Do you face any similar issues? Share with us through the below comments section.
If you liked this article, then please subscribe to our YouTube Channel for Instrumentation, Electrical, PLC, and SCADA video tutorials.
You can also follow us on Facebook and Twitter to receive daily updates.
Read Next: