Root Cause Analysis (RCA): Transformers Coolers Weld Joints Oil Oozes Were Eye Sores.
Note: This root cause analysis (RCA) is from real-time scenarios that happened in industries during the tenure of one or two decades ago. These articles will help you to improve your troubleshooting skills and knowledge.
Transformers Coolers Problem
All transformers come with thin-walled tubes oil coolers.  All transformers, oil coolers' welded joints ooze and dust accumulation there were eye sores.
They attracted inspecting government electrical inspectors' adverse comments during the previous 5 years' annual inspections.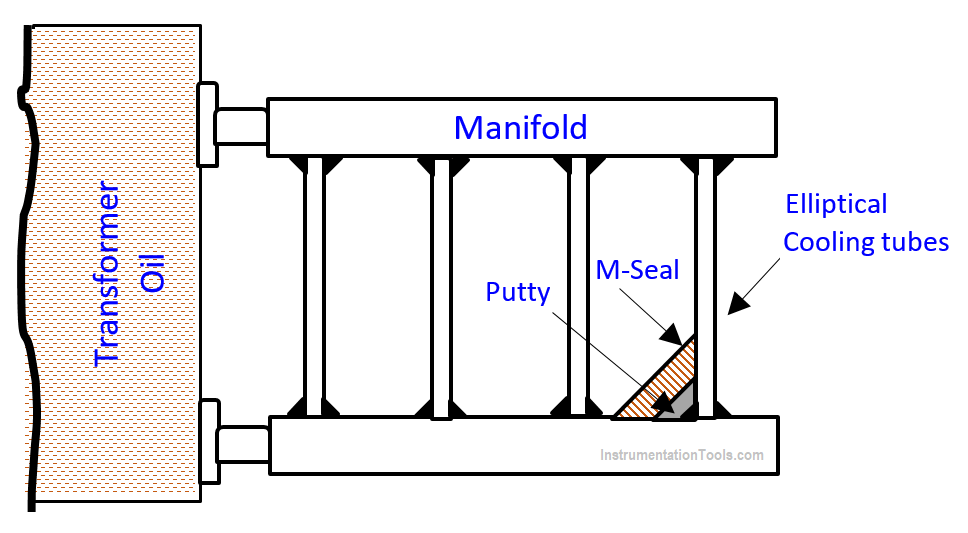 RCA solution
Obviously, the RC is factory-done manifolds to elliptical tubes poor welds (above figure). The M-seal application did not stop leaks, as it sticks to clean surfaces only.
Site repairs involve transformer draining, storing the oil in clean drums, weld the leaks, oil refill, and hot re-circulation – all tedious and error-prone tasks.
In addition, even factory welds ooze! Hence, plant or local repair shops welders used to thick metal welding can do no better.
The author mulled over this for several weeks and hit on the following repair tech:
Buy a 200 g wall putty tin
Wipe the oil ooze and dust; apply the putty around the leaks and build it to around 6 mm. The putty sticks on to even oil wetted surfaces and stops oil ooze. But could easily crack in the outdoors and oil ooze may recur
Let the putty dry for a week or even 10 days;
Now clean the adjacent metal well and apply M-seal over the putty and the cleaned metal 10 mm thick. Job is complete. The M-seal is the putty weather protection. The above figure shows the joint exaggerated
Success
The trial first three transformers never oozed again rain or shine the first year! The encouraged crew stopped all transformers' the oil leaks, this way. Visiting electrical inspectors adverse comments vanished.
Author: S. Raghava Chari
Do you face any similar issues? Share with us through the below comments section.
If you liked this article, then please subscribe to our YouTube Channel for Instrumentation, Electrical, PLC, and SCADA video tutorials.
You can also follow us on Facebook and Twitter to receive daily updates.
Read Next: