Specialist repair shops only can handle, long handing to them time and their quoted very long repair times, very thin walled finned heat leaks stopped innovatively in-house to complete committed orders.
| | |
| --- | --- |
| Article Type: | Root Cause Analysis (RCA) |
| Category: | Mechanical |
| Equipment Type: | Pipelines and Miscellaneous Problems |
| Author: | S. Raghava Chari |
Note: This root cause analysis (RCA) is from real-time scenarios that happened in industries during the tenure of two or three decades ago. These articles will help you to improve your troubleshooting skills and knowledge.
Finned Tube Steam Leaks
The 2500x1000x1000 mm huge fertilizers drying air heating finned tube air heater (FH) is akin to '50 Nos. car radiators package. 3.5 bar steam passing through tube bores raises the fan blown large volume air over tube fins to 80 to 85o C.
The hot air dries the conveyor belt conveyed phosphate fertilizers. Finned tube steam leaks rendered drying ineffective within 3 months of use.
Delivering the hard won against stiff international competition first NPK order demanded FH rush repair to avoid huge financial and image loss.
Repair Constraints
The below listed constraints made this also difficult, unresolvable, despairing problem (DDUDP)!
Thin walled finned tube repair is a never done job for the heavy equipment maintenance crew
Leaks identifying and weld repairing the thin walled tubing of several layers' depth is a specialist vendor job
The rented hired crane needed for lowering the heater from 10-m elevation out of the building was not immediately available
The cramped location posed serious crane positioning problems.
Author innovative idea saves the day
He stopped the leaks in-situ thus:
Crew ¾" hose connected a rush purchased 1 KW mono-block centrifugal pump suction to the FH condensate outlet flange (below figure)
They arranged 3.5 bar heating steam and condensate circulation connections (below figure)
They condensate filled the FH
Started condensate circulation by switching the pump on
Held the circulation condensate at 80o C and prevented condensate overflow by manipulating the steam and condensate inlet valves
Carefully fed 'Radiator Leak Sealant Powder' 50 Nos. of one-Kg packets into the FH
Maintained hot circulation for 8-hrs to let the sealing powder particles fill the leak paths and cure there
topped heating and circulation; let the condensate cool to room temperature; this cures the sealing compound and firmly seal the leak paths.
Drained the FH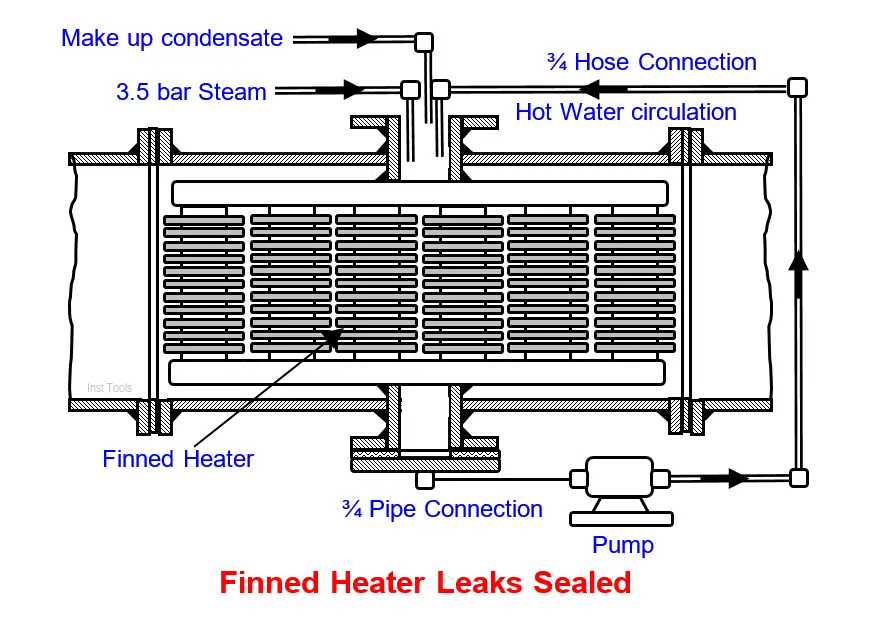 Why 50 Kg one Kg sealant Pockets
According to the sealant powder container printed information, 1-kg sealant powder 8-hour hot water circulation capillary action and surface tension attract the powder into the crevices and seal the pores and other leak paths effectively.
Gradual cooling to room temperature increases he seal strength. The author estimated the FH to be 50 car-radiators. Hence, the 50 pockets dumped into the FH filled condensate. It worked!
DDUDP solving Benefits
DDUDP solving benefits are:
Solving the formidable and nearly impossible problem timely, inexpensively and effectively enabled meeting the first export order and established the company image as a reliable NPK exporter also
All these achieved without tough tasks like wall demolition, crane lowering the finned heater, finding a capable repair shop – all time and huge expenses involving tasks
Hence, the company would have failed the first export order not only loosing financially and image also
Found out a way to handle thin walled finned heater future leaks too
Author: S. Raghava Chari
Do you face any similar issues? Share with us through the below comments section.
If you liked this article, then please subscribe to our YouTube Channel for Instrumentation, Electrical, PLC, and SCADA video tutorials.
You can also follow us on Facebook and Twitter to receive daily updates.
Read Next: