Root Cause Analysis (RCA): Seawater pipeline spools from day-1 leaks threaten NH3 plant indefinite shutdown.
| | |
| --- | --- |
| Article Type: | Root Cause Analysis (RCA) |
| Category: | Mechanical |
| Equipment Type: | Pipelines and Miscellaneous Problems |
| Author: | S. Raghava Chari |
Note: This root cause analysis (RCA) is from real-time scenarios that happened in industries during the tenure of two or three decades ago. These articles will help you to improve your troubleshooting skills and knowledge.
RCA Queries and answers
Why do the final spools only leak and not the rest of the seawater pipelines?
The spools that came from Japan did not fit due to excessive axial and lateral offsets between the surface condenser nozzles and the concrete floor buried pipes vertical legs connected to the nozzles.
Hence, the erectors bolted the cut flanges from the spools to condenser flanges, adapted the pipes to match the flanges, and welded these in-situ.
Then they removed the damaged lining and rush epoxy-coated the bores to meet the start-up deadline. Perhaps the rushly done epoxy coatings are inadequate. Hence, the spools only leak!
Seawater Pipeline Spools Leaks Problem
CLs' severe lateral and axial misalignments mentioned above, precludes spools prefabrication, lining, and replacing finished spools at convenient schedules.
A week of constant thinking flashed an answer to the author He stopped the 3.5 bar pressure seawater 6-10 dia jets by driving wooden taper plugs epoxy sealed them.
Then welded longitudinally split two halves of the next larger sized pipe as a jacket (below fig). Molten asphalt fill in the annular space serves as an in‑situ jacket bore seawater corrosion even in case the entire original pipe corrodes away.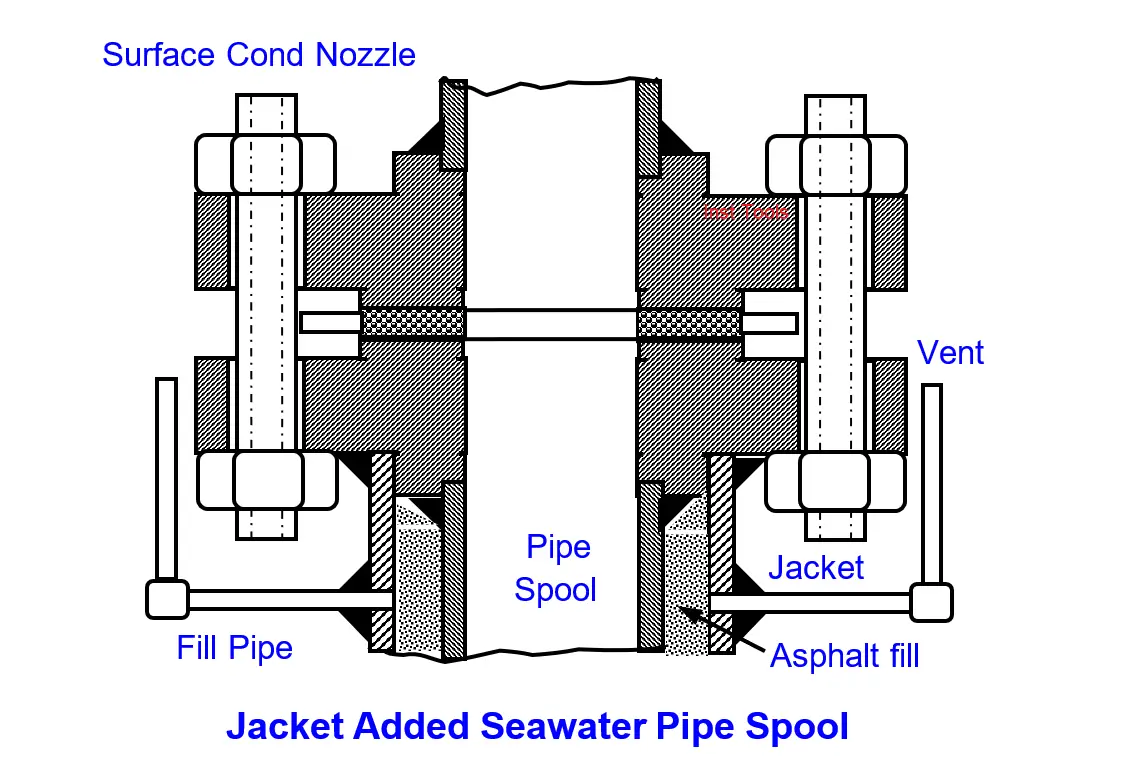 Crew jacketed the entire 42 Nos. of spools working general shift hours only.
Non-amenability to prefabrication made spools replacement impractical during the plant's 15‑day turnaround (TA) 30-months hence.
Again, another innovation – cement lining the spools solved the problem; with two bonus benefits viz. low costs, and stronger adherence to even corroded rough surfaces. Rubber or other linings require new spools of sandblast cleaned smooth surfaces.
The innovative solution benefits
Below listed are the innovative solution benefits
It averted rush total unplanned shutdowns from potential heavy spool leaks effectively, safely and inexpensively
Cement lined spools last forever
The debuting company met the export orders in time and earned a good name as a reliable ammonia supplier and a decent profit too.  The cement-lined spools were performing well when the author retired from the plant several years hence.
Author: S. Raghava Chari
Do you face any similar issues? Share with us through the below comments section.
If you liked this article, then please subscribe to our YouTube Channel for Instrumentation, Electrical, PLC, and SCADA video tutorials.
You can also follow us on Facebook and Twitter to receive daily updates.
Read Next: