Root Cause Analysis (RCA) related to the Condensate Pump Frequent Wrecks Threatens Long Plant Outages.
| | |
| --- | --- |
| Article Type: | Root Cause Analysis (RCA) |
| Category: | Mechanical |
| Equipment Type: | Miscellaneous Rotating Machine Problems |
| Author: | S. Raghava Chari |
Note: This root cause analysis (RCA) is from real-time scenarios that happened in industries during the tenure of two or three decades ago. These articles will help you to improve your troubleshooting skills and knowledge.
Problem
Several large steam turbines condensers condensate collects into two buried tanks. The tanks to 20% is above ground (below figure).
Tank 1 has top mounted turbine driven submerged pump and tank 2 motor driven same standby pump.
During many pump changeovers many pumps' carbon bushes supporting the long shaft coupling to the drive failed. At nearly all spares used up condition the belabored engineer sought the author's SOS help.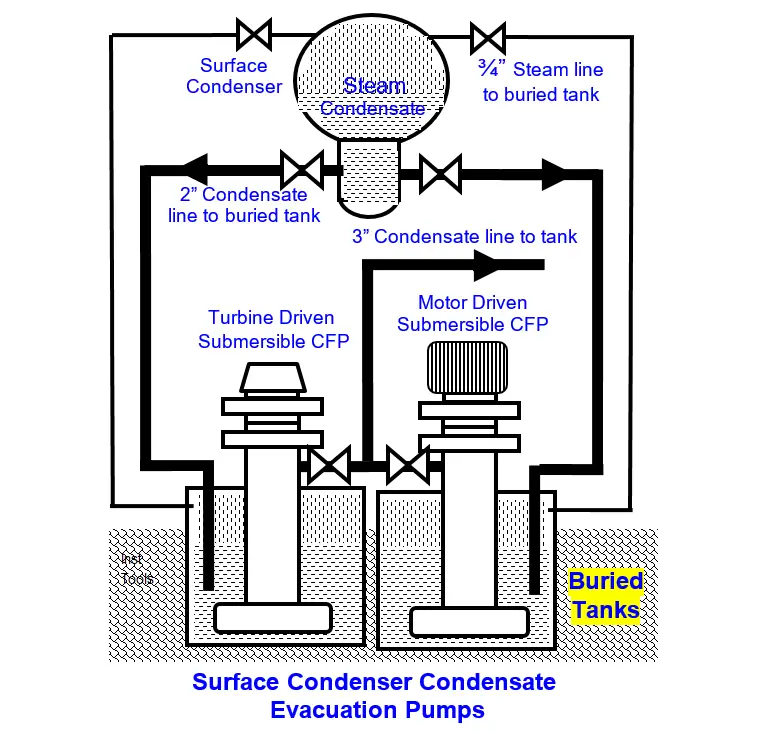 Author Solution
The root cause analyzing witnessed a pump changeover: Operators opened the 3" waterside valve (above figure) to fill the condensate collection tank. They were about to push the motor start PB.
 Hold, shouted the author and asked, "Have you opened the steam side valve?" The perplexed operator grinned and said, "Steam side valve, Sir, no supervisor told me to open it".
The author called the operations engineer and he too was ignorant of the steam side valve. The author explained, "the condenser is under high vacuum. Hence, unless the pit tank top is open to the same vacuum water cannot flow into the tank.
Hence, you must open both the ¾" steam side and the 3" water valves and wait for 5 minutes to be sure of enough condensate collection to submerge the pump. So far you have been wrecking pumps because of dry running!"              
The sheepish operator opened the steam side valve also, waited 5-minutes and then changed over to the motor driven pump safely. Thus, the author prevented another wreck and all future wrecks!
By a memo, the author requested the operations manager to revise the pump start up procedure and to hold classes for all operators, and shift engineers in Arabic.
Author: S. Raghava Chari
Do you face any similar issues? Share with us through the below comments section.
If you liked this article, then please subscribe to our YouTube Channel for Instrumentation, Electrical, PLC, and SCADA video tutorials.
You can also follow us on Facebook and Twitter to receive daily updates.
Read Next: