Root Cause Analysis (RCA): 450 KW 1500 RPM plant fan motor frequent Journal Bearing failures posed plant outages.
| | |
| --- | --- |
| Article Type: | Root Cause Analysis (RCA) |
| Category: | Mechanical |
| Equipment Type: | Miscellaneous Rotating Machine Problems |
| Author: | S. Raghava Chari |
Note: This root cause analysis (RCA) is from real-time scenarios that happened in industries during the tenure of two or three decades ago. These articles will help you to improve your troubleshooting skills and knowledge.
Fan Motor Frequent Journal Bearing Failures
A new installation 450 KW 1500 RPM motor Journal Bearing (JB) failed too often. The author RCA Queries (Q) and crews' answers (A) are:
Q: Describe failed bearing condition
A: JB side babbit blacked and peeled off
Few minutes thinking flashed the probable RC:
Indigenous Tire Couplings use for such large drives is new to the crew
Maybe they did not adjust the coupling halves face‑to‑face length correctly
Hence, probably the tire coupling did not allow the motor rotor settling at the magnetic center, the shaft collar rubbed the Journal Bearing (JB) side & destroyed the babbitt.    
In addition, maybe all tires are not of equal width (below figure). Checking this is necessary.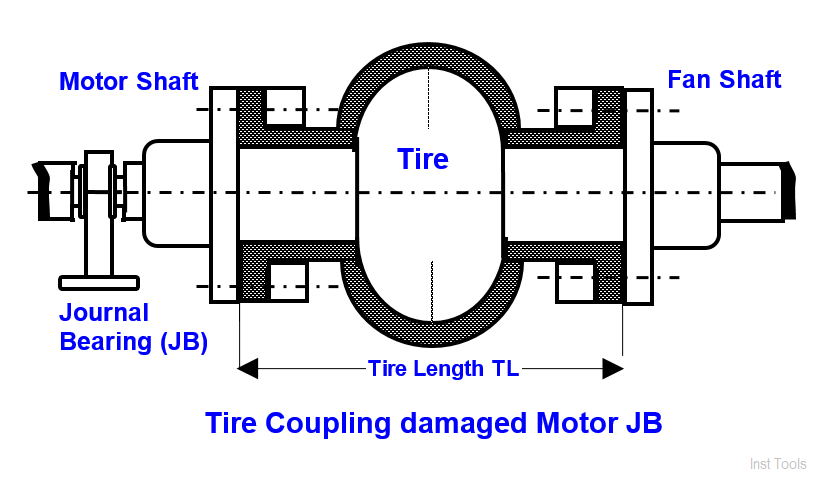 Crew reported they checked the warehouse held six tires widths and found they vary as much as 6 mm. The coupling vendor accepted that is how tires are; hence our instruction manual says adjust the coupling face to face gap at each tire change to suit the tire width.
The author concluded crew remembering tire couplings' unique requirement is hard and mistakes recurrences, more JBs damages, and frequent downtimes are too easy also.
Implemented RCA solution
Implemented RCA solution follows:
He got the motor coupled taking care of the distance between coupling halves = tire width with the rotor at the magnetic center. 
This enabled quick plant starts.
During fortnightly housekeeping ½ shift SDs, crew ensured step 2 with the other two motors and averted likely failures
Permanent Solution
The author recalled that German make Pin and bush couplings (PBCs) coupling the carbamate and liquid ammonia feed pumps to same motors types never posed problems during their 10 years' service. They allow the JB motors rotors axial travels.
The author made the shop to make Pin & Bush couplings using the plant PBC as model. The machinist took essential dimensions from the standby pump's coupling in the field with proper work permits, from the spares held in stock to machine the 3 Nos., couplings.
A local rubber parts maker made bushes using the spare bushes as model. PBCs in place of Tire-couplings eliminated the problems forever.
Author: S. Raghava Chari
Do you face any similar issues? Share with us through the below comments section.
If you liked this article, then please subscribe to our YouTube Channel for Instrumentation, Electrical, PLC, and SCADA video tutorials.
You can also follow us on Facebook and Twitter to receive daily updates.
Read Next: