Instrumentation engineering root cause analysis of slightly damaged magnetic flow meter tube and none of them could repair them.
| | |
| --- | --- |
| Article Type: | Root Cause Analysis (RCA) |
| Category: | Instrumentation |
| Equipment Type: | Instruments |
| Author: | S. Raghava Chari |
Note: This root cause analysis (RCA) is from real-time scenarios that happened in industries during the tenure of two or three decades ago. These articles will help you to improve your troubleshooting skills and knowledge.
Damaged Magnetic Flow Meter Flow Tube
All pipeline re-liners declining to reline or repair the 1½" Magnetic flow meter head flow tube end lining threatened junking the entire high cost imported head.
Author Repair
The author repaired the flow tube thus:
Let the re-winder re-wind as the burnt winding
Dressed the damaged liner even
Tight fitted a shop made filled PTFE sleeve to make up the last lining
Tight fitted a shop made 50-mm long carbon filled PTFE bush covering the sleeve and overlapping the liner. Bush collar dia = flow tube metal collar dia
Assembled the rewound windings over the flow tube; The head is ready for calibration
The head calibrated as described in the next problem worked fine several years.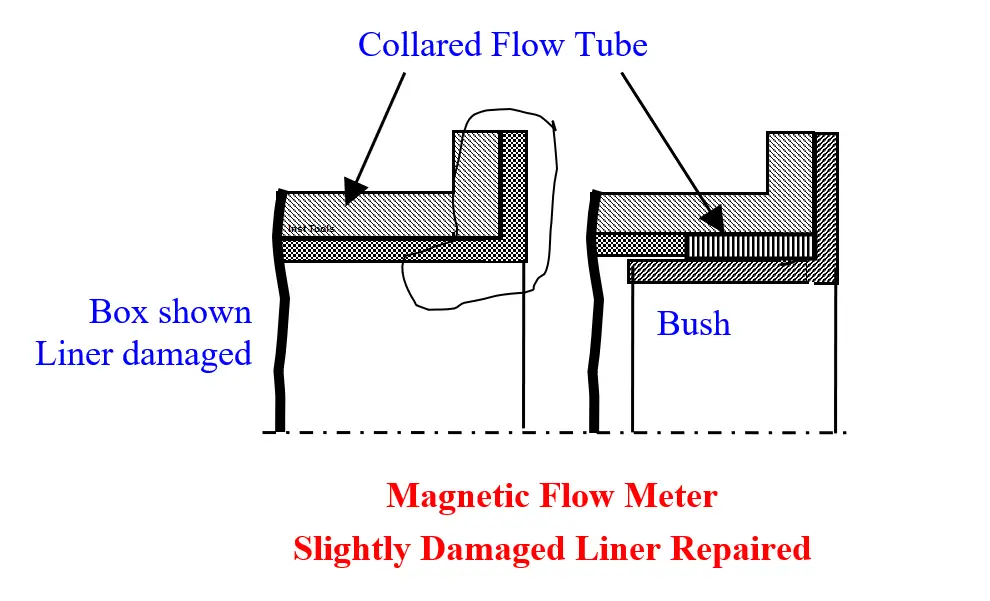 Recurrence Eliminated
Fortunately, the Magmeters were 1 size smaller than pipeline size for higher velocities through the meter to avoid liquid carried particles depositing.
Hence, they came mounted between flanged SS pipeline reducers. The author strictly instructed the crew to unbolt both ends reducers to pipes flanges.
This way magmeters suffered no end lining damages ever.
Benefits
Author Repair Benefits are:
Enabled production reduction within 8-hours and met the committed orders
Besides the financial gains, it  preserved image as a reliable phosphate fertilizer supplier
Saved a head purchase costs
Found a way to handle future such problems
Author: S. Raghava Chari
Do you face any similar issues? Share with us through the below comments section.
If you liked this article, then please subscribe to our YouTube Channel for Instrumentation, Electrical, PLC, and SCADA video tutorials.
You can also follow us on Facebook and Twitter to receive daily updates.
Read Next: