Instrumentation engineering root cause analysis (RCA) of control valve positioner as it is torn apart when pipeline shakes during plant commissioning.
| | |
| --- | --- |
| Article Type: | Root Cause Analysis (RCA) |
| Category: | Instrumentation |
| Equipment Type: | Control Valves |
| Author: | S. Raghava Chari |
Note: This root cause analysis (RCA) is from real-time scenarios that happened in industries during the tenure of two or three decades ago. These articles will help you to improve your troubleshooting skills and knowledge.
Valve Positioner Torn apart
35-1 bar CO2 saturated K2CO3 solution letdown severely shook pipeline control valve positioner tore apart.
Finding and implementing a reliable quick solution was the crying need of the day to resume the halted NH3 plant commissioning.
The obvious pipeline shake prevention solution takes a very long time, is very expensive and results are unsure.
The author suggested remote mount the actuator cylinder mounted valve positioner, as the control valve (CV), lets down for about an hour only, and the hydraulic energy recovery turbine always.
The commissioning team leader eagerly accepted because the last paragraph listed reasons.
 Valve Positioner Remote Mounted
The author got the valve positioner (VP) mounted on a floor-grouted nearby pillar (as shown below figure).
The plant shop made the necessary links and pillars.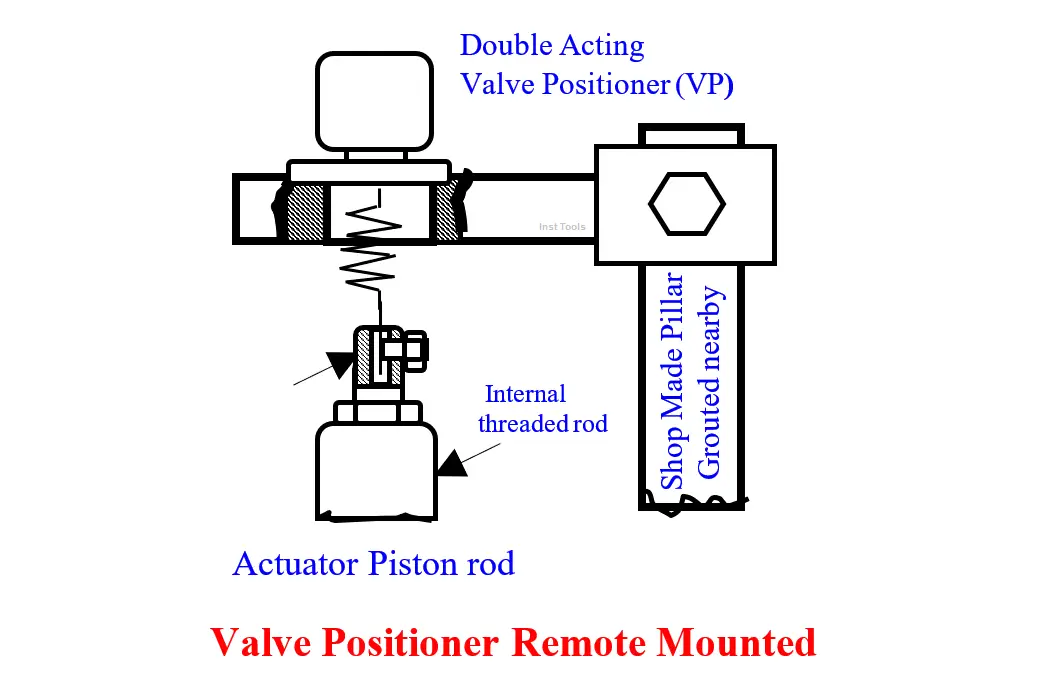 Letdown caused pipeline and pipeline bolted control valve (CV) shakes do not reach the remote located and lengthy thin wire spring linked to the cylinder valve positioner (VP).
Hence, the shakes freed valve positioner does not shatter as before; but performs reliably.
Author Solution Benefits
Author solution benefits are:
Averted expensive, but results unsure pipeline modifications
Solution costs near zero; but results reliable and lasting
Indeed, an ideal solution for a Difficult, unresolvable and despairing problem (DDUDP)
Most important: averted lengthy commissioning delays.
Author: S. Raghava Chari
Do you face any similar issues? Share with us through the below comments section.
If you liked this article, then please subscribe to our YouTube Channel for Instrumentation, Electrical, PLC, and SCADA video tutorials.
You can also follow us on Facebook and Twitter to receive daily updates.
Read Next: