Root Cause Analysis (RCA) related to the phosphate dozing system problems.
| | |
| --- | --- |
| Article Type: | Root Cause Analysis (RCA) |
| Category: | Mechanical |
| Equipment Type: | Miscellaneous Rotating Machine Problems |
| Author: | S. Raghava Chari |
Note: This root cause analysis (RCA) is from real-time scenarios that happened in industries during the tenure of two or three decades ago. These articles will help you to improve your troubleshooting skills and knowledge.
Phosphate Dozing
Small quantities of phosphate solution injection called 'Phosphate Dozing' into boiler drums (below figure) precipitate the BFW residual salts.
Continuous or periodic small quantities drum water blow down rids of these precipitates and maintains BFW purity.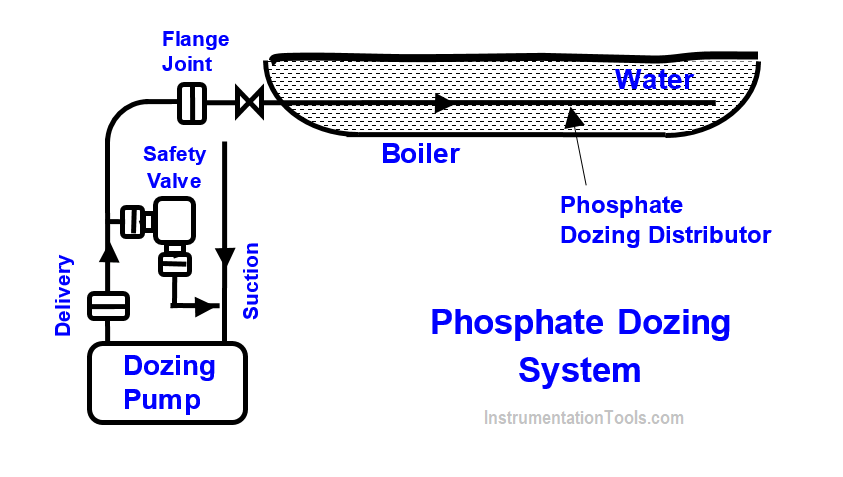 Problem
The plant superintendent identified no phosphate dozing to the 100‑bars boiler drum from phosphate feed drum no make ups.
He requested the dozing plunger pump checkup. The field crew unable to solve the problem approached the author.
 Problem Root Cause Identified
The author found the pump discharge pressure 120 against the normal 110 bars.
Hence, he guessed most likely the entire the 150 Nos. 1.5 mm dia holes drilled on the 1" drum length dozing pipe plugged up.
Author Proposed Solution
The author suggested readying a new dispersing pipe with 38 Nos. never choke 3 mm dia holes of near original total flow area.
His pointing out that the drum turbulence would mix the dozed phosphate well won approval
Problem Solved
Crew did find the distributor holes plugged up during the TA. They cut out the old distributor, welded the readied distributor to the stub, and saved TA activity time.
Boiler Phosphate dozing became fit and forget system
Author: S. Raghava Chari
Do you face any similar issues? Share with us through the below comments section.
If you liked this article, then please subscribe to our YouTube Channel for Instrumentation, Electrical, PLC, and SCADA video tutorials.
You can also follow us on Facebook and Twitter to receive daily updates.
Read Next: