Instrumentation engineering root cause analysis of serious constraints which prevent using an available turbine flow meter.
| | |
| --- | --- |
| Article Type: | Root Cause Analysis (RCA) |
| Category: | Instrumentation |
| Equipment Type: | Sensors |
| Author: | S. Raghava Chari |
Note: This root cause analysis (RCA) is from real-time scenarios that happened in industries during the tenure of two or three decades ago. These articles will help you to improve your troubleshooting skills and knowledge.
Turbine Flow Meter Serious Constraints
A 750 T/d NH3 plant had no flow meter to measure the total NH3 production. Their estimated NH3 production by following a certain method was highly inaccurate.
The plant management ignored the author pointing out the need for an accurate and reliable method to measure this important plant parameter. His few years of persistent efforts made them to realize the validity of the Author's plea.
They relented and approved the turbine meter (TM) installation during a month hence scheduled the fourth two-yearly TA i.e. 8 years after commissioning!
Constraints Faced
Faced constraints are:
Procedures ridden Import license  would take min 4 months
Placing order awaiting import license is an offence; the once warned for this offence plant did not want to repeat
Even airfreight delivery is min 6 moths i.e. the TM would reach the plant 10-12 months later only Hence, they did not risk that once again. The catalysts and heat exchangers' condition prevented delaying the turnaround (TA) that long.
Author solution
The author found a 3" 150 # turbine flow meter in a less important application. He checked and confirmed the meter body wall thickness adequacy for the 300 # rating. He got approval for using it and put a flanged spool in its place
He got the turbine meter flanges machined off to raised face dia. The wafer TM bolted between 300 # line flanges during the TA (below figure – a solution one and all appreciated).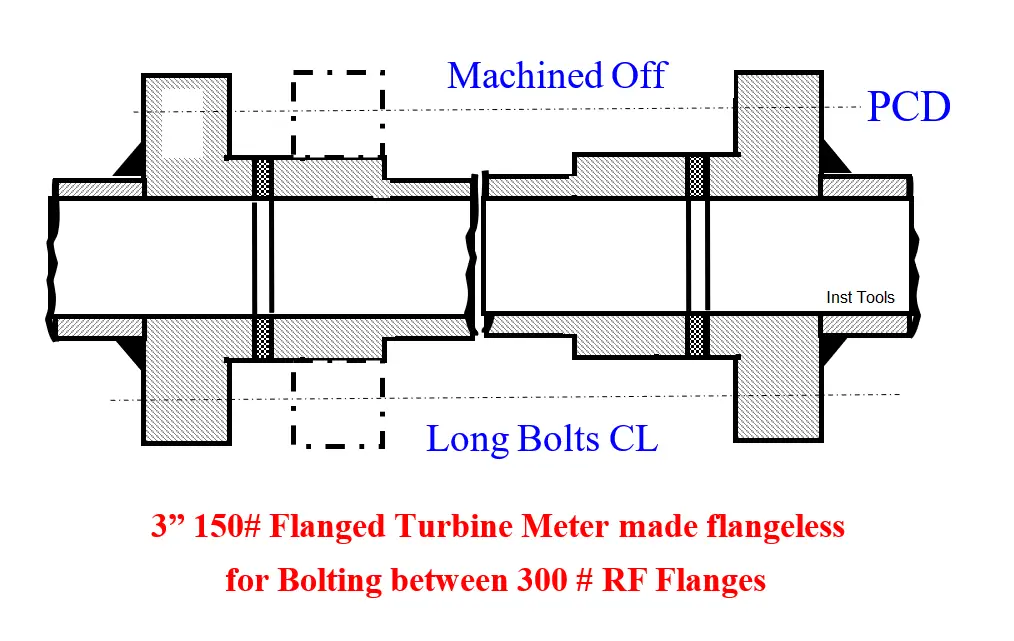 Benefits Derived
The TM read accurate NH3 production was way low than estimated the usual way. That means the raw materials used and ammonia produced are wrong.
Consequently, everyone was complacent, missed and lived with the plant's inadequacies.
Correct NH3 flow measurement shattered the complacency, prompted detecting the various bottlenecks causing lower than labeled capacity production and higher Naphtha consumption than guarantee etc.
Such studies identified deficiencies removal enabled the producing above rated capacities actually.
All these saved tens of millions of rupees year after year
Author: S. Raghava Chari
Do you face any similar issues? Share with us through the below comments section.
If you liked this article, then please subscribe to our YouTube Channel for Instrumentation, Electrical, PLC, and SCADA video tutorials.
You can also follow us on Facebook and Twitter to receive daily updates.
Read Next: