In this article, we will learn about PCS 7.
PCS means a Process Control System is an integrated DCS control system developed by Siemens.
It uses a Siemens Simatic hardware platform and TIA software.
In DCS, the location of the processor, I/Os, and servers are distributed throughout the plant. You can not find any defined central location like PLC.
PCS 7 is a hybrid type controller means it has both characteristics of the DCS and a PLC.
It uses an s7-400 CPU. In DCS term it is called AS-400. AS stand for an automation system.
PCS 7 Control System Layout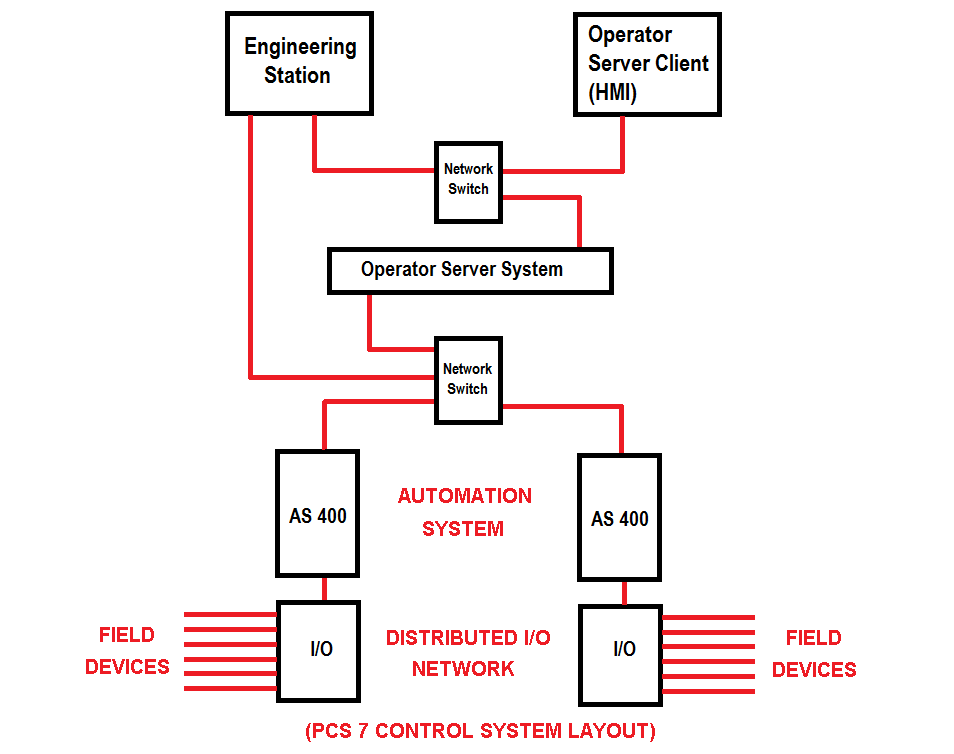 Like PLC has a module to connect field devices and different devices to communicate, DCS also contain device arrangement to communicate with other devices.
At the top level, it has a device like,
PC based engineering system
Operator system client
Both are connected with the operator system server via a communication cable.
The communication protocol may be ethernet or a PROFIBUS, which is Siemens standard communication protocol.
Now we know that the operating system and client and main engineering system which then connected via a communication protocol. This top-level connection is called a terminal bus.
The operator system server is connected to another connecting device normally an ethernet switch. This level is called a plant bus.
From the plant bus, the connection goes to an automation system which is a processor AS-400.
From the processor, it goes to the I/O module. Field devices connected to I/O modules.
The operator system server is used to send and receive graphical representation to the operator server-client (HMI).
The automation system is used to solve the logic, monitor, and control the field devices.
Siemens PCS 7
Below is a typical structure of the PCS 7 control system.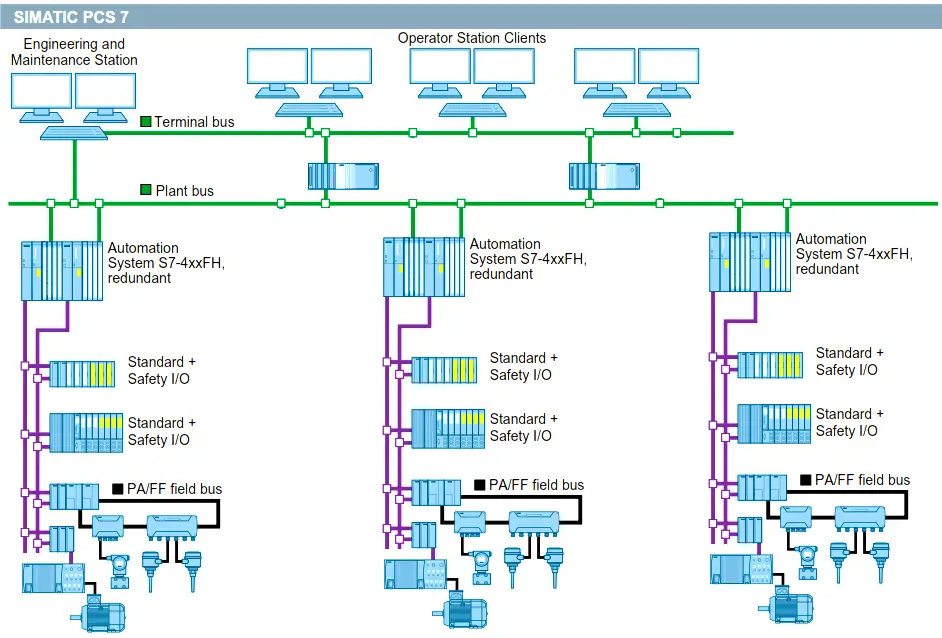 The basic PCS 7 includes AS-OS engineering station which is called a Simatic manager. This is a modified version of the step 7 software.
The operator system client is an HMI software is based on WinCC professional.
In addition to the engineering station, it covers a wide variety of software like,
Continuous and batch control
Material pathway control
Intelligent process device management
Enterprise-wide data connectivity
I hope you have an idea about PCS 7 software and its structure now.
Still, you have a question, then put your question down in the comment section.
Author: Suhel Patel
If you liked this article, then please subscribe to our YouTube Channel for PLC and SCADA video tutorials.
You can also follow us on Facebook and Twitter to receive daily updates.
Read Next: