Simulation for your PLC projects and processes before the commissioning would really help you to discover more code bugs and errors before you download the program into your PLC.
Table of contents
Siemens one of the leading companies in the Automation world. Siemens offers two kinds of simulations for its PLC programming software.
They are
PLCSIM
PLCSIM Advanced
How are they work and what is the difference between them both? That is, we are going to talk about.
What is S7 – PLCSIM Advanced?
Using PLCSIM Advanced, you can simulate your CPU programs on a virtual PLC controller. You do not need any real controllers for this.
You can configure your CPU with STEP 7 in the TIA Portal, program your application logic, and then load the hardware configuration and the program into the virtual controller.
From there you can run your program logic, observe the effects of simulated inputs and outputs and adapt your programs.
In addition to communicating via Soft bus, PLCSIM Advanced provides a full Ethernet connection and can thus also communicate distributed.
Differences between PLCSIM & PLCSIM Advanced
Runtime Independence
The PLCSIM (V12 or V5.X) cannot run without running of Step-7 software program unlike the PLCSIM Advanced it's independent.
Communication
For PLCSIM (V15 or V5.X) they are communicating just into your PC with a bus called SOFTBUS.
But on the other hand, we will find that PLCSIM Advanced has the ability to communicate with outside devices using TCP/IP protocol and Virtual SIEMENS LAN adaptor and can also make a connection into your PC using SOFTBUS.
Supported CPUs
The PLCSIM Advanced supports S7-1500 and ET-200SP CPUs for the emulating, PLCSIM V12 and Higher support S7-1200, S7-1500, and ET-200SP CPUs and for PLCSIM V5.X can handle S7-300 and S7-400.
Number of Available PLCs That Can be Simulated
PLCSIM V5.X can just simulate one PLC unlike the PLCSIM Advanced can handle up to 16 Instance and PLCSIM V12 and higher can simulate up to 2 PLCs.
OPC UA Sever
One of the best features in PLCSIM Advanced that it can use to emulate an OPC server on 1500 station so you can activate this server and connect it with the SCADA system that supports OPC UA.
Instances Communication
PLCSIM Advanced does not support communication between the simulated PLCs but the PLCSIM V12 instance can communicate with PLCSIM V5.X Via soft bus.
 Advantages of PLCSIM Advanced
Improve quality of automation projects by early error detection
Avoid costs for hardware in simulation environments
Reduced response times
Reduce risk for commissioning
Earlier training of operator is possible
Increase production efficiency by optimizing program components
Increase efficiency during replacement of machine components
Increase efficiency during expansion of existing plants
NOTE The virtual controller cannot fully simulate a real CPU down to the individual details.
Even if a program is downloaded without errors to the CPU and running successfully, this does not necessarily mean that the virtual controller in the simulation behaves exactly like a real CPU.
Configuration of the Software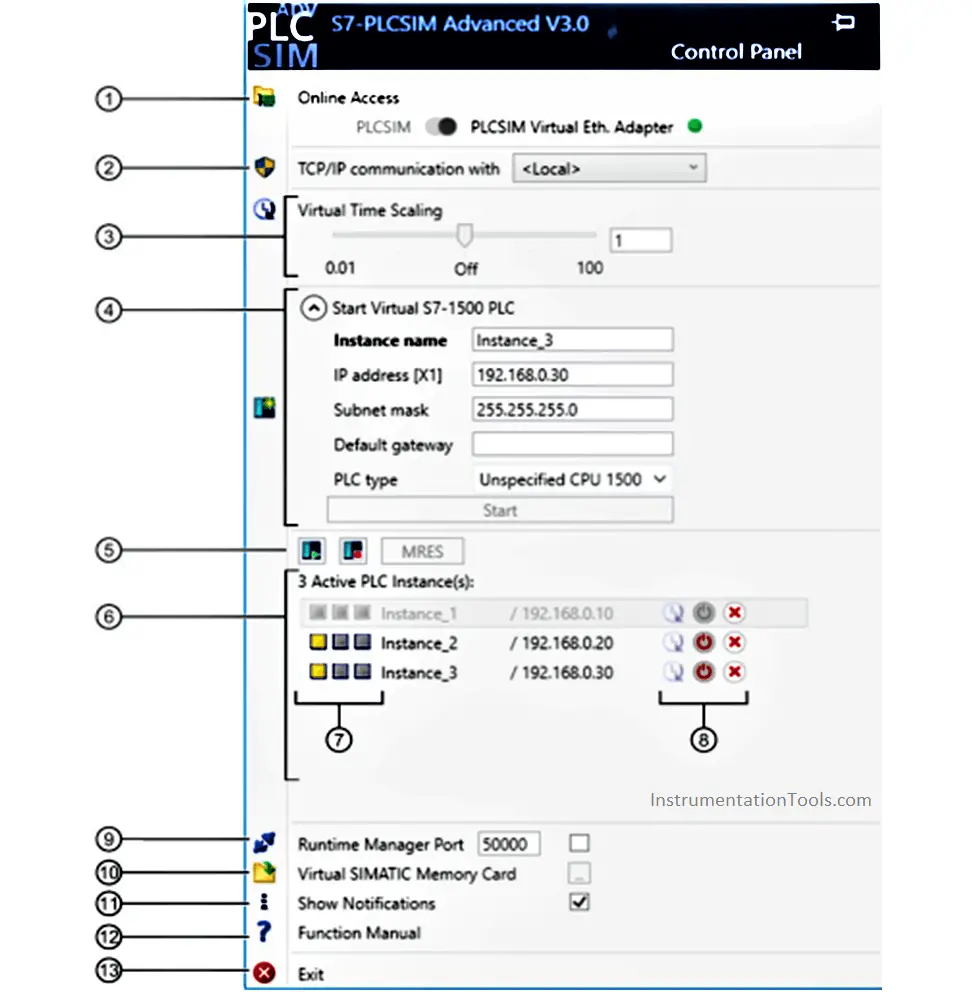 Online access Switch to select the communication interface.
TCP/IP communication Selection of network adapter for distributed communication.
Virtual time Slider to adjust the scaling factor.
Start Virtual S7-1500 PLC Opens and closes the input boxes for creating the instance (virtual controller).
Name of the instance – Here you enter a unique name for the instance. Enter a minimum of 3, a maximum of 64 characters. If the name is unique in the network, the button "Start" is enabled.
IP address
Subnet mask
Standard gateway – The input boxes are visible when you switch the communication interface to "PLCSIM Virtual Ethernet Adapter". The IP address is entered automatically.
CPU type – Here you select the type of CPU to be simulated.
"Start" button – Create with the button and start the instance.
Buttons for operating the selected instances.
Instance list – list shows the available local instances. The instances can be resorted using the mouse cursor.
LED displays the meaning of the LED is displayed when you move the mouse
over it.
Icons for operating the instance
Runtime Manager Port Here you open a port on the local PC.
Virtual SIMATIC Memory Card Open an Explorer window here in which you select the path to the virtual memory card.
Display messages Here you disable the PLCSIM Advanced messages in the Windows task bar for the duration of the operation.
Function manual This is where you open the S7-PLCSIM Advanced Function Manual in a standard PDF viewer.
Exit logs off all instances and closes the Control Panel
If you liked this article, then please subscribe to our YouTube Channel for PLC and SCADA video tutorials.
You can also follow us on Facebook and Twitter to receive daily updates.
Read Next: