Assumption: Readers are aware about conventional input-output of the control system and the Instrumentation system.
Conventional Input Output Module
As you must be aware that we have multiple types of input and output (IO) in instrumentation which broadly consist of Digital Input (DI), Digital Output (DO), Analog Input (AI), and Analog Output (AO). When realizing these IOs in the control system (in most modern control systems) we use IO modules (IOMs).
These IO modules are of the dedicated type of modules. This means these IO modules have only one type of IOs in one module. If the IO density of the IO module is 16, then all 16 IO shall be of the same type. Means, if it a DI IO module then you will get 16 DI channels in this module.
What happens, in this case, is that we are bound to use that module for that particular type of IOs. Now in case we require only one additional AI during any stage of engineering and don't have AI cards with spare AI.
Then we have to add an AI card to the system. And if at a later stage the same situation arises with DI signal then we can't use that AI card for additional DI channel. We will have to add another card that will be a DI card.
Flexible IO Modules (FIOM)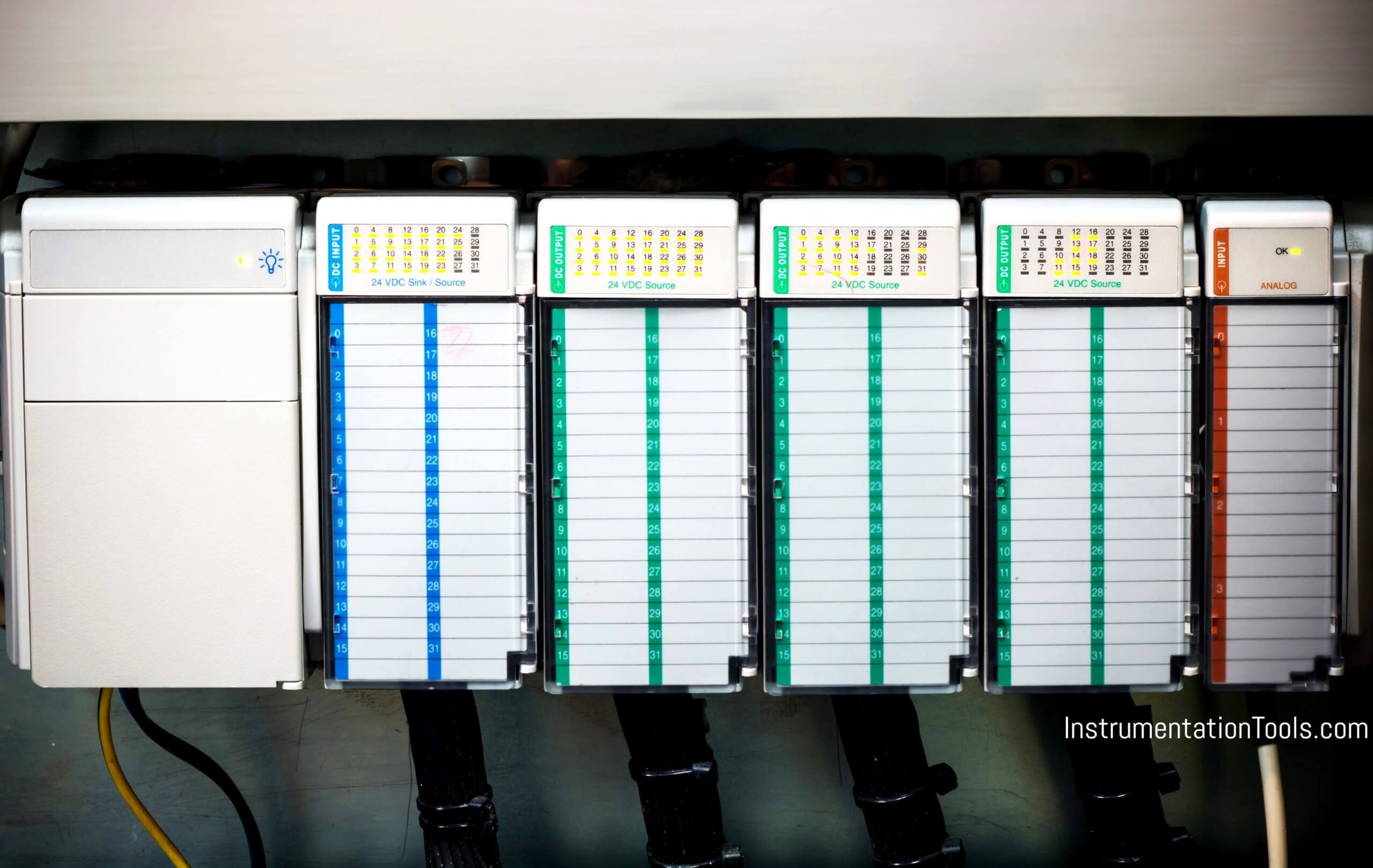 Now a days a lot of control system manufacturers are coming up with new technologies. These technologies are providing new horizons in the field of engineering. This help automation professional to do engineering in a better way and efficiently.
At any point in engineering, there are several challenges that come in the way of control system design engineer. One of which is a variation of IOs. This impact both cost and time. Re-engineering is very cumbersome then fresh engineering. Now with the variation of IOs, hardware cost and delivery time may also get impacted.
If you see with the point of view of maintenance also there are several challenges that arise in terms of the control system. These are generally in terms of hardware and inventory management. Sometimes few IO additions are required during the plant life span. To provide flexibility in control system maintenance, control system vendors keep coming up with various solutions.
Flexible IO modules are control system vendors fresh solution, to provide the above combo. This serves the purpose for flexible engineering as well as maintenance with fewer inventories of IO modules.
What is the Flexible IO module?
In general, Flexible IO modules are IO modules in which a single channel can serve any type of IO (AI, AO, DI & DO). In this type of module one channel can be configured as any of the IO type Analogue (AI, AO) or Digital (DI, DO). This gives the liberty to design engineers to consider any IO for any type of IO.
Also, it gives freedom to do engineering without worrying about the type of IO module because of the magic "One module for all". All they have to worry about is the total number of IOs.
In case there is a change in the type of IOs, addition, or deletion, then they can reconfigure the IOs with available modules. And if IOs are increased more than additional IO modules of the same type can be considered for engineering. This helps to reduce the engineering time and adds more flexibility to the engineering work.
For revamping and modernization projects this technology is a blessing. As for revamping projects time, money, space, and other resources, all are limited. This technology provides an answer to all these questions. Also in case of late identification of signals or change in IO count due to any reason, the schedule will not be affected and the number of contingency IOs cane be considered less.
If we see from the maintenance point of view there will be fewer inventories with respect to the IO modules. As the types of modules are reduced from four to one, there will be fewer modules required to be kept as spare.
Also when there is a requirement of the addition of IO there will be no worries in terms of the location of IO. Obviously it can be added to any module based on the best available location.
Now as we understood there are configurable IO channels in flexible IO modules but there are not only these four types of IOs that are required in the control system. There can be various requirements related to AIs, Dis & DOs. Features offered in such cases can be varied with respect to the manufacturer.
To realize various requirements there are several possibilities which include combinations of marshalling boards, converters, etc. These arrangements, sometimes, maybe similar to the arrangements we do with conventional IO modules or may be different.
Major control system vendors who are providing these modules are
1.      Honeywell (Universal IO, UIO)
2.      Yokogawa (Network IO, N-IO)
3.      Emerson (CHARMs IO)
4.      Rockwell (FLEX IO)
5.      ABB
Other than the above-mentioned control system manufacturer some other system manufacturers may have similar products. I would love it if you let me know about them in the comments.
In all the above 5 manufacturers except Honeywell, rest 4 need some hardware configuration (change of child module in parent base module) and software configuration too. While Honeywell UIO, need only software configuration to change the type of IO. Rest 4, have some different offering and need hardware advantages too.
Though these 4 (S. no. 2 to 5) are also flexible in terms of offering but not truly FIOM because of the needs hardware alteration. But obviously there can be some advantages or different offerings from all the manufactures.
Summary of Advantages of FIOM
Based on the discussion in this article we can conclude some advantages of FIOM.
1. Time and Schedule saving
2. Better Engineering
3. Space-saving (In control room)
4. Cost-saving (in all respect)
5. Adaptability to late changes
6. Less backend loading
7. Less time for control system pre-commissioning at site
8. Better maintenance with Less inventory
Please feel free to tell; if I have missed something (Actually I believe that I have not covered much).
I would be more than happy to hear from you. Also, I want you people to suggest other topics for discussion.
Note:
There are some terms that are subject to the copyright of some organizations. They were used because these were openly available on the Internet.
Term Flexible IOM (FIOM) used to avoid term similarity from any of ICS vendor products. I believe it is used the first time to address collectively such products. In case it is not so then please let me know.
I avoided inserting images of products as they can be subject to copyright. If you want more information you can visit the websites of the respective vendors. Or you can contact me too. I will try to help within my limits.