Variable Frequency Drive, Frequency Variator also other people called it an Inverter or Motor Drives, it is really a very important device in the Automation World as such a device is responsible for controlling the motor speed, as some of your application in the plant needs a Motor that has a Variable speed.
You might find this application in pumps and fans in the cooling tower, some feeders of your machines, Robotic arms, and also very basic application of these devices in the Elevators.
Controlling of speed is not the only feature of motor drives that make it high in cost and also very essential to your systems.
Motor drives have a lot of brilliant features such as:
It can support you with a constant speed even if the torque is changed
Control the time and current of starting and stopping
Adjustable torque and speed limits
You can control the direction of the motor easily
Easy communication with the PLC controller
Note there are also a lot of features that are dependent on the Vendor of the Drive.
Configuration of Siemens VFD Using TIA Portal
Prerequisites:
You should have installed TIA portal Version xx
TIA Portal start drive with the same version of you installed TIA portal
You need to setup TIA start drive as it contains the library of all the siemens drives.
Make sure also that you have setup the required service pack of the drives and now you can follow these steps:
Step 1:
Get the version and the part No. of your VFD drive.
The below image shows a nameplate of a drive.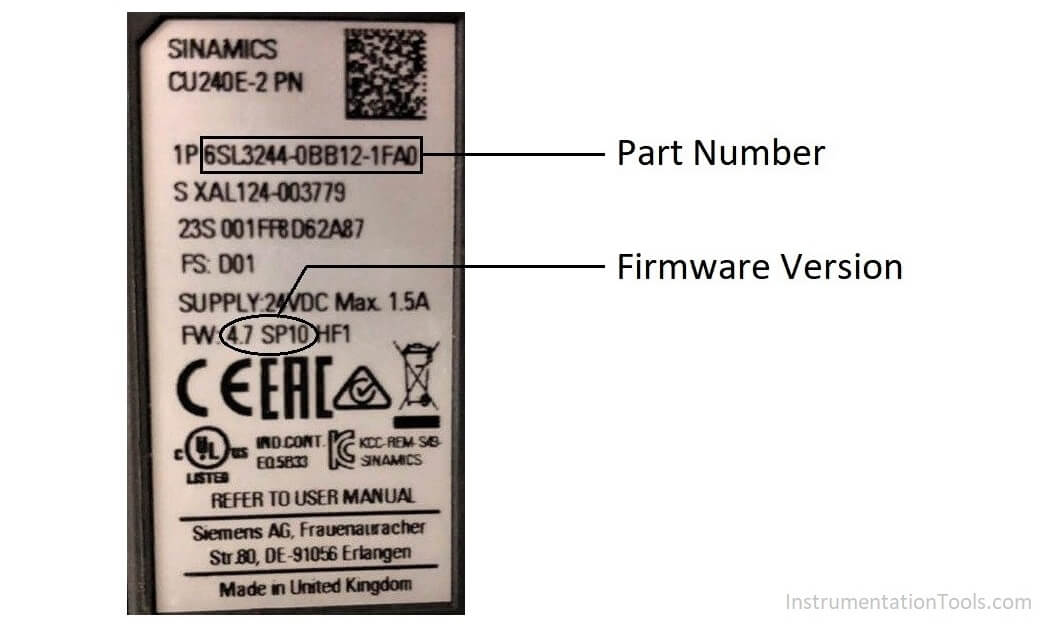 Step 2:
So, for now, we get into our program and select the required product.
Here we selected version 4.7.10 based on the firmware version mentioned on our drive nameplate.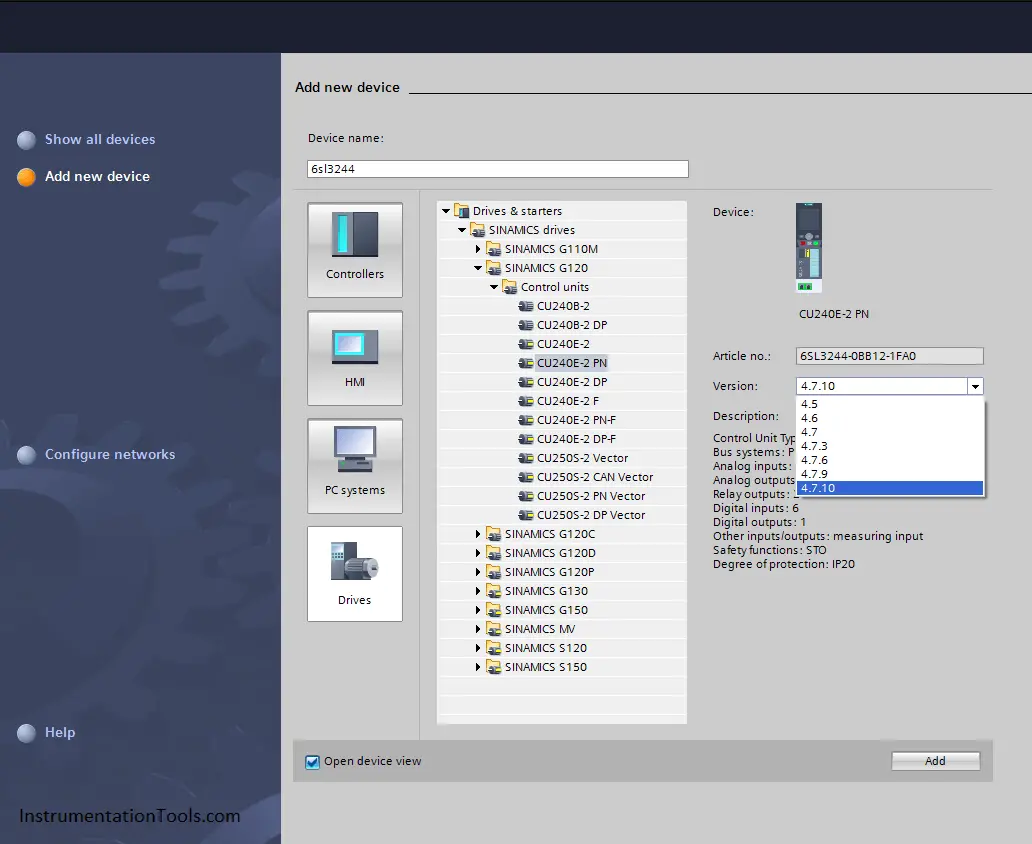 Step 3:
Then you can get your power module part No. and add it to the drive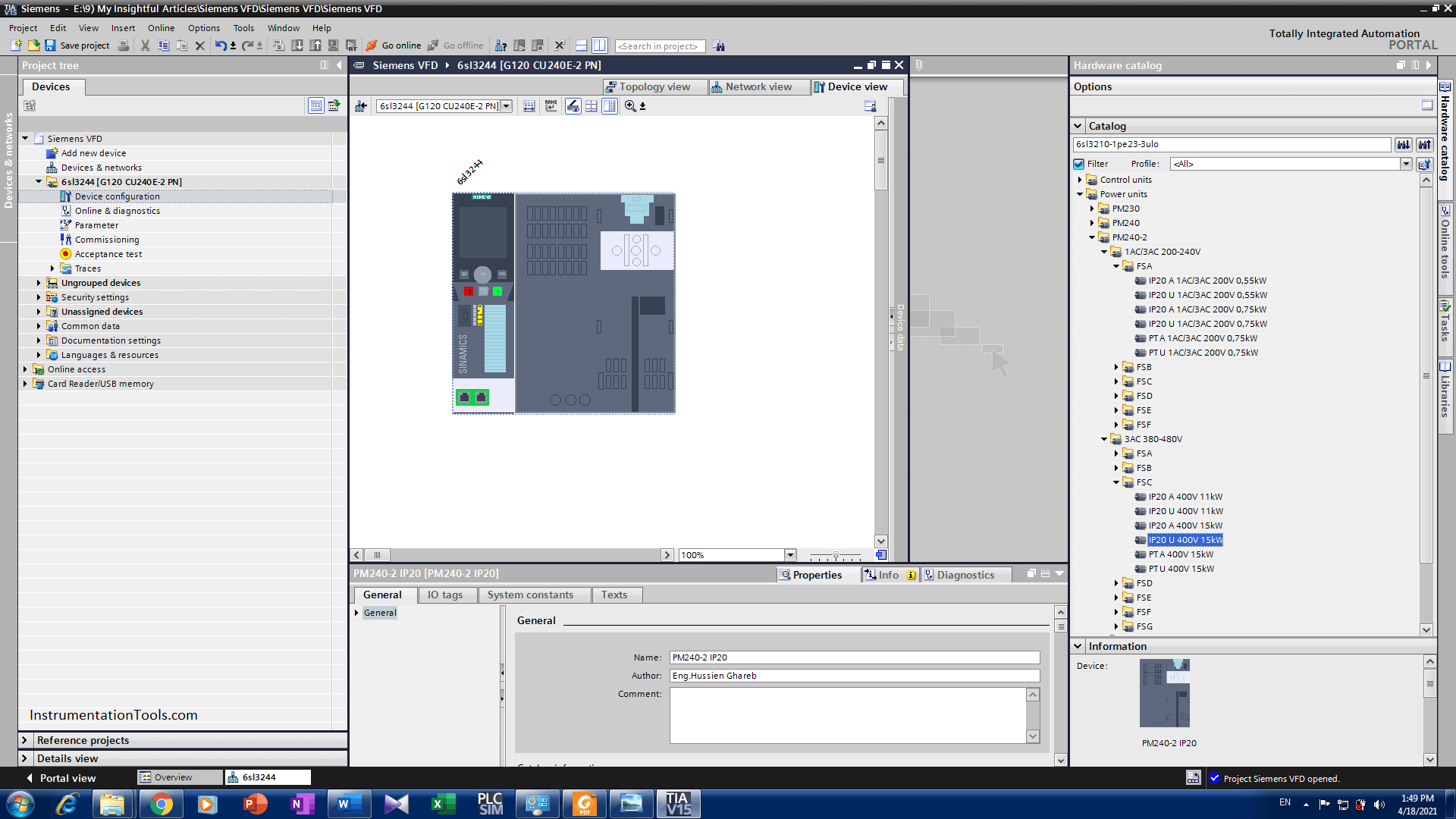 Note there is another complicated method to program a drive-by modifying the parameters of the drive manually and that would really take a lot of time and it does not fit for large automation systems so you can configure your device using TIA wizard.
Step 4:
Then you can choose to commission your VFD.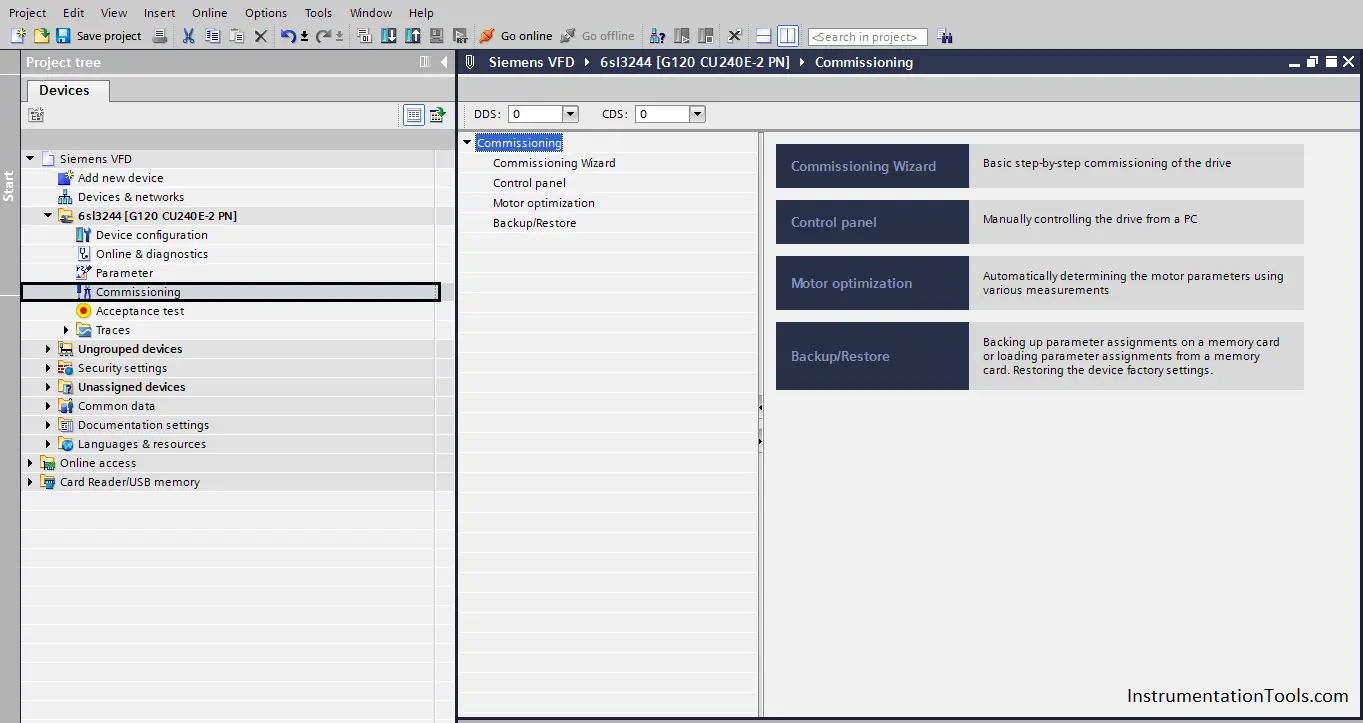 Step 5:
Select commissioning wizard, and after that, the commissioning window will pop up
Step 6:
From this window, you would select the application of your motor to fit the drive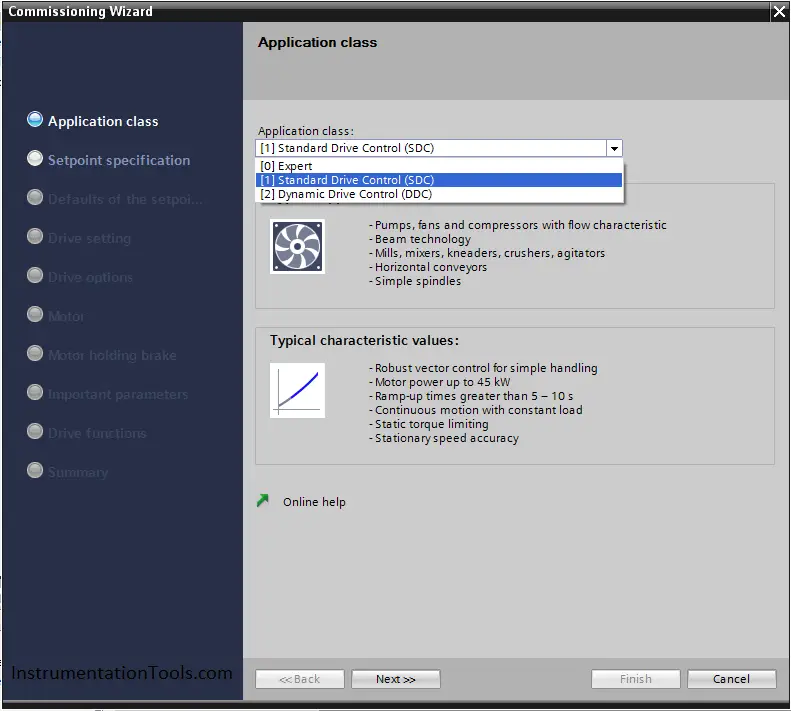 Step 7:
After that, you should select that if your drive is connected with a PLC or not and the setpoint of the drive will be taken from a controller or you will put it manually.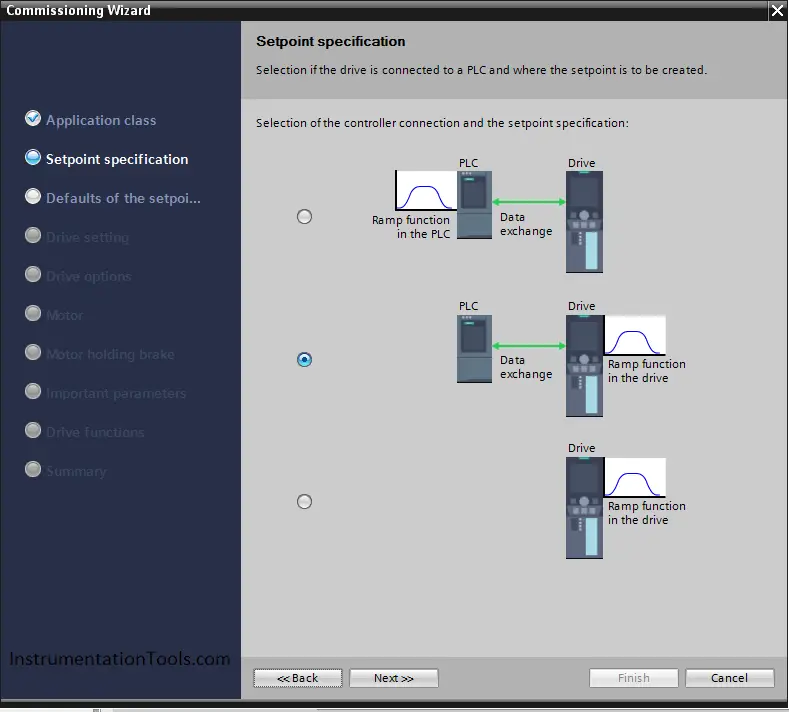 Step 8:
Here the wizard offers you four options for I/O configuration that will almost cover 90% of your application.
You can choose any one of them or you can after commissioning change it manually to fit your application. (Default … Fieldbus with data changeover)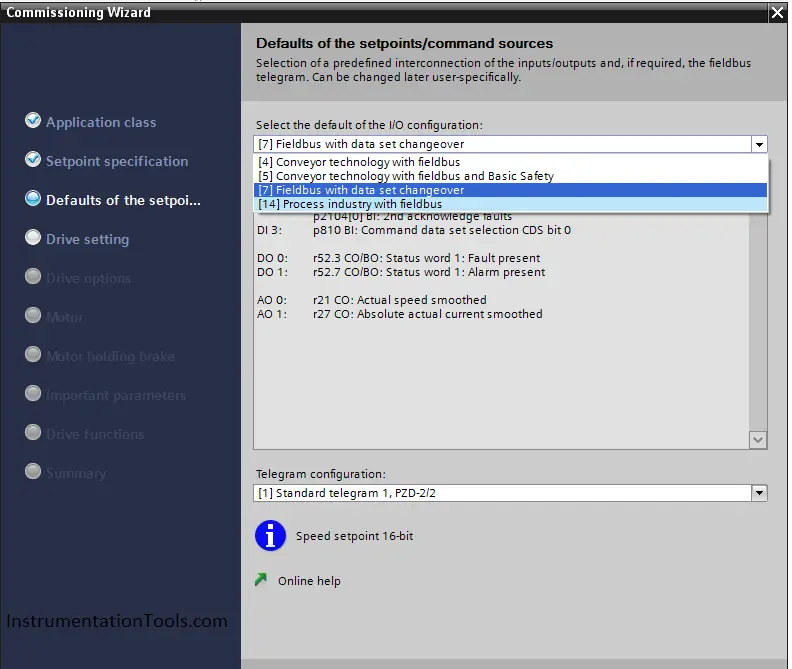 Step 9:
Here also you can select the type of communication between the PLC and drive.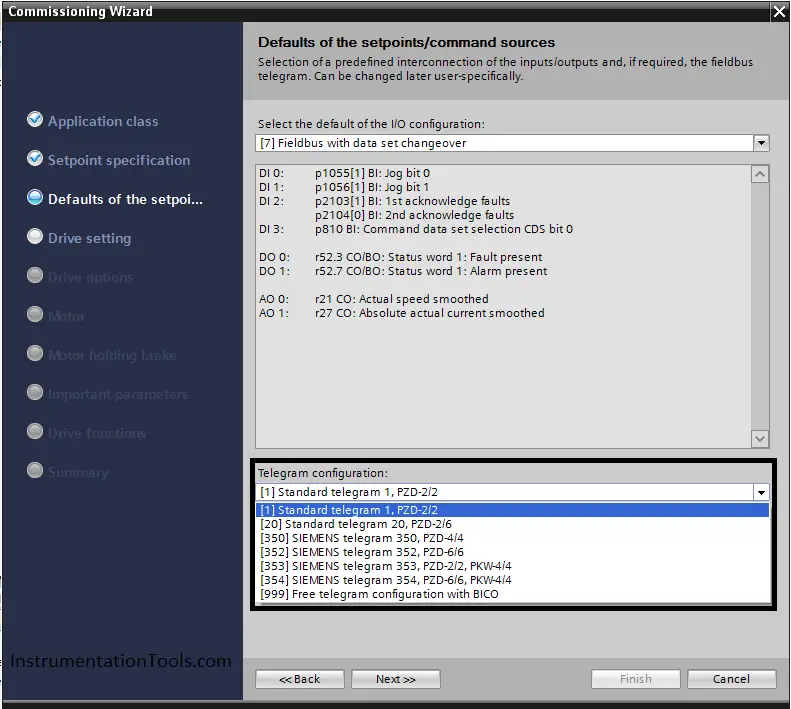 Step 10:
Here you can select the standard of your motor (IEC – NEMA) and also the supplied voltage and frequency and the appropriate engineering units.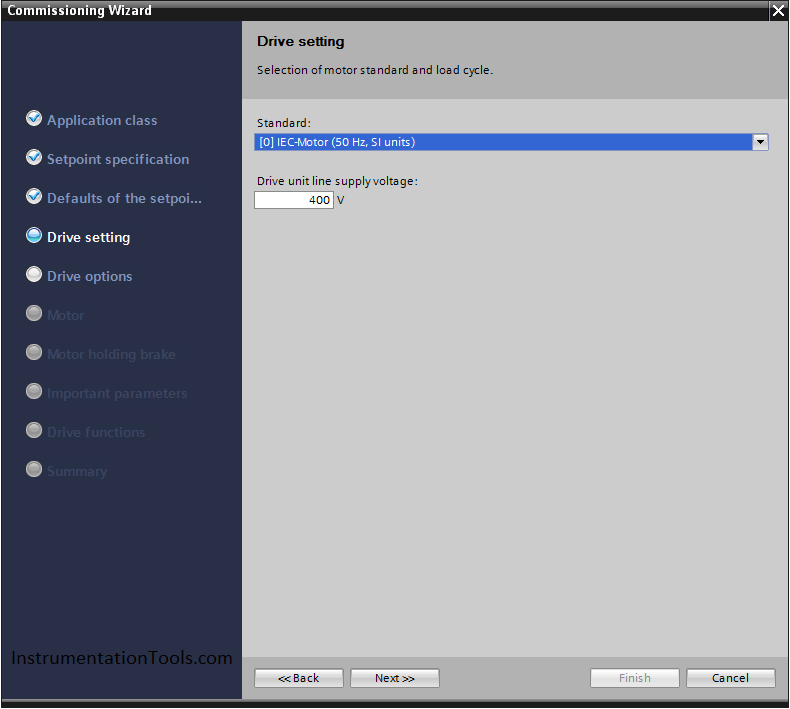 Step 11:
Now if your motor is Siemens you can select its characteristics by the order No.
If it is any other type, you can select "Enter Motor Data" and from the Name Plate of your motor enter your data.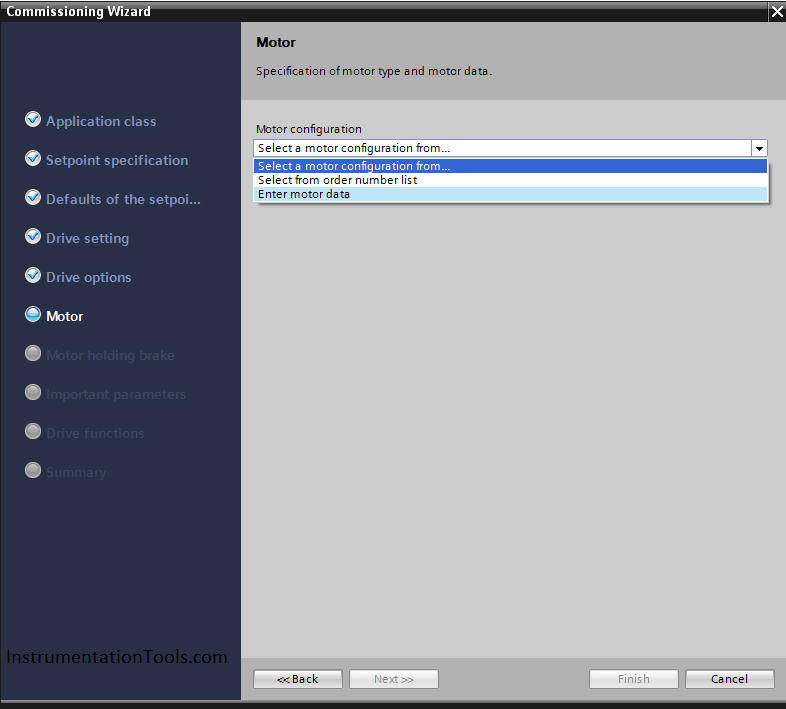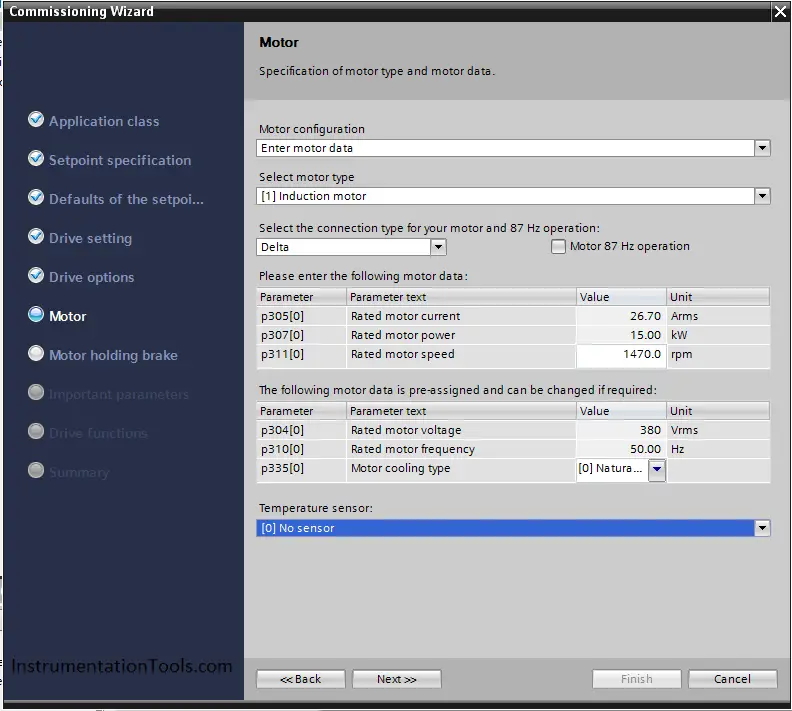 Step 12:
Here you can adjust your current and speed limitation, also configuring the ramp-up and ramp down-times.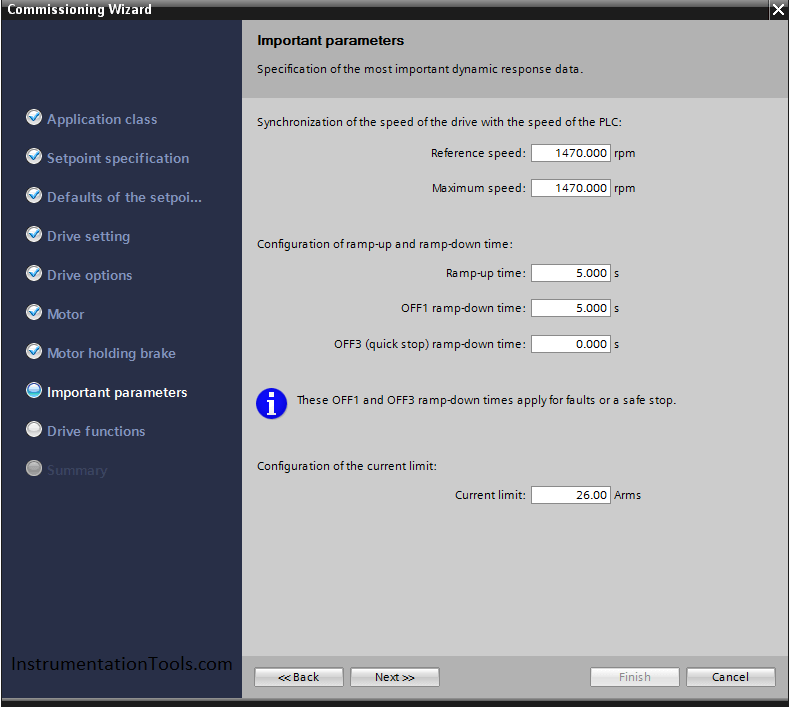 Step 13:
Now you are finished and you can look at your VFD drive summary.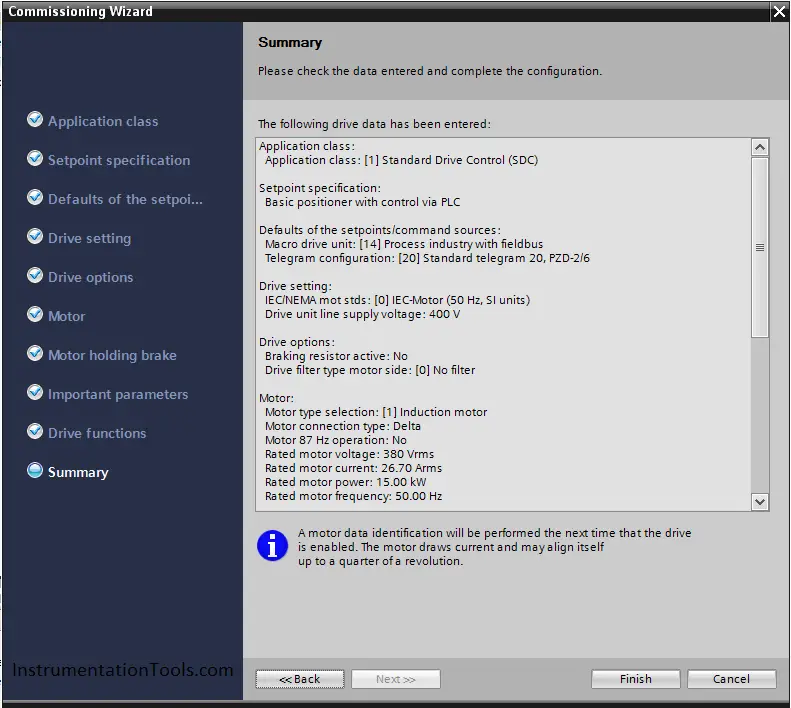 Finally, we are finished and now you can directly connect your drive and download your configuration.
Note before anything make sure that you have made a factory reset for the drive to ensure that you configure just the selected parameters.
If you liked this article, then please subscribe to our YouTube Channel for PLC and SCADA video tutorials.
You can also follow us on Facebook and Twitter to receive daily updates.
Read Next: