Root Cause Analysis (RCA): Too noisy & too maintenance intensive granulator drive silenced and made maintenance free.
| | |
| --- | --- |
| Article Type: | Root Cause Analysis (RCA) |
| Category: | Mechanical |
| Equipment Type: | Pipelines and Miscellaneous Problems |
| Author: | S. Raghava Chari |
Note: This root cause analysis (RCA) is from real-time scenarios that happened in industries during the tenure of two or three decades ago. These articles will help you to improve your troubleshooting skills and knowledge.
Granulator Drive Details
An NPK plant's rotary granulator drive consisted of a 400 V, 1500-RPM 150 KW motor flexible coupling coupled to between plummer blocks supported keyed to shaft sprocket chain driving another similar twice dia sprocket (below figure).
The low speed sprocket shaft flexibly couples to a 7.5 reduction gearbox input shaft. Gearbox output shaft flexibly couples to a between plummer blocks supported 13 teeth pinion.
Hence, the pinion speed is 100 RPM. The pinion meshes with the granulator drum attached 143 teeth girth gear to run the granulator at 9 RPM.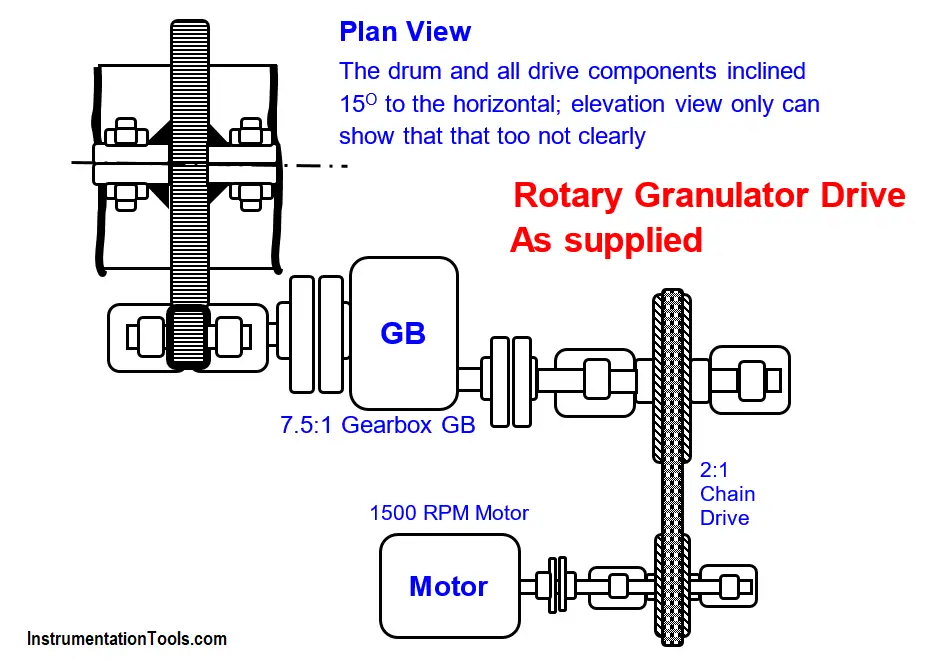 Author Modification
He substituted a 15:1 gearbox (GB) and coupled its input shaft to the motor shaft.
He did not rewind the motor for 750 RPM to use the same GB as motor and GB shafts were inadequate for the doubled torque at ½ the RPM.
Modification Benefits including eliminated problems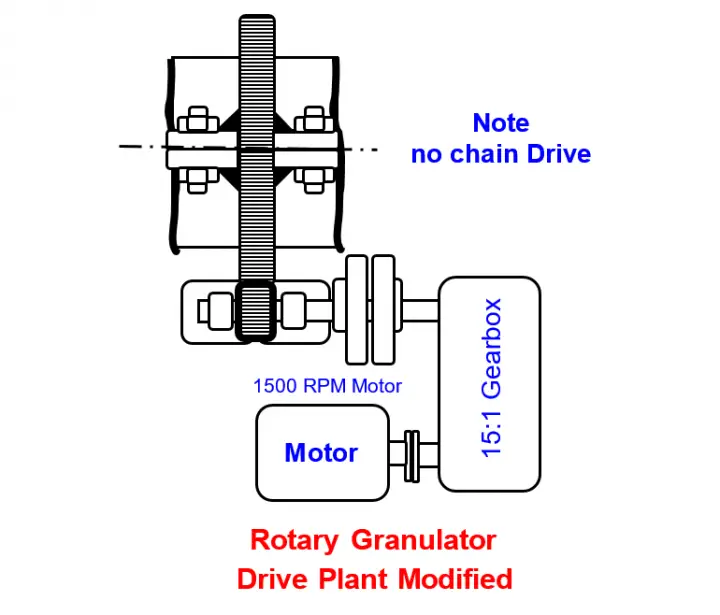 Below listed are the Modification Benefits:
Two sprockets, chains, and four plummer blocks vanished. Consequent clutter free roomy area promotes safety and invigorates people working there
Low tech tasks of frequent chain lubrication, clearing tangled up snapped chains and rejoining, worn chain replacing and chain whips damaged chain guards etc. vanished
Expensive lube oil consumption, chain splashed lube cleaning housekeeping efforts, annoying chain whip noise and slip hazards risks too vanished
Thanks to eliminating maintenance prone chain drive, the below < 70% granulator availability shot up to 100%.
Production increased by 15%
Granulator maintenance efforts and costs reduced by 60%
The freed from low-tech tasks and noisy environs operating and maintenance crew thanked the author. However, they joked, "The silence makes us feel eerie especially in the night shifts.
Author: S. Raghava Chari
Do you face any similar issues? Share with us through the below comments section.
If you liked this article, then please subscribe to our YouTube Channel for Instrumentation, Electrical, PLC, and SCADA video tutorials.
You can also follow us on Facebook and Twitter to receive daily updates.
Read Next: