Microwave Flow Sensor is a Non-contact Flow Sensor which emits the microwaves of 2.4GHz from the tip of its sensor.
Reflected from the surface of powders and solids traveling in a pipeline, the microwaves get modulated in their frequency on the Doppler effect principle.
The sensor, detecting the frequency difference between transmitted and reflected microwaves, transforms it and amplifies to output contact signals.
It can reliably detect a little flow or motion of the powder or the grain in chutes or pneumatic conveying lines, which has so far been considered to be very difficult.
Microwave Flow Sensor
A microwave-based motion detector detects the Doppler shift of the flowing material.
A complete flow detector consists of a transmitter and transducer.
The transducer has a Gunn diode configured within a waveguide (horn) antenna and functions as both a microwave transmitter and receiver. The transmitter contains the measuring electronics and relay output.
The Gunn diode emits a low power, continuous signal that is reflected from moving material in the process.
It  monitors the movement of bulk materials and can be used to detect and indicate material blockages or feeder shutdowns.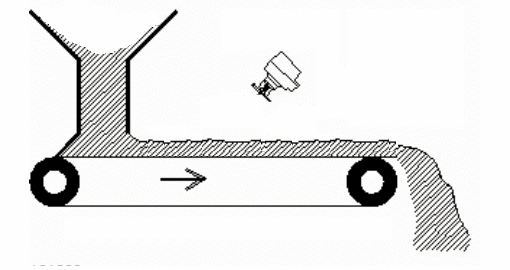 If the reflecting medium is moving, there will be, in accordance with the Doppler effect, a frequency shift between the transmitted and the received signals.
The frequency shift is proportional to the velocity of the process material. The transducer superimposes the transmitted and received signals.
Since the two frequencies differ only slightly, the differential signal produced is low frequency.
This low frequency signal is delivered to the electronics by capacitive coupling and processed in a low frequency amplifier.
Applications
Monitor's Solids Flow Detector and Indicator can be used in a variety of applications to detect flow/no-flow conditions of powders and solid materials.
Detection of a partial or full plug in a conveying line
Detecting the bridging of material in a storage vessel upstream
Sensing inadequate or a lack of flow due to upstream equipment failure (conveyor, blower, diverter valve, feeder)
Verifying flow conditions Arrow Turning on/off equipment or processes downstream