Animation Credits : KANSAI Automation
A sounding transmitter is located on top of the tank or silo to be measured. A plummet, selected for the service is lowered until it touches the process material and is then lifted. The distance traveled is computed and transmitted as a signal representing level or volume.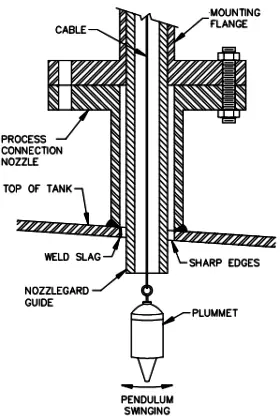 The signal is locally displayed and may be remotely transmitted. All calibration, configuration, and test data reside in the memory of the sounding transmitter. The optional remoted operate/display device is inherently very simple and easy to setup and program. Each sounding unit(s) may be operated by multiple remoted devices in separate locations. The operating device may be a microcontroller or PLC.
Operating Sequence:
An update command is generated by a manual push button, contact closure, or internal timer. The plummet moves to a "start" reference point. The reading of a high-resolution optical encoder is stored in memory. The cable begins to pay out which lowers the plummet and turns the encoder wheel. A decrease in cable load occurs when the plummet touches the process material.
This is detected, the encoder is read, the cable begins to retract the plummet to a selected location, and the output signal is updated.
Applications: Mostly in Solids level measurement.
Note: Principle of Operation may be different from vendor to vendor. This is one of the method.
Also Read: Level Measurement