An ultrasonic flow meter is a meter that measures the flow by detecting the action of fluid flow on an ultrasonic beam (or ultrasonic pulse).
Features:
Easy to carry;
Low maintenance;
Can only be used to measure cleaning liquids;
Not subject to pipe diameter restrictions;
No flow obstruction measurement, no additional pressure loss.
Fluid velocity is measured by sending an ultrasonic pulse from an upstream transducer to a downstream transducer and back again. The measured difference in the amount of time that each pulse takes to traverse the pipe is directly proportional to the mean fluid velocity.
ultrasonic flow meters use this measured velocity to calculate the liquid flow rate based on user-entered information about the process application.
Ultrasonic Flow meters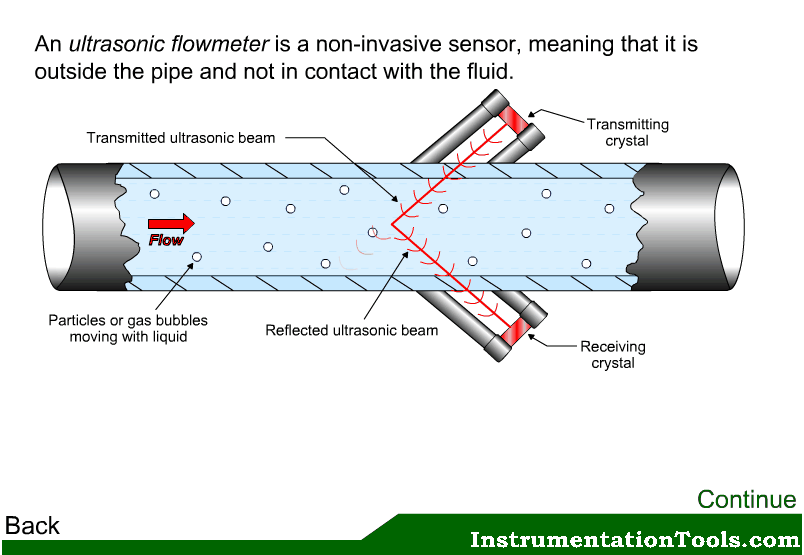 Advantages:
Ultrasonic meters are made up of no moving parts.
They experience no pressure loss.
They endow with maintenance-free operation. It is a key advantage as compared to conventional mechanical meters such as positive displacement meters, turbines etc.
Furthermore, Ultrasonic flow meters are consistently more accurate and reliable than a lot of other metering systems.
With the emergence of 3-beam ultrasonic, all other flow meters like mass, vortex, positive displacement and turbine flow meters which are used to measure non-conductive fluids, have been successfully replaced by ultrasonic meters.
Disadvantages:
Still problematic for liquid and gas measurements
Sound beam must traverse a representative cross section, therefore flow profile dependent. Long inlet and outlet sections required
Errors due to deposits
Transit time meters require clean liquids
Doppler meters only for slight contamination or few gas bubbles
Doppler meters affected by sound velocity changes due to temperature, density and concentration
Unsuitable for heavily contaminated liquids
Gas bubbles cause errors
Applications
Ultrasonic flow meters are perfect for wastewater applications or any other dirty liquid which is conductive or water based.
Ultrasonic flow meters normally does not work with distilled water or drinking water. Aerations would be needed in the clean liquid applications.
Ultrasonic flow meters are also best suited for applications where low pressure drop, chemical compatibility, and low maintenance are involved.
Articles You May Like :
Reasons to Calibrate Flow Meters
Difference between Flow Meters
Positive Displacement Flow Meter
Turndown Ratio of a Flow Meter