A ball valve is a form of quarter-turn valve which uses a hollow, perforated and pivoting ball (called a "floating ball") to control flow through it. It is open when the ball's hole is in line with the flow and closed when it is pivoted 90-degrees by the valve handle.
The handle lies flat in alignment with the flow when open, and is perpendicular to it when closed, making for easy visual confirmation of the valve's status.
Ball valves are durable, performing well after many cycles, and reliable, closing securely even after long periods of disuse. These qualities make them an excellent choice for shutoff applications, where they are often preferred to gates and globe valves, but they lack their fine control in throttling applications.
Ball valves are a quick opening valves that give a tight shutoff. When fully open, a ball valve creates little turbulence or resistance to flow.
The valve stem rotates a ball which contains an opening. The ball opening can be positioned in the fully open or fully closed position but must not be used to throttle flow as any abrasive wear to the ball will cause leakage when the valve is closed.
Basics of Ball Valves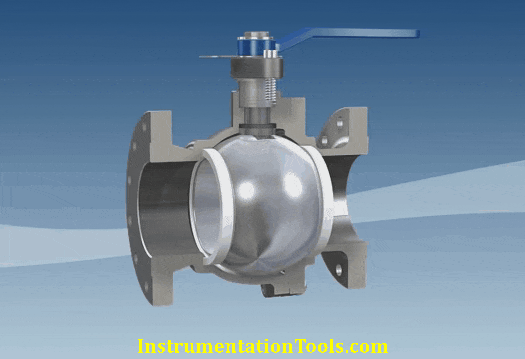 Ball valves are considered high recovery valves, having a low pressure drop and relatively high flow capacity.
The ball valve's ease of operation, repair, and versatility lend it to extensive industrial use, supporting pressures up to 1000 bar and temperatures up to 752°F (500°C), depending on design and materials used.
Sizes typically range from 0.2 to 48 inches (0.5 cm to 121 cm). Valve bodies are made of metal, plastic, or metal with a ceramic; floating balls are often chrome plated for durability.
Best Suited Control:

Quick opening, linear
Recommended Uses :
Fully open/closed, limited-throttling
Higher temperature fluids
Advantages :
High pressure/temperature  capabilities
Low leakage and maintenance
Tight sealing with low torque
Easy quarter turn operation- desirable to most operators
Disadvantages :
Limited throttling characteristics
Not suitable for slurry applications due to cavities around the ball and seats. Slurries tend to solidify or clog inside the cavities, greatly increasing the operating torque of the valve and in some cases rendering the valve inoperable.
Applications :
Ball valves  are  excellent  in  chemical  applications,  including  the  most  challenging services (e.g. dry chlorine, hydrofluoric acid, oxygen).
General sizes available are 1/2″ to 12″.
Compliant with ASME is the flange rating, either 150, 300, 600, 900# or occasionally higher classes, enabling high performance ball valves to withstand up to 2250 psi.
The operating temperature which is primarily dependent on seats and seals may be rated as high as 550°F.
Standard valves comply with ASME face-to-face  dimensions,  making the ball valve easy to retrofit and replace.
Articles You May Like :