Instrumentation engineering root cause analysis of re-heating furnace too low-temperature readings after a failed thermocouple change.
| | |
| --- | --- |
| Article Type: | Root Cause Analysis (RCA) |
| Category: | Instrumentation |
| Equipment Type: | Instruments |
| Author: | S. Raghava Chari |
Note: This root cause analysis (RCA) is from real-time scenarios that happened in industries during the tenure of two or three decades ago. These articles will help you to improve your troubleshooting skills and knowledge.
Too Low-Temperature Readings Problem
The re-heating furnace foreman complained too low temperature readings after a failed TC change. Instrument crew repeatedly found correct recorder calibration.
Hence, the furnace supervisor asked the author to resolve to enable slabs charging and increasing plates and sheets production.
Author Solution
The author Optical Pyrometer check confirmed furnace temperature around 100O C more than the temperature recorder reading.
He complimented the furnace supervisor for his major disasters avert judgment – slabs if any charged into the furnace would have melted and made it unusable.
Cleaning the mess and repairing the furnace would have taken several weeks and reduced rolling mill output 10 to 15%.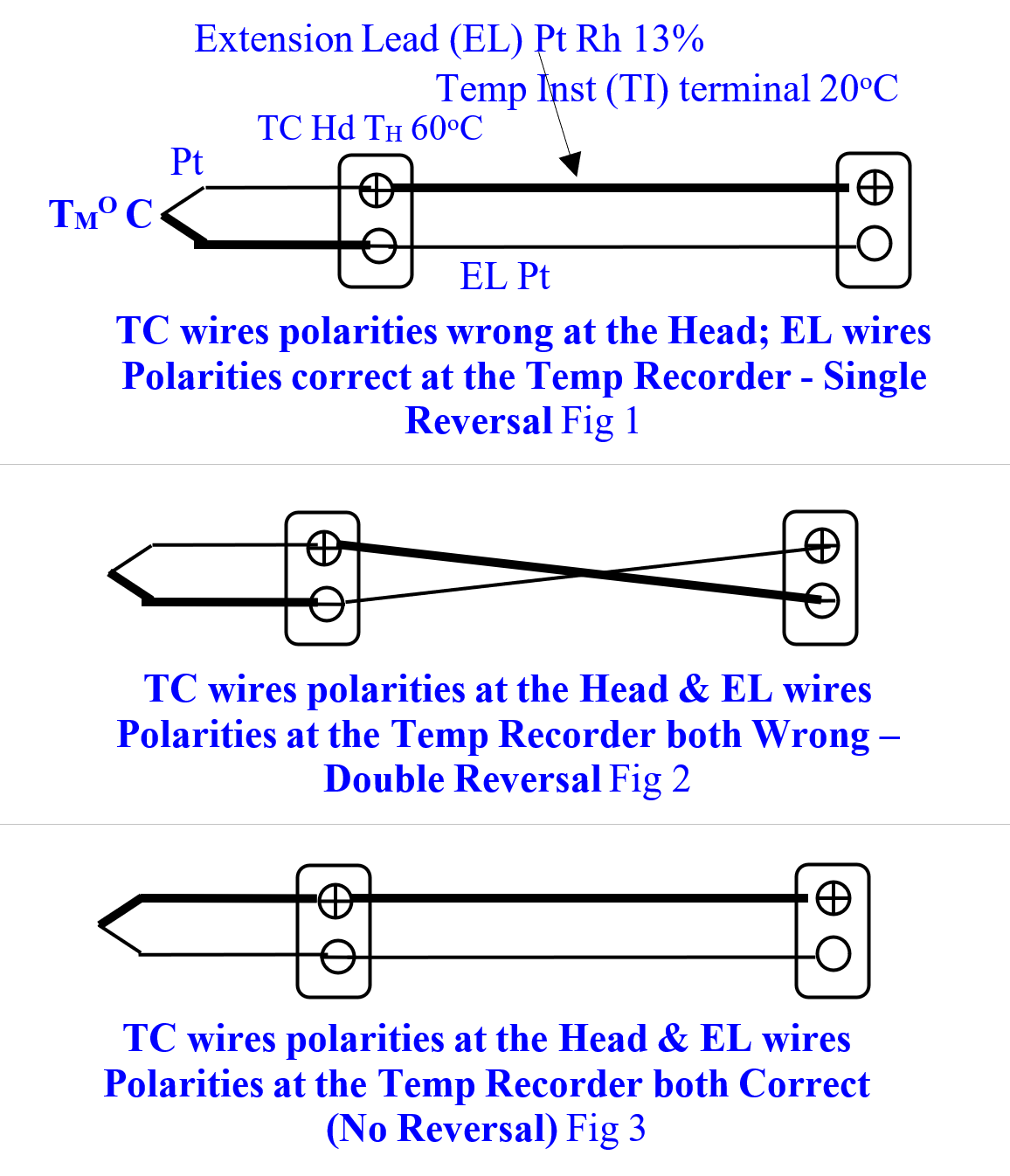 The questioned Instrument Technician's answers were:
He connected an end jointed PtRh 13% Pt wires to the TC head terminals, inserted the TC into the ceramic protection tube, connected the EL taking care to avoid polarity errors at the TC head and the Temperature Recorder (TR) terminals.
The TR pointer moved downscale
Hence, he swapped EL connections at the TR (fig 35)
TR reads upscale; however, the furnace foreman the reading is approx. 100o C too low
The author exclaimed, "Aha, you have caused double reversal error" – See table 1 and figs 34 and 35.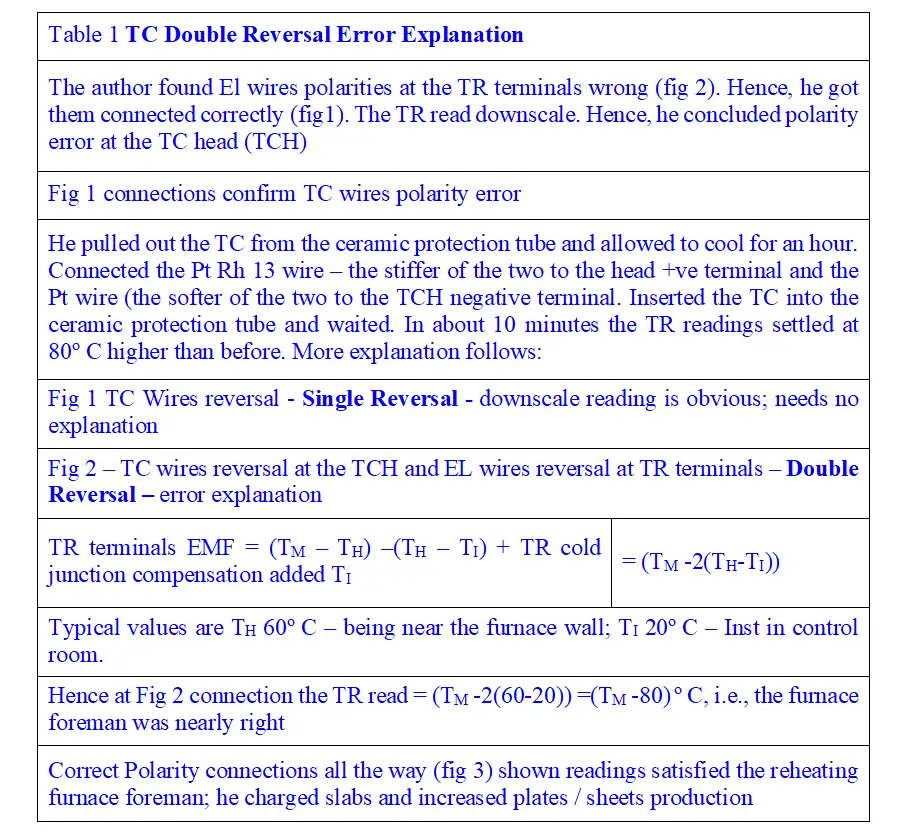 The author told the foreman, "Your judgment that temperature reading is wrong is commendable. However, how could you be so certain of a small 80o C error in 1300o C actual temp?"
The foreman sheepishly grinned and said, "There was a past similar incident and only an instrument engineer could correct it. Then on I always dispute the temperature reading accuracy after instrument technicians fix TC or TR problems and get the temperature measurement checked by an instrument supervisor!"
Author: S. Raghava Chari
Do you face any similar issues? Share with us through the below comments section.
If you liked this article, then please subscribe to our YouTube Channel for Instrumentation, Electrical, PLC, and SCADA video tutorials.
You can also follow us on Facebook and Twitter to receive daily updates.
Read Next: