Today we are going to discuss the most common type of PLC hardware used in large-scale industries i.e. Allen Bradley (AB) PLC (1756 ControlLogix) which can be seen in the below picture.
A simple ControlLogix system consists of a stand-alone controller and I/O modules in a single chassis. It is a modular type PLC.
Allen Bradley PLC ControlLogix Hardware
A ControlLogix system can be anything from a simple chassis to a highly-distributed system consisting of multiple chassis and networks working together.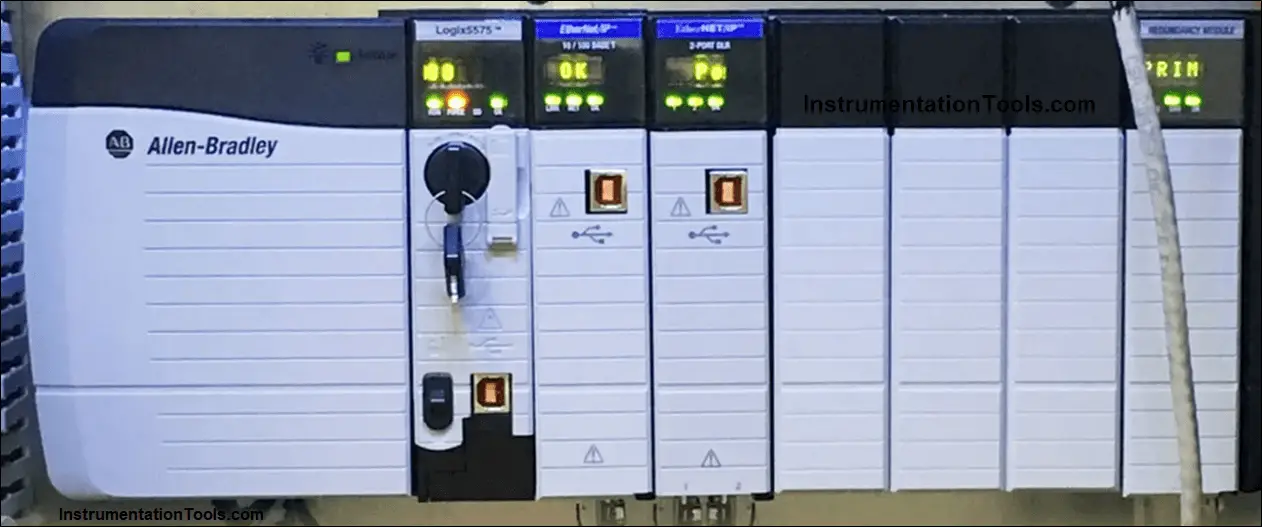 Like every other system, it has a redundant power supply, controller, IO modules, redundancy modules, and communication card.
We will discuss all of them.
Chassis
The ControlLogix system is a modular system that requires a 1756 ControlLogix chassis. The chassis is designed for only horizontal back-panel mounting.
The below image is the chassis of a PLC.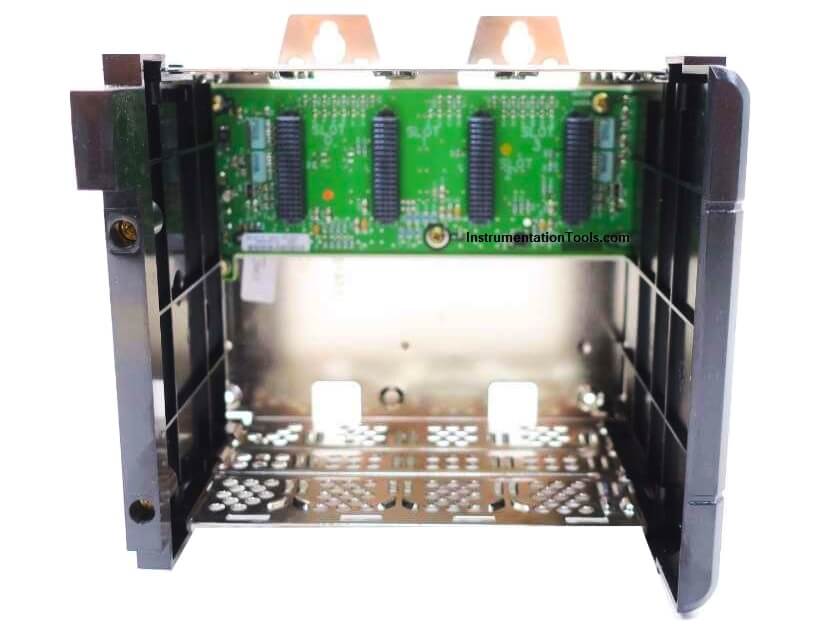 The power supply unit is placed on the left-most side only & you can place any module into any slot.
The backplane provides a high-speed communication path between modules and also the power to them.
Different chassis available are:
| Model Number | Slots |
| --- | --- |
| 1756-A4   |  4 Slot ControlLogix Chassis |
| 1756-A7   |  7 Slot ControlLogix Chassis |
| 1756-A10   |  10 Slot ControlLogix Chassis |
| 1756-A13   |  13 Slot ControlLogix Chassis |
| 1756-A17   | 17 slot ControlLogix Chassis |
Power supply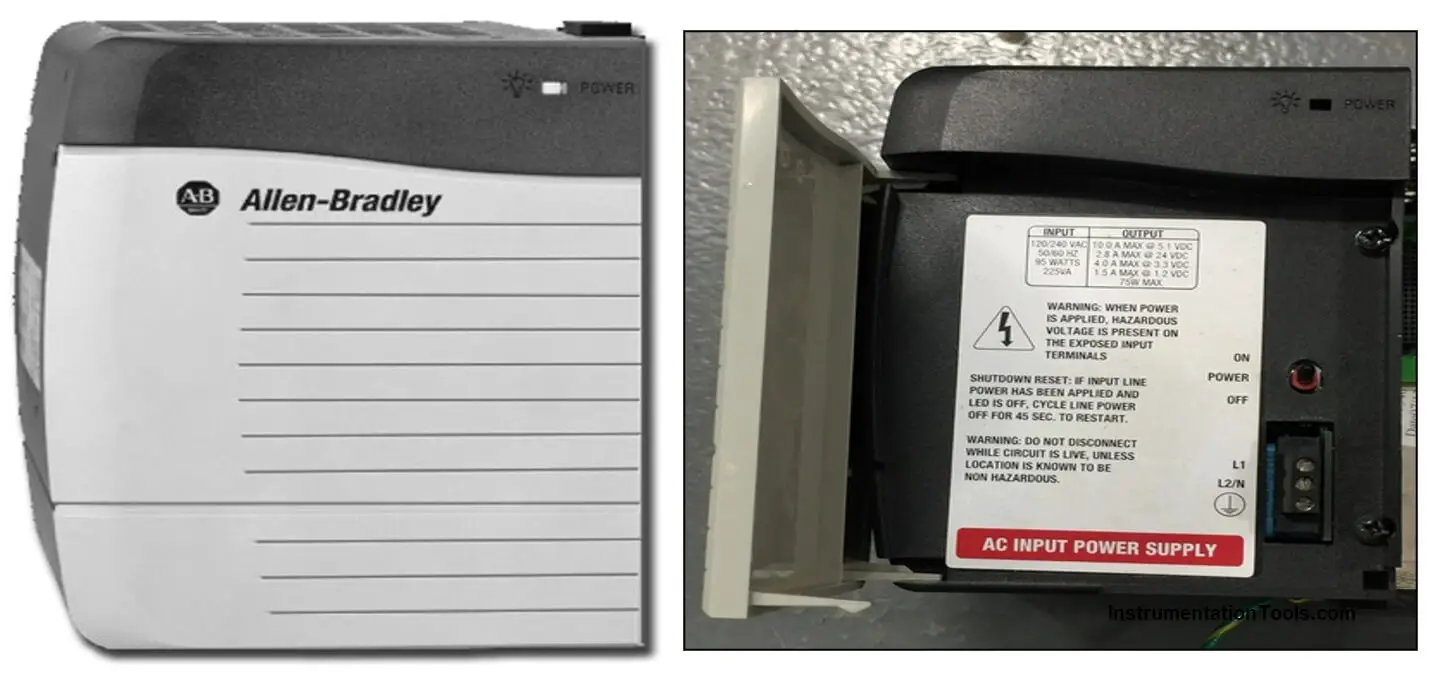 The power supply is primarily used to provide power to a ControlLogix rack, whether a local or distributed I/O rack.
The power supply module is mounted on the leftmost side of the chassis.
Other different models are also available in the market as mentioned in the below table.
| Model Number | Ratings |
| --- | --- |
| 1756-PA72  | 85-265 VAC Power Supply (10 Amp @ 5V) |
| 1756-PA75   | 85-265 VAC Power Supply (13 Amp @ 5V) |
| 1756-PB72    | 19-32 VDC Power Supply (10 Amp @ 5V) |
| 1756-PB75  | 19-32 VDC Power Supply (13 Amp @ 5V) |
CPU
1756-L71 is the most commonly used controller having 2 MB User Memory, 0.98 MB I/O Memory, USB Port, and a battery for backup.
1756-L72 is also one version with 4 MB of user memory.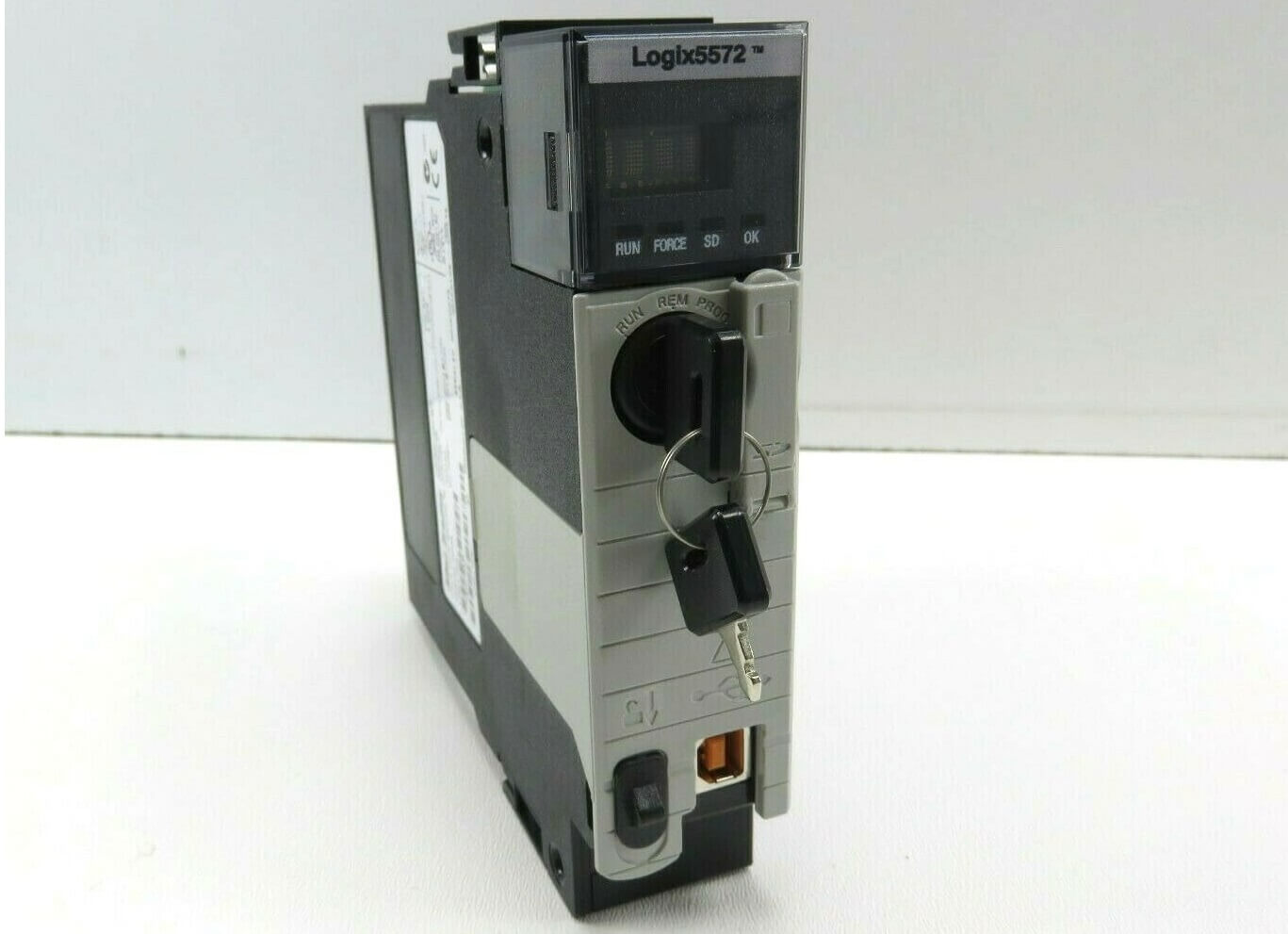 1756- L61/L62 are earlier versions that are obsolete now. This CPU module has a key available for 3 different modes which we will discuss later in another article.
The CPU module has 1 built-in USB port used for programming, configuration, firmware update, and online edits only.
IO modules
1756 ControlLogix standard I/O modules require either a Removable Terminal Block (RTB) or an Interface module (IFM) like an Ethernet module to connect all field-side wiring.
RTBs and IFMs are not included with the I/O modules.
Different model numbers for AI cards are 1756-IF8, 1756-IF16, and more. So wherever you see 'IF', you can say it is an AI module, and the number after it denotes the channel number.
Similarly, the AO card's model numbers are 1756-OF8, and 1756-OF16.
In the case of the DI module, model numbers are 1756-IB8, 1756-IB16, and more.  And for the DO module, model numbers are 1756-OB8, and 1756-OB16.
Redundancy module
The Allen-Bradley 1756-RM is a ControlLogix Redundancy module. This module may only be used with the ControlLogix platform to enable controller redundancy.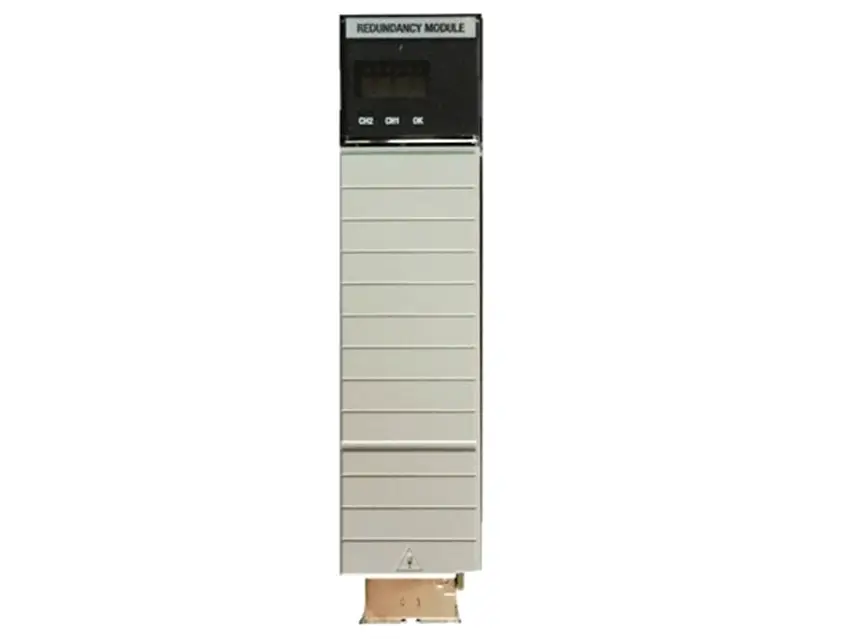 The redundancy module manages the connectivity of two identical controllers, installed in an identical rack of the same components and configuration.
This module provides redundancy system monitoring as well as module health via embedded LED displays such as PRI, COM, and OK.
ControlNet module
Now we need our system to be connected to a network also. For this purpose, the ControlNet module can be used.
1756-CNB is non-redundant while 1756-CNBR is a redundant type module.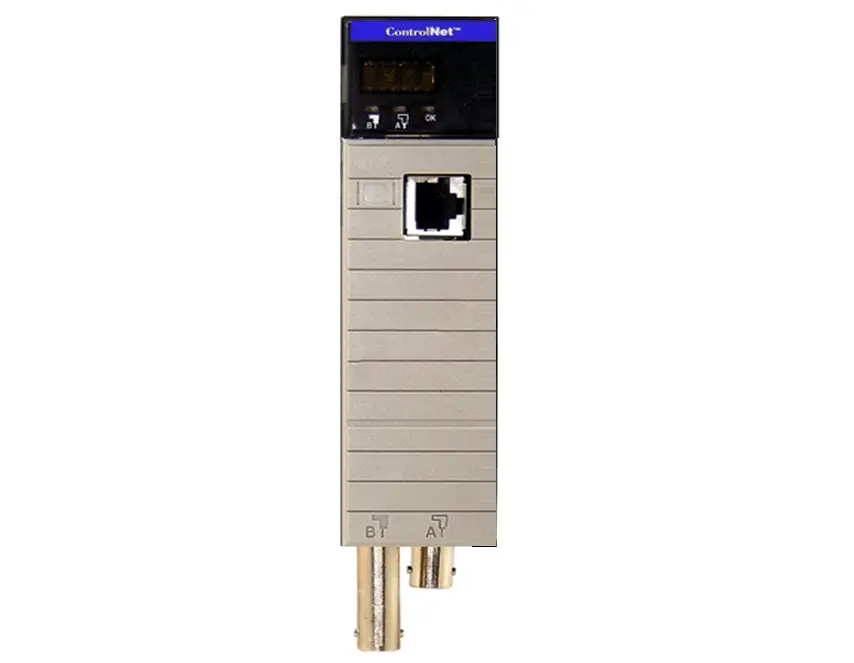 They have a special BNC connector for connecting to the network. The above image shows a redundant type of module as you can see 2 BNC connections given i.e. A & B.
The USB port is intended for temporary local programming purposes only and not intended for permanent connection.
Ethernet Module
1756-EN2TR is a part of the ControlLogix Communication Module series. It is an EtherNet/IP (Ethernet Industrial Protocol) dual-port interface communication module.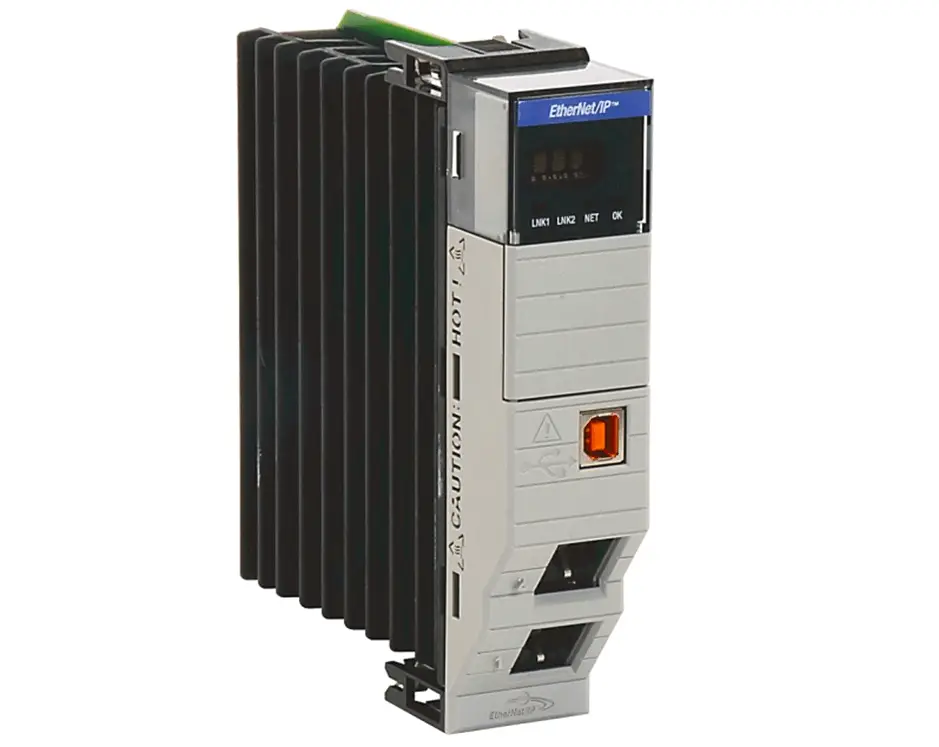 The ethernet module supports general messaging, real-time I/O messaging, and information exchange for applications like Real-Time Control, Time Synchronization, and Motion.
The 1756-EN2TR also meets the CIP safety standard by allowing simultaneous transfer of safety and control data and diagnostics information.
ControlNet module uses advanced communication chips and physical media. The 1756-EN2TR Module has 10 – 100 Mbps EtherNet/IP communication rates and uses dual copper.
That's all basis of an AB PLC ControlLogix 1756 series. I hope you enjoyed it & learned new things if you haven't worked on AB PLC ControlLogix 1756 series.
If you liked this article, then please subscribe to our YouTube Channel for Electrical, Electronics, Instrumentation, PLC, and SCADA video tutorials.
You can also follow us on Facebook and Twitter to receive daily updates.
Read Next: