In the first part, we overviewed the PLC's used for smaller and medium applications. The second part overviews the PLCs used for higher-level applications.
M340 – Mid Range PLC
The first range of high-end processors in Schneider PLC starts with M340 PLC.
It is a very powerful and compact series of PLCs providing high-end efficiency and control solutions in it.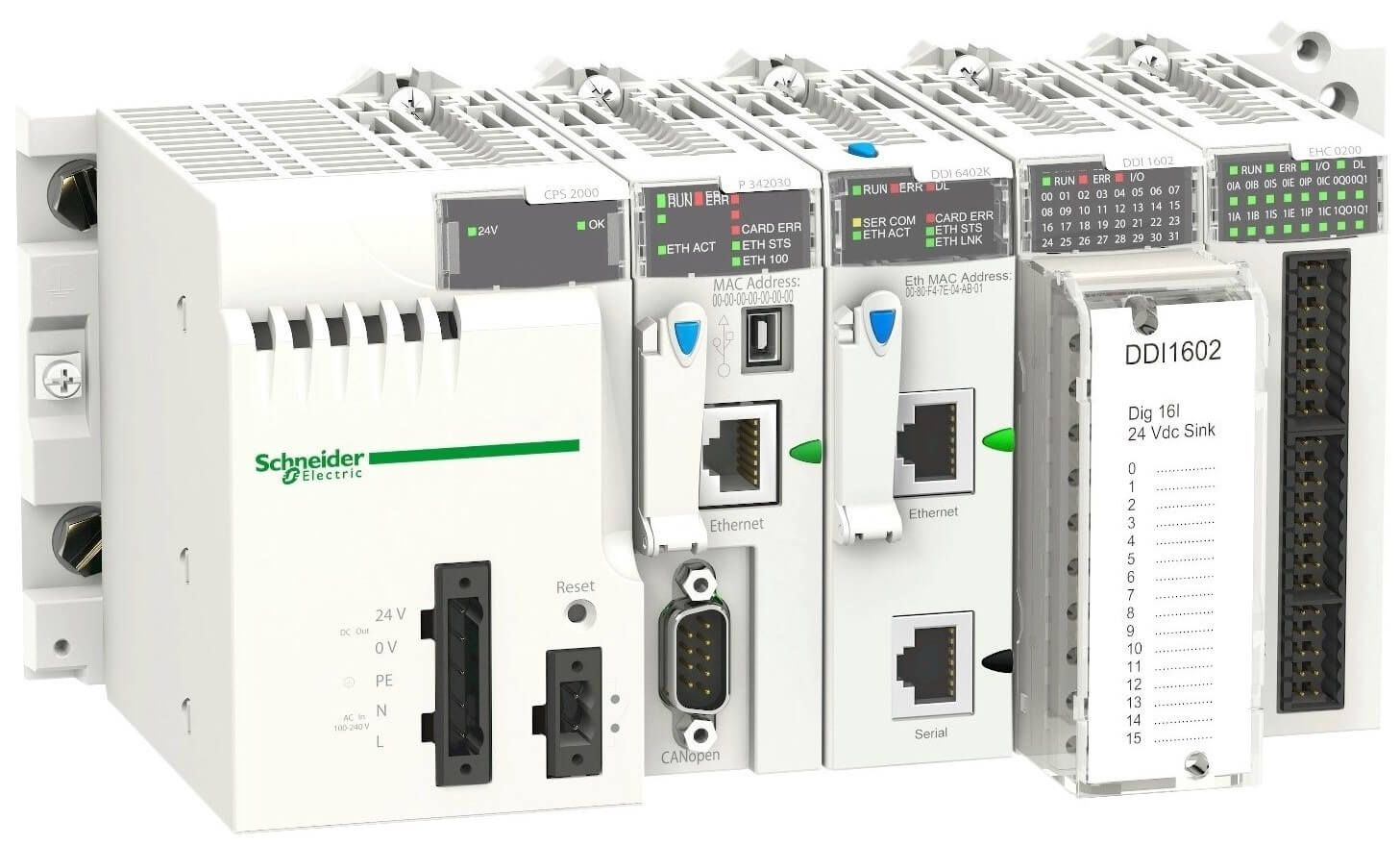 This PLC has a program memory of 4 MB, 128 MB of file storage, and executes 7 instructions in a millisecond. The PLC is a modular type which means it requires a rack to configure.
The communication part comprises a USB port, 3 Ethernet networks, 1 CAN Open, 1 serial port, 4 ASI, and 37 Modbus buses.
The PLC has an embedded web server and file transfer protocols. The main advantage is that the program is stored in a removable SD card.
So, whenever the PLC gets corrupt or damaged, just remove the SD card and insert it in the new PLC.
The software used for programming is Control Expert. You have all the languages available in it.
M580 – Ethernet Programmable Controller & Safety PLC
It is one of the highest-end levels of CPU available in Schneider PLC. It is a smart PLC designed for big manufacturing applications, compatibility with Industry 4.0, and complex hybrid production lines.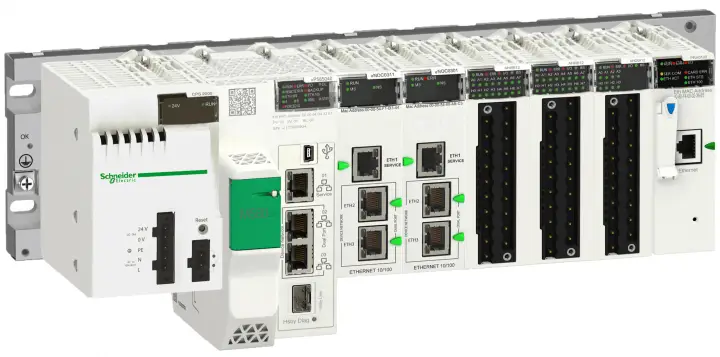 A large amount of data flow involved and provision to add multiple communication devices of various types and vendors in it makes it a very suitable PLC for big scale applications.
It has redundant controllers and safety controllers (SIL3) with native Ethernet and cyber-security embedded in it.
The software used for programming is Control Expert. You have all the languages available in it.
Preventa XPS MC, XPS MP – Safety controllers
This PLC is a safety controller comprising various safety applications. The PLC is Category 4 conforming to EN 954-1 and SIL3 conforming to EN/IEC 61508.
It has 30 types of certified safety functions and libraries built in its programming software. It communicates to PLCs via Modbus, CAN Open, or Profibus network.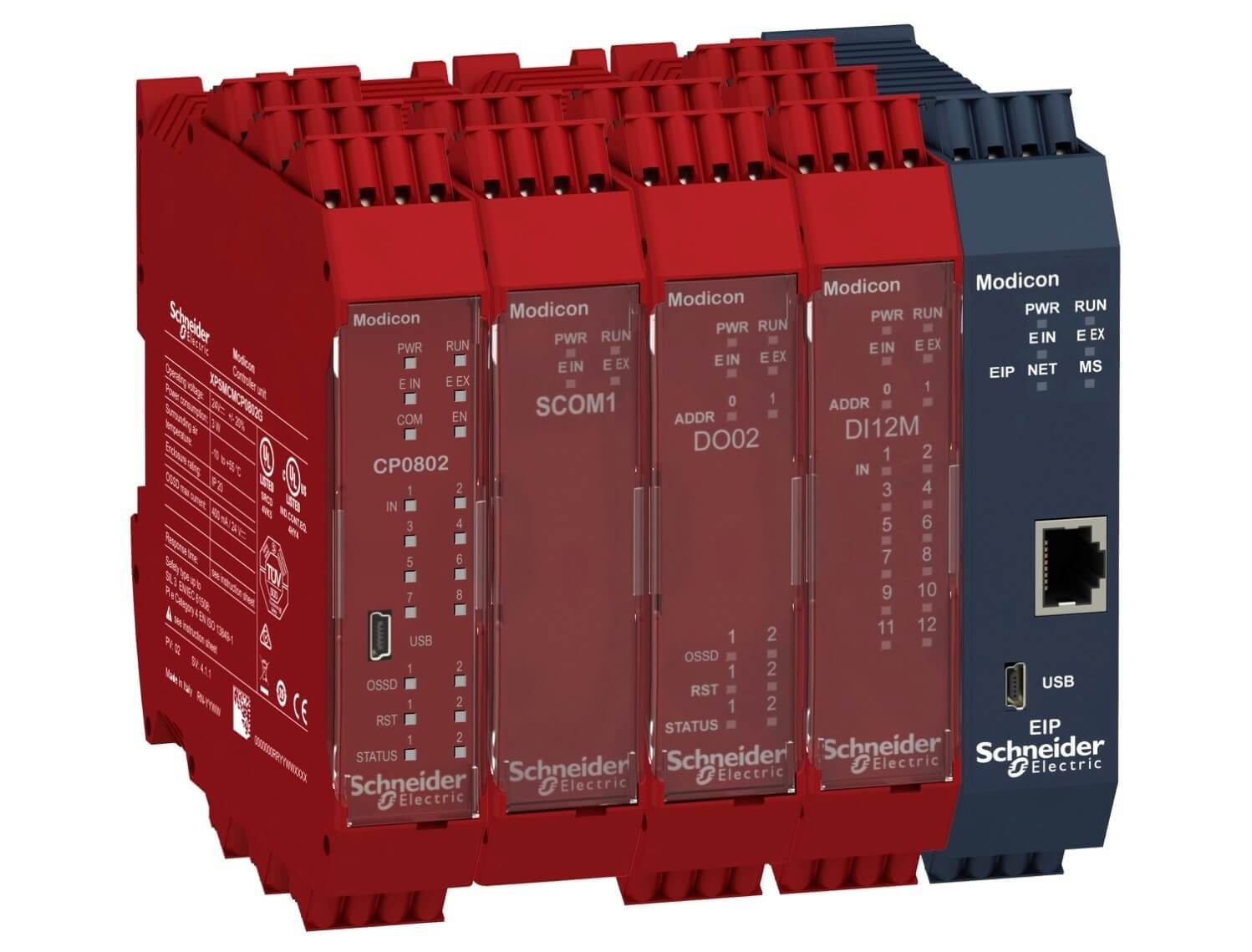 Schneider range of controllers also has a vast range of distributed IO's and racks and modules for fail-safe, efficient and hybrid types of communication and programming. It has other controllers and devices too, but we will not cover all the types in this post. I have attempted to cover the most and generally used types of PLCs in Schneider.
In this way, we had an overview of the various types of Schneider PLCs in both the posts; ranging from small-scale to large-scale applications.
If you liked this article, then please subscribe to our YouTube Channel for Instrumentation, Electrical, PLC, and SCADA video tutorials.
You can also follow us on Facebook and Twitter to receive daily updates.
Read Next: