In this post, we will see the basics of an intelligent motor control center (IMCC).
An MCC panel feeder consists of components like circuit breakers, contactors, current transformers, relays, and other control devices to control the flow of power from the busbar to the motor connection.
Intelligent Motor Control Center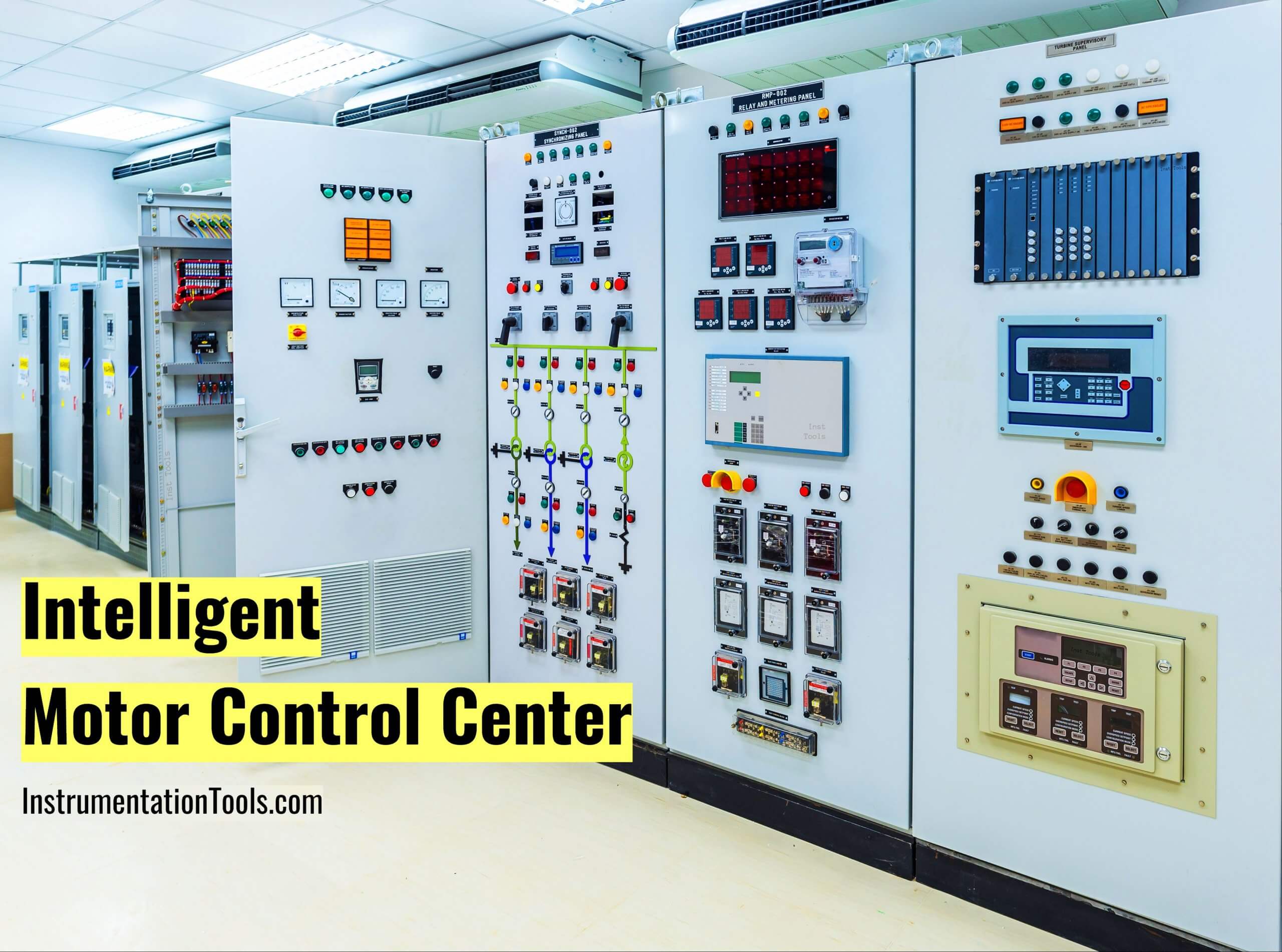 Some feeders also have VFDs in them. As the MCC panel has many feeders, the control wiring from individual feeders to respective PLC panels also increases.
Due to the use of increased wiring, complexity increases. To avoid this, an intelligent motor control center (IMCC) panel is used.
IMCC panel consists of feeders which are the same as that in MCC panel, but only differs by a device called SIMOCODE. It is a controller-type device of Siemens make which communicates all the electrical data from the feeder to the PLC or any other control device through any common protocol like Profibus or Profinet.
There are other devices available too of different makes, but SIMOCODE is a pioneer in IMCC panels and is widely used. The working is the same for all the devices of different makes.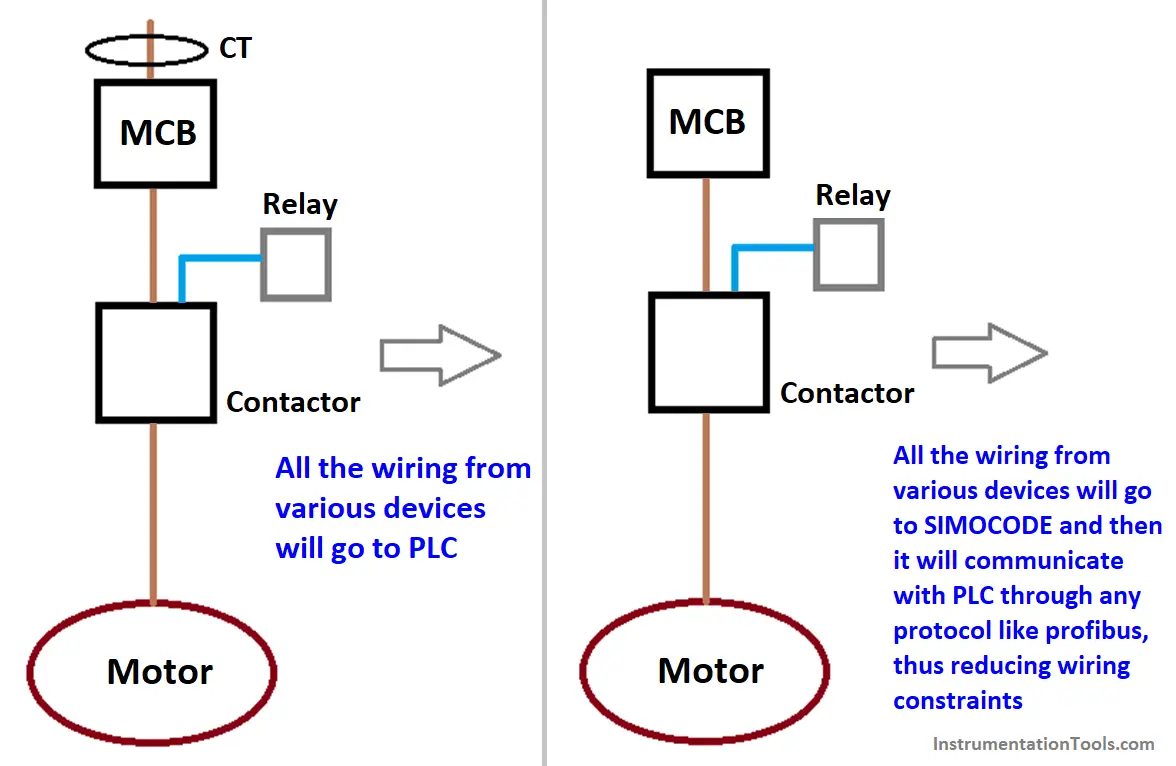 Refer to the above image. To get a clear idea, let us understand the basic difference between IMCC and MCC.
All the wiring from relays, contactors, and energy meters will directly go from them to PLC.
This limits the efficiency and reliability of the system, as increased hardwiring increases complexities.
The types of wires used are normally for feedback or control with respect to PLC. If a VFD is used in the feeder, then additional wiring of speed reference is increased.
To overcome this, SIMOCODE is installed in the feeder itself. All the local electrical wiring of feedback and control will go from them to this device.
This device has a communication port that will then communicate the data to the PLC using only Profibus cabling or Profinet cabling.
Due to local wiring and no use of external wiring with respect to PLC, the complexity and troubleshooting time are reduced to a great extent.
So, basically, a feeder in MCC is the same as a feeder in IMCC; just by a difference of this device.
You can read and write all the electrical data of a feeder through this device. You just need to program the communication parameters and addresses properly in the PLC. A large variety of data can be transported through SIMOCODE.
Let us consider some general examples of the data exchanged. Motor start and stop command can be controlled by SIMOCODE to the relay inside.
Fault reset command for a VFD or other equipment which has a provision of fault reset in it can be given from SIMOCODE to that.
Feeder healthy feedback, motor run feedback, motor trip feedback, local feeder emergency stop button status, local or remote selection switch status, power failure feedback, stalled rotor feedback, unbalance trip feedback, etc. are some examples of inputs that can be given to SIMOCODE.
Recent current transformers have a local communication port in them for giving current, voltage, and energy data to the SIMOCODE.
If a VFD is used, SIMOCODE will write the speed in it through its local 4-20 mA or 0-10 V output. So, imagine if all this was done without SIMOCODE.
A large amount of wiring would have to be done then to and from the PLC, for reading and writing all these data.
In these devices, you have to set the motor data like current, power, etc. This decides the tripping function of the motor.
So, a programmer just has to write and read a communication address instead of the digital input, digital output, analog input, or analog output that he uses for communication with the feeder.
This is the basic working of an IMCC panel. The component used which differs is only this SIMOCODE type device. Some even ask whether they can use a PLC in place of this or not.
Yes, it can be done; but these devices are specially designed for motor management and are also cheaper than a PLC. Due to motor management functions, all the advanced level controls of a motor can be controlled.
If you liked this article, then please subscribe to our YouTube Channel for Instrumentation, Electrical, PLC, and SCADA video tutorials.
You can also follow us on Facebook and Twitter to receive daily updates.
Read Next: