The Engineers Interview Android App provides interview question & answers on various engineering disciplines like Electrical, Mechanical, Instrumentation and Chemical engineering etc.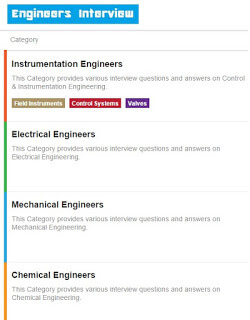 Engineers Interview Android App
The main motto of
EngineersInterview.com
website/app is to post as many interview questions as possible along with answers that were asked in various company interviews and expected questions which may be asked in job interviews, to help the needy young generation who are going to face interviews and also experienced professionals.
This app will enlighten the nature and scope of interview questions that will be asked in various company interviews, keeping in view the present interviews scenario.
The users can also add questions and answers that they have faced in any job interviews, to share their interview experience and knowledge with the upcoming young generation.
Also Downlaod : Instrumentation Android App
Please install the app, share the app , Post comments & give Positive rating on Google Play store.
This is only starting version of Engineers Interview App Version 2.0 available in Google Play store which requires internet connection to load the data in the app. The app may take little bit time and depends on your internet connection & mobile so Please be patient. Next version of this android app planning to launch soon which works without internet connection.
HOW TO INSTALL THE APP
Procedure 1:
1. Open Google Play store in your mobile.
2. Type EngineersInterview in your google play store Search.
3. Choose Engineers Interview App.
4. Install app in your mobile.
5. Switch ON the internet & then Open the App.
6. Note App takes time to load the content…Meanwhile default instruction screen appears.
So Please wait till loading complete.
Procedure 2:
Support Our EngineersInterview App: Like it, Share it, Give Positive Comment & Encourage us.
Please share your feedback & suggestions through comments.