A magnetic flow meter (mag meter, electromagnetic flowmeter) is a transducer that measures fluid flow by the voltage induced across the liquid by its flow through a magnetic field.
A magnetic field is applied to the metering tube, which results in a potential difference proportional to the flow velocity perpendicular to the flux lines. The physical principle at work is electromagnetic induction.
The magnetic flow meter requires a conducting fluid, for example, water that contains ions, and an electrical insulating pipe surface, for example, a rubber-lined steel tube.
Magnetic Flow Meter Animation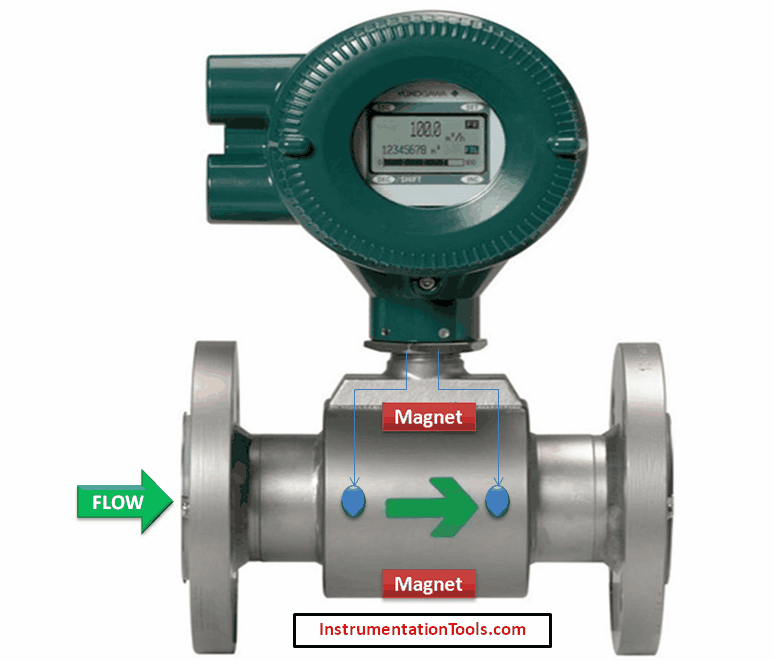 Image Courtesy: Yokogawa
Animation by: Instrumentation Tools
Principle of Operation
Simply, Magnetic Flow Meters works on Faraday's Law of Electro-Magnetic Induction.
The Two Blue dots in the animation indicates electrodes. The Copper coils (red blocks – magnets) on top & bottom of the instrument are electro-magnets used to generate a magnetic field.
When there is no fluid flow then the induced voltage between electrodes is Zero.
When a fluid flows through the magnetic field, the two electrodes pick up the voltage and it is proportional to fluid flow rate.
That's it. Very Simple.
Post your opinions on Instrumentation animations. Share it with your friends.
Articles You May Like :
Magnetic Meters Complete Guide
Why to do Flow Meter Calibration
Flow Meter Square Root Relationship
Architecture of Instrumentation