The captive power plant (CPP) in the Onshore Gas Terminal (OGT) is set up to meet the power and steam requirements of the process and utility systems in the OGT complex.
The CPP is equipped with two M/S GE make Frame-V Gas Turbine Generators (GTG) of capacity 20.5 MW each; both the GTGs would be in operation each operating at part load as per the design philosophy.
The hot flue gas from each GTG is diverted to the respective HRSG (Heat Recovery Steam Generator) to produce process steam.
Each HRSG is equipped with a supplementary firing system and is designed to meet the peak load of 66 TPH of High-Pressure steam generation (36 Kg/cm, 256 Deg°C).
Both the HRSGs would be operating at part load. CPP is also equipped with fuel gas conditioning skids to ensure the quality of fuel gas used in GTG.
Recently the Captive power plant has tripped on —DATE— at 05.55 hrs on electrical protection (earth fault).
Incident Summary
On —date— Gas turbine-2 which was running at normal operating conditions tripped due to electrical protection generated from generator relay protection panel at 05.55 hrs lead to production loss.
The generator is provided with electrical protection on stator earth fault of 1N>1. EDG failed to start automatically due to PMCC-1 (Emergency PMCC) normal incomers didn't trip during a blackout.
The incomers were switched on manually and the Emergency diesel generator was started.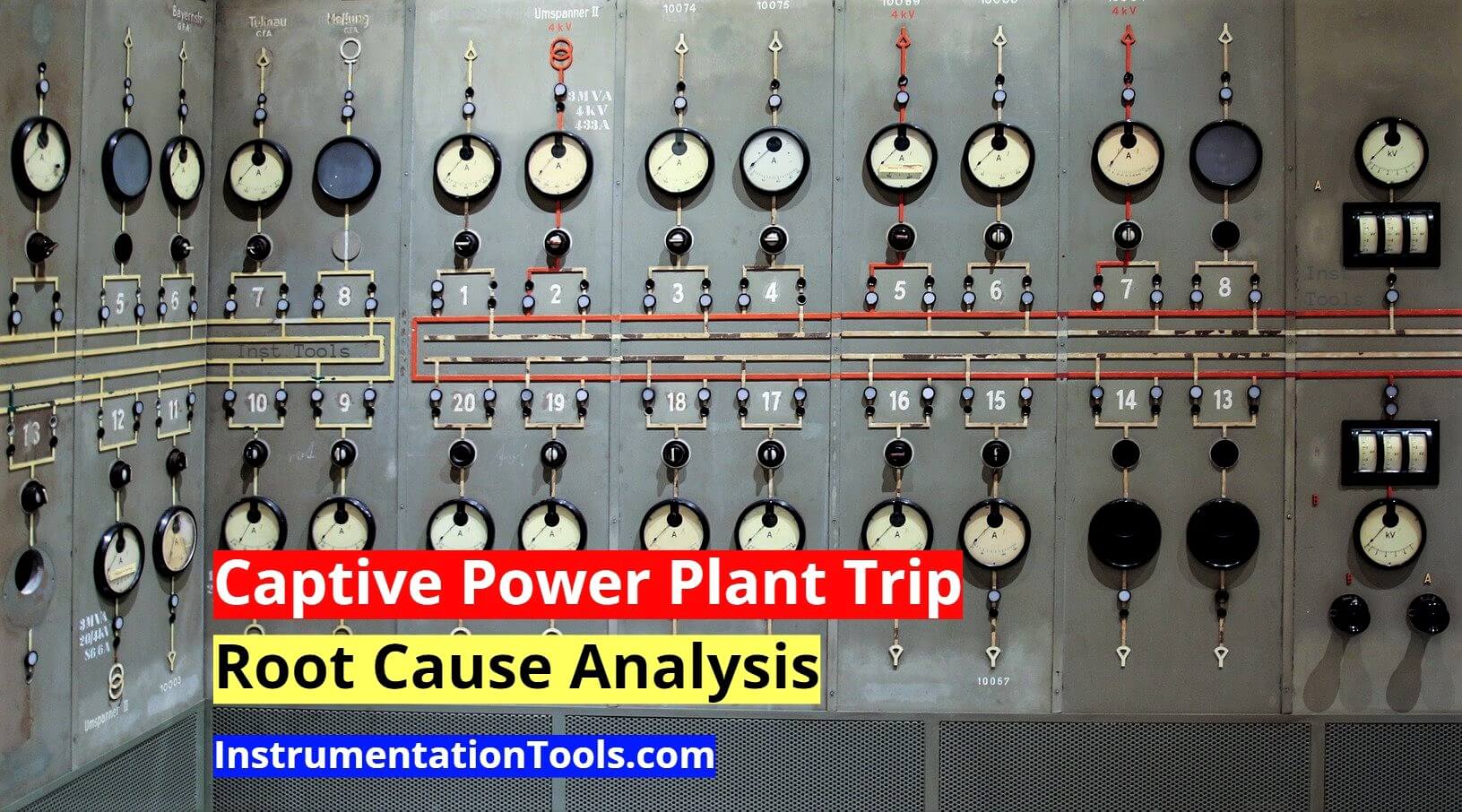 Probable Causes
Actual earth fault in generator stator winding.
Malfunction of the current sensing device.
Transient earth fault in the downstream electrical system.
Observations
The generator relay protection given a trip command on electrical  protection (stator earth fault 1N> 1)
The trip valve setting in  generator  protection  relay (MICOM) for stator earth fault is 5Amps with 600 milli seconds delay.
The actual current sensed by the protection system was 88Amps.
The  generator  panels  were  physically  inspected  for  any  fault  and  there  is  no significant evidence for short circuit founed.
The CT was physically checked and found to be good.
Generator differential protection relay not operated.
11KV bus differential relay is not operated.
No alarm/tripping indication in downstream electrical distribution systems
Root Cause Analysis
From  the  observations  above,  it  is  derived  that  the  probable  causes  1 and  2 mentioned above is not the reason for this trip.
Further to ascertain the healthiness of the generator stator,  the generator excitation was kept on manual  and excitation voltage was slowly and gradually increased up to
11KV and there is no abnormality observed.
As there no alarm/tripping  in the downstream electrical distribution system, the exact point of fault remains uncertain. The trip may be due to transient fault initiated from generator downstream electrical system.
Measures to avoid such incidents in future
Relay calibration and testing to be carried out in complete electrical system.
Over  all  Relay  coordination  study  for  longest  chain  in  OGT  (CPP  substation  to substation)  needs to be carried  out and final  relay setting  recommendation  of the study is to be implemented.
Through inspection for possible entry for rodents in the entire electrical  system to be carried out
Regular pest control in all electrical systems to be carried out.
Documents and Reports
Mark Vie system sequence of events
If you liked this article, then please subscribe to our YouTube Channel for Instrumentation, Electrical, PLC, and SCADA video tutorials.
You can also follow us on Facebook and Twitter to receive daily updates.
Read Next: