Did you ever ask yourself, how could the Automation Engineers go through the Electric Panels wiring?
There are a lot of wires are going up and down how could they know every path for each wire without making any effort.
Today we will discuss a very important topic that would help you to be familiar with the different electric wiring diagrams, and it will help you to not stuck with any Electric panel.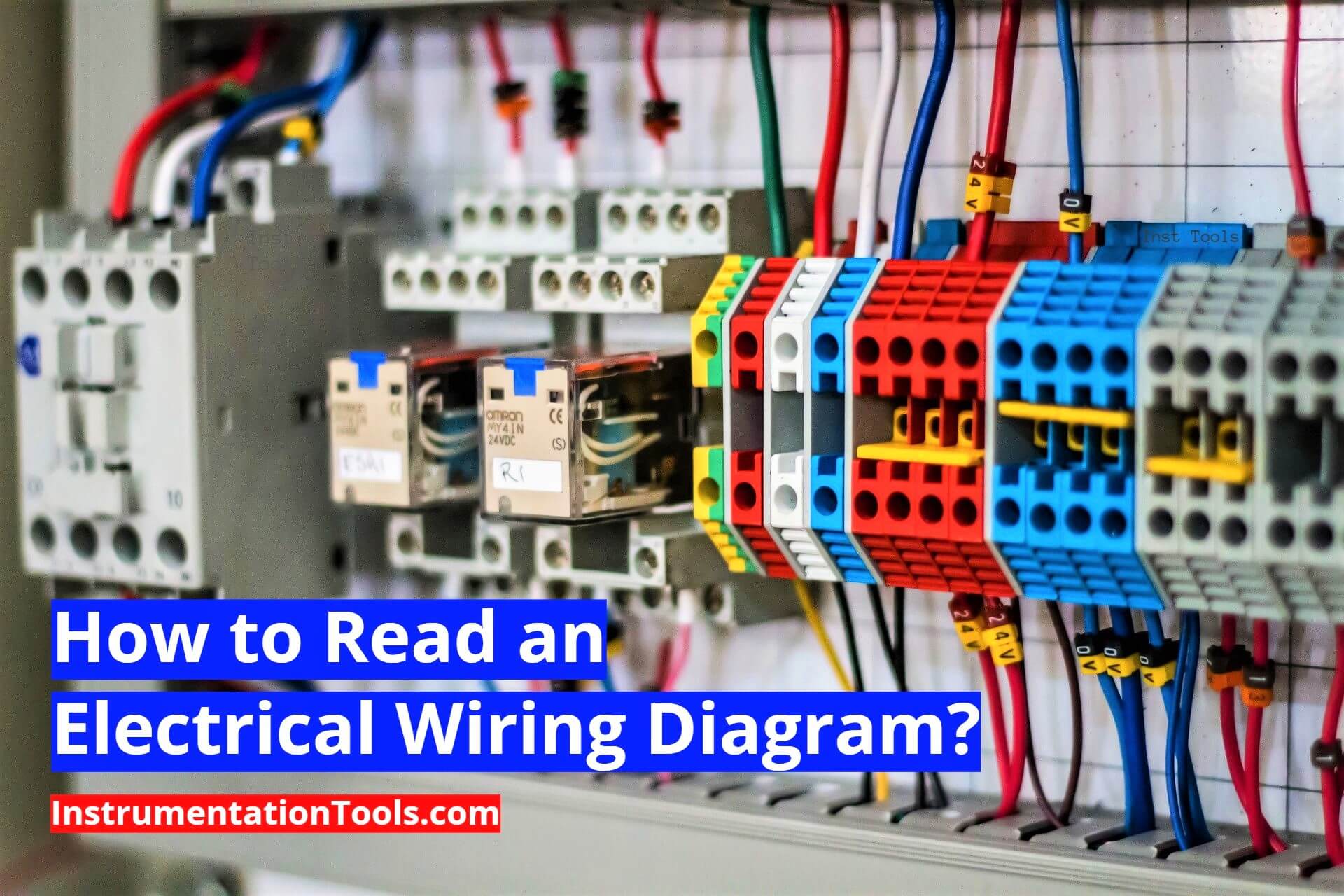 The Function of Electrical Wiring Diagrams
First of all, you have to ask yourself "why am I supposed to do that?" and the answer stays for the amount of Automation that you have.
In most plants you do not have just one or two motors to control, you have many and many motors, sensors, and control circuits to look for.
So, it is impossible to have all of these wires just in your mind, we need some Global Standards for drawing these types of Electrical panels in a good way that allows for any person to understand it simply.
That is just what an electrical wiring diagram can do, it does not depend on your language or your region, it is (kind of) a unified method to describe and present the electric wiring of any panel.
Note
There are little differences between some electrical wiring diagrams, that depends on some factors like the units, company, software, and also the region, but in general, if you could understand the wiring diagrams you will be able to deal with any standard.
Just you need some time at first to be familiar with any wiring diagram.
How to Read an Electrical Wiring Diagram?
We discussed below how to read an basic electrical wiring diagram.
Legend Page
The first thing that you have to care about is the "Legend" page, this page is attached with every wiring diagram and it describes every symbol in the whole wiring, as we can see in Fig (2).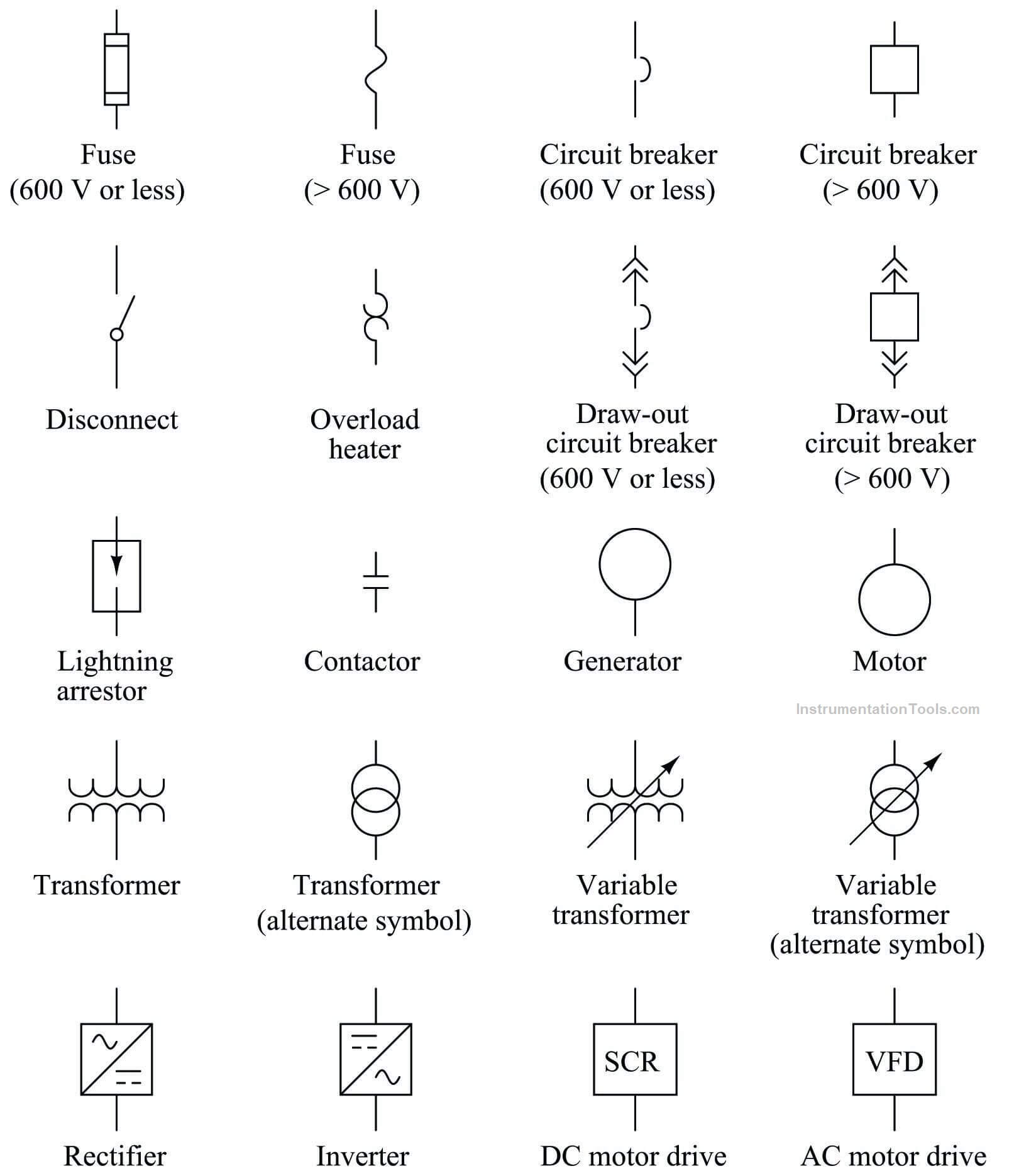 As we said before you might find some changes between the creators of the wiring diagrams so this page is made especially for each wiring to facilitate and ease the understanding and execution of the wiring.
Direction of the Drawing
The common direction to draw a wiring diagram is from UP to DOWN and from LEFT to RIGHT.
Notice that you might see some wiring diagrams are drawn with other directions but the common directions would still as we said before.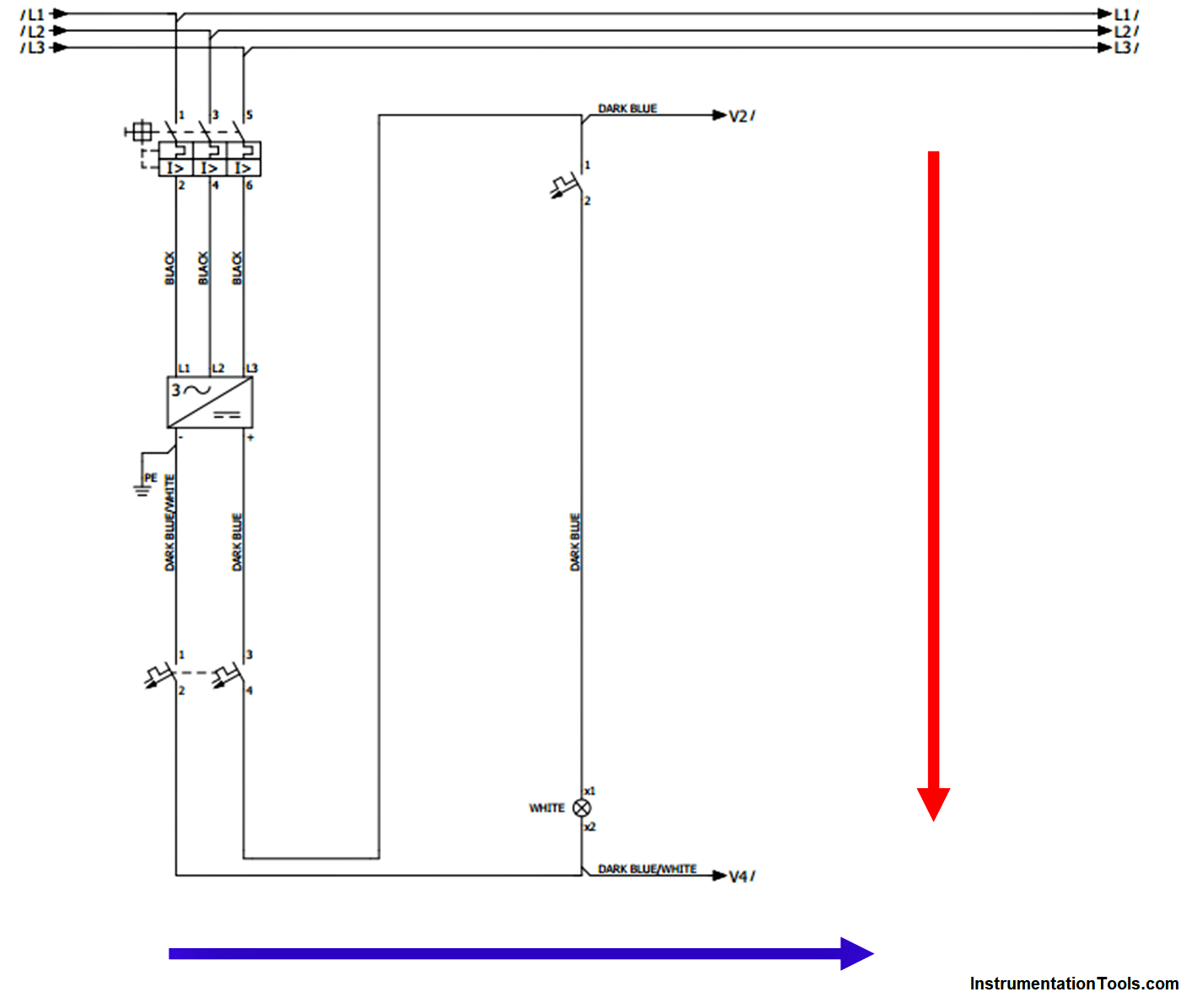 Dashed line
You have to know the difference between the lines in the drawing.
As you can see in the next figure the solid lines represent the wires between the devices in the control panel.
The dashed line at Fig (4) (and in all diagrams) represent that this part of the drawing is out of the panel which it means this part (motor) is not in the panel it is in the field.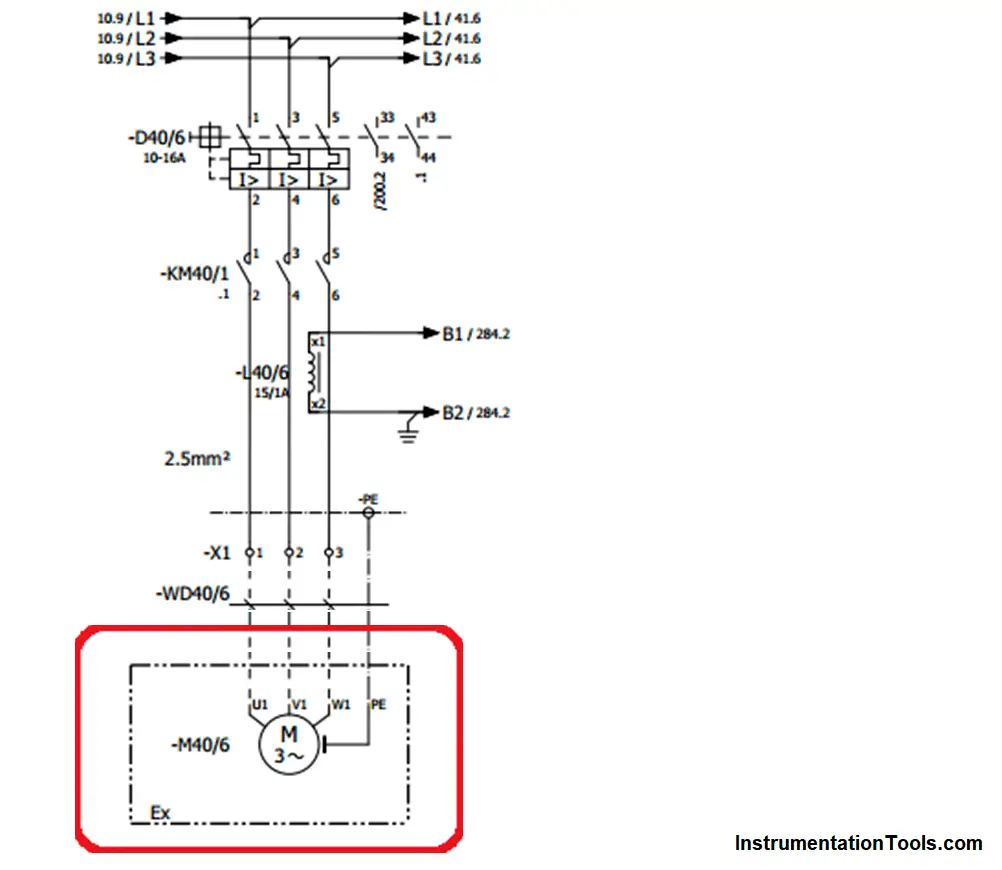 And the same for the Start Stop push buttons that are shown in Fig (5).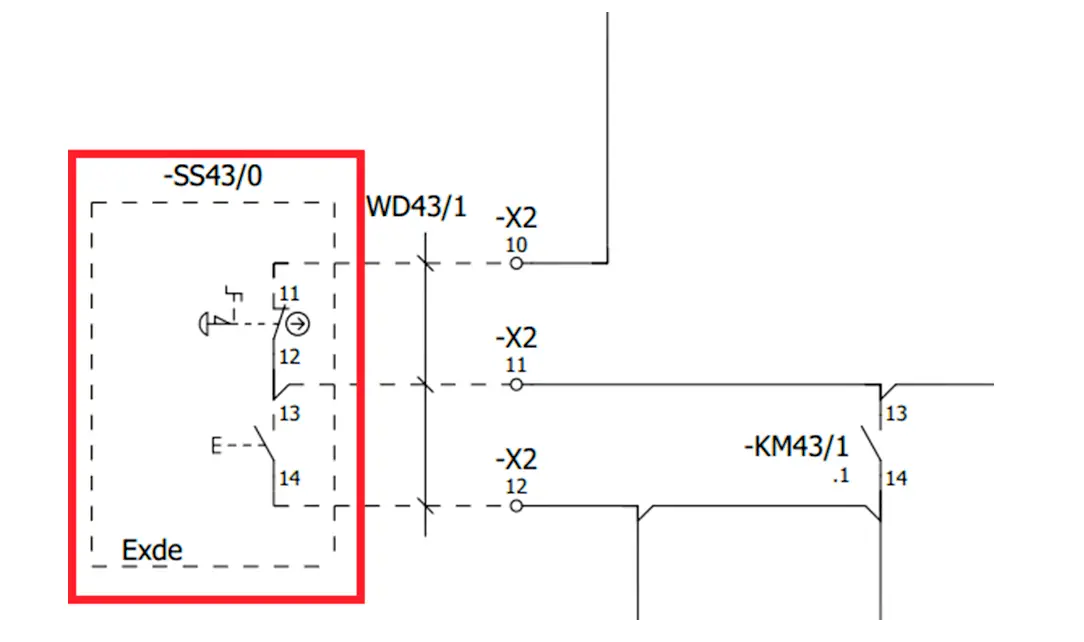 Connecting the wiring together
You have to know that all of the wiring papers are attached together to build a single panel.
So, you might find some common wires in all papers of the wiring.
These wires are connected together in the wiring papers by numbers that refers to the location of the intake and outtake of the wiring.
As you can see Fig (6) the wiring papers are divided into 10 sections and each section has its own number from 0 to 9.

We used these sections and number of pages to allocate the end and the beginning of wires as we can see in Fig (7), the wire V3 is coming from page No. 54 section (8) and is going to page No. 55 section (8).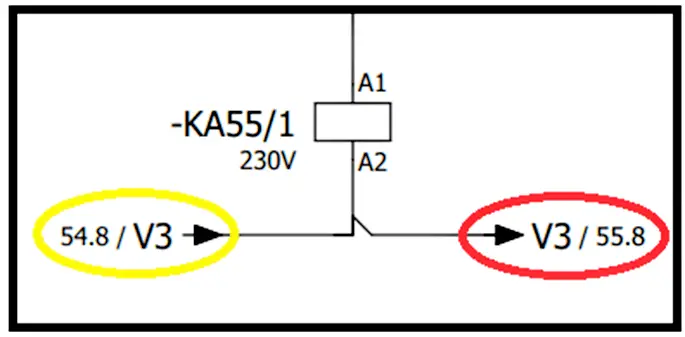 So if we went to page No. 55 section 8 as shown in Fig (8) we will find that V3 is coming from page No. 55 section 2 "which is the location of the wire at Fig (7)" and it continues its path to page No. 55 section 8 as we can see in Fig (9).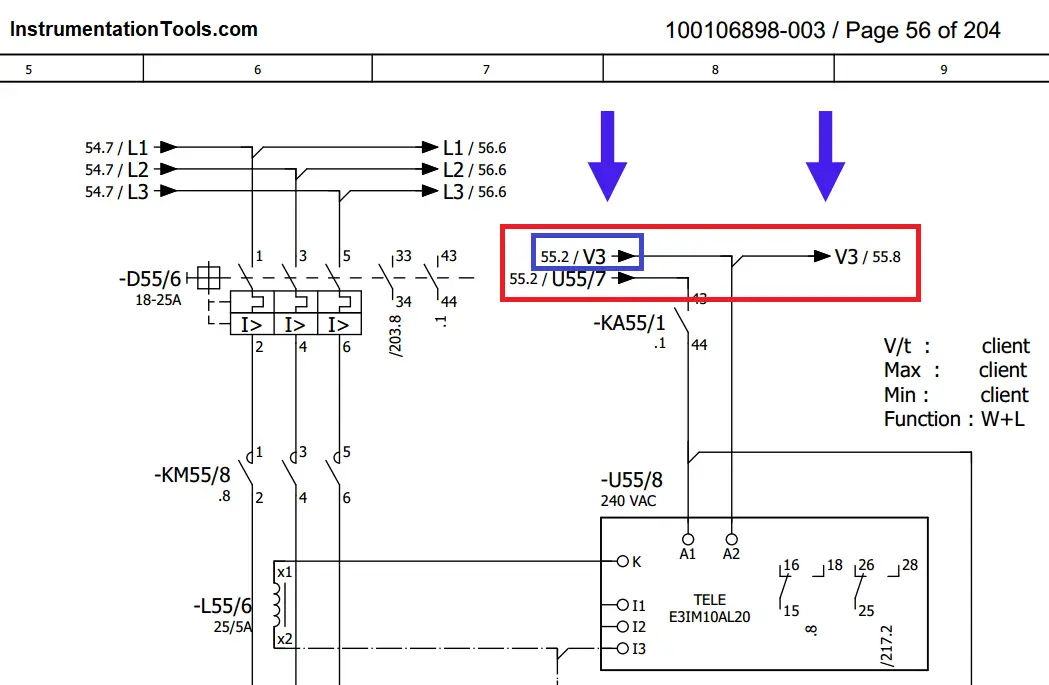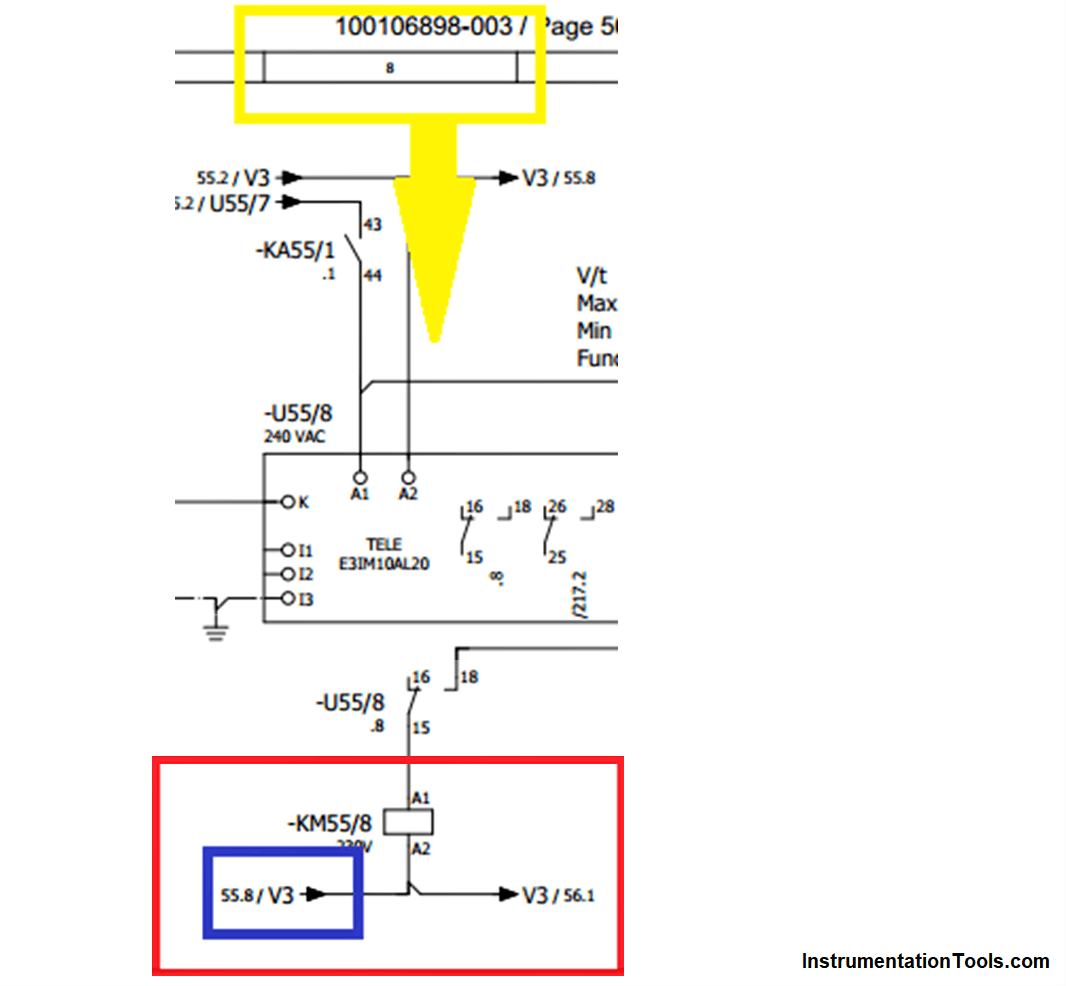 Marshalling Terminals
As we can see in the previous figures the panel is connected with the outside field via Marshalling terminals.
Each group of these terminals is labeled with (X1, X2, X3, ……) and each block of terminals could have about from 10 to 70 terminals.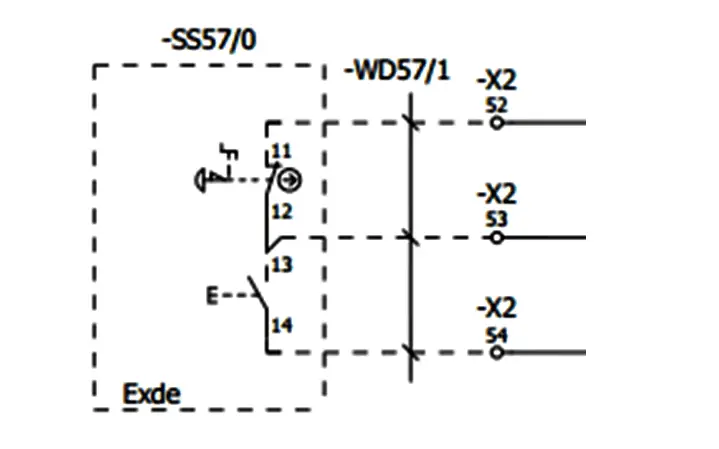 As we can see in figure (10) the start-stop push buttons that in the field is connected with the control panel via terminal block X2 at terminal No. (52, 53, 54).
Sizing of the cables and wiring data
You might see also in some wiring diagrams (not all of them) the sizing of power cables as you could see in figure (11) the size of the cable that is connected to the motor is 6mm2.
Best Programs for Drawing an Electrical Wiring
If you are interested about designing Electrical wiring diagrams here is some of drawing software that might help you:
AutoCAD Electrical
ETAP
Smart Draw
EPLAN Electric
If you liked this article, then please subscribe to our YouTube Channel for PLC and SCADA video tutorials.
You can also follow us on Facebook and Twitter to receive daily updates.
Read Next: