PLC manufacturing companies have embraced two basic categories of PLC constructions, which are the compact form and the modular shape.
There are two varieties of PLCs available in the market.
Compact type, also known as fixed type
Modular type
Compact PLC
Compact Type PLC comes with all in one package. It means that the PLC has an inbuilt power supply, processor (CPU), and a limited number of inputs and outputs integrated.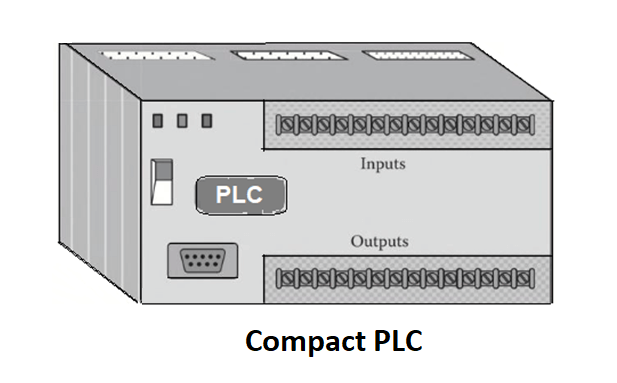 Modular PLC
Modular Type PLC is a rack-based system with individual Power supply, Processor, Various IO modules, Extension units, mounted on one or more racks.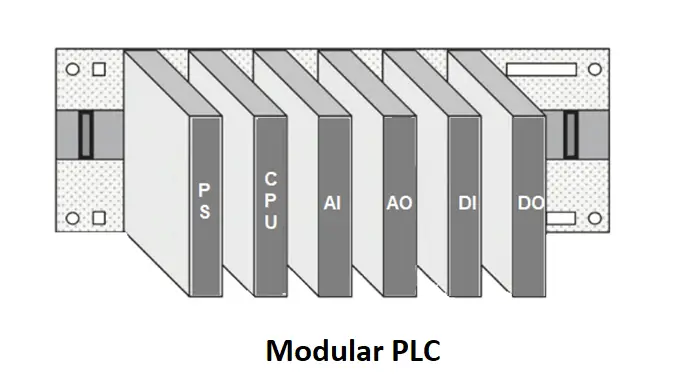 Compact PLCs are un-divided solid structures, generally non-expandable with a specific number of inputs, and outputs. They form integrated structures that include, in addition to I/O's, the power supply,  interface with a handheld programming device, stop-run mode switch, LED indicators, etc.
There are few distinctive differences between Compact and Modular PLC types, are discussed in this article.
Construction of PLC
PLCs of the compact category are advisable mainly for small-size automation applications, are local mounted whereas medium or large size PLCs follow the philosophy of modular construction.
This means that in the case of modular type, PLCs are composed of independent modular sub-units mounted one common base.
PLCs of this class is comprised of a base with specific dimensions and therefore they are specific space capacity for equipment, such as a power supply module, microprocessor unit, and various I/O modules.
Furthermore, the modular base has an electrical interface bus with appropriate plugin connectors for the modular units, which achieve functional co-operation of all the PLC components.  
Modular PLCs may be divided into small, medium, and large PLCs. That depends I/O size and program. Small PLCs are placed besides an equipment in small applications.
Compact PLC input/output capabilities are fixed by manufacturer that can't be extended or reduced by user requirement. But in modular PLC, input output capabilities can be increased or decreased by the user per the requirement.
Expanding an Existing PLC System
A compact or fixed PLC is a cheaper than modular PLC and it is used for performing standalone tasks.
However, if we expand an existing process we have to replace a fixed plc. One does not need to replace a modular PLC because can add extra capacity to it.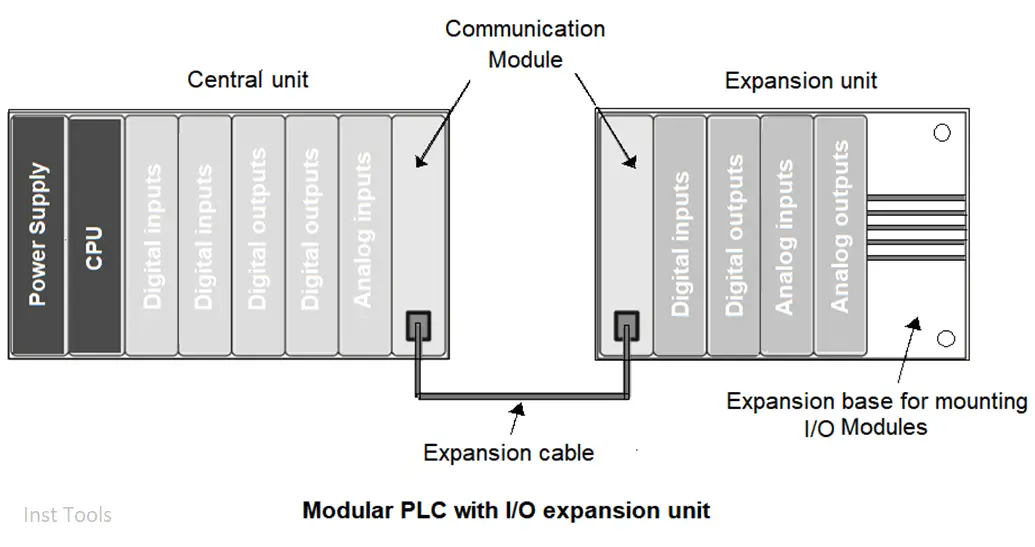 Modular PLCs or Rack type refers to a certain type of PLCs that connects their power supply, processor unit, and I/O system over a backbone that is actually called Rack.
A compact PLC system supplied complete and can't be changed or upgraded. A modular type PLC system construction is in parts that can be swapped out, upgraded individually, removed or replaced with different parts.
 Compact PLCs have less input, output modules as compared to modular and have more memory in modular and often used in industries.
Modular PLCs have far more memory and have the capability to store a higher volume of information on the other hand the compact PLC has limited input-output modules thus limiting its performance.
Adding new function to process
Instead of expanding an existing process you may need to add new functions, compact PLC come in the form of self-contained unit. It has non-removable input output terminals.
When you add new functions to a process, you must therefore install a new compact PLC. 
A modular PLC is part of a rack system you can add an extra module to the rack a necessary with replacing the original PLC.
Upgrades
In industrial engineering process could require upgrading to meet new standards.
A compact PLC has limited memory and a restricted number of input/outputs, making it impossible to upgrade.
You can upgrade a modular PLC because of its larger memory and its separate plugin input and output system.
Repairs
Because compact PLCs are self-contained units, they are difficult to repair. One can replace damaged circuit boards and other parts of a modular plc quickly and easily.
It is more profitable to install modular once, because they are much easier to replace. In case of repairs, it will take less time and cost.
Individual blocks are easier to repair, since this does not affect the entire system as a whole.
Troubleshooting
When a Compact PLC fails, you may struggle to find the cause of the problem because the input, outputs, power supply and CPU are in one unit.
A Modular PLC consists of different parts that plug into each other and auto sensing option is an advantage. One can find the cause of problem and rectify it more quickly than with a Compact PLC.
Reference: Introduction to Industrial Automation by Stamatios Manesis, George Nikolakopoulos.
If you liked this article, then please subscribe to our YouTube Channel for Instrumentation, Electrical, PLC, and SCADA video tutorials.
You can also follow us on Facebook and Twitter to receive daily updates.
Read Next: