The common method of measuring flow through an open channel is to measure the height or HEAD of the liquid as it passes over an obstruction (a flume or weir) in the channel.
Using ultrasonic level technology, Open channel flow meters include a non-contacting sensor mounted above the flume or weir.
By measuring the time from transmission of an ultrasonic pulse to receipt of an echo, the water level or "Head" is accurately measured.
Open Channel Flow Measurement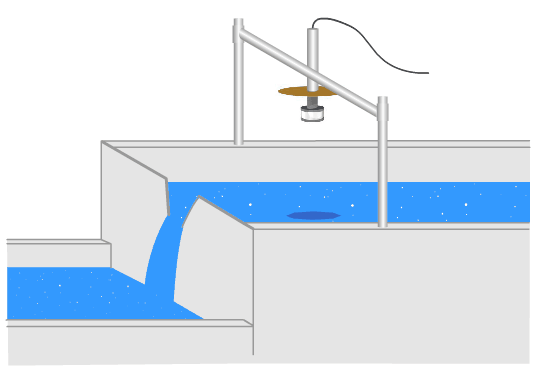 Animation Credits : greyline
Flumes and weirs are specially designed channel shapes that characterize the flow of water.
Common types are
Rectangular Weirs,
V-Notch Weirs,
Parshall flumes and
Palmer Bowlus flumes.
The choice of flume or weir type depends on the application: flow rate, channel shape and solids content of the water.