Temperature Gauges Specification
Here we shall see detailed specifications of Temperature Gauges.
In general applications, the Bimetallic type of gauges are preferred over filled type gauges. These gauges shall have the following features
Manufactured according to SAMA class.
Case compensation must be provided
Temperature bulb material should be SS 316 as minimum
The dial of the gauge shall have following features
150 mm nominal size
Black numerals with white background
Negative values of temperature should be marked with red color and white background
Adjustable head to be provided
Provision shall be made for adjustment of pointer without removing from the shaft
Gauges shall have weatherproof construction as per IP66.
In vibrating conditions, filled type with the capillary extension should be used. The capillary tube shall be made with SS 316 as a minimum. Also, it should have flexible armouring and PVC cover over armouring.
Temperature gauges shall have an accuracy of ± 1% FSD (Full-scale deflection).
Bi-metallic thermometers shall only be used where errors in excess of one percent of the span are acceptable. Bi-metallic dial thermometers shall be every angle, with external pointer adjustment. The case material shall be of SS304. Stem diameter shall be manufacturer's standard. Bimetallic type dial thermometers shall be avoided where excessive vibrations are encountered, such as compressors.
The thermometer stem adjustable gland with union connection and bushing shall be suitable for 1/2″ NPTF connection.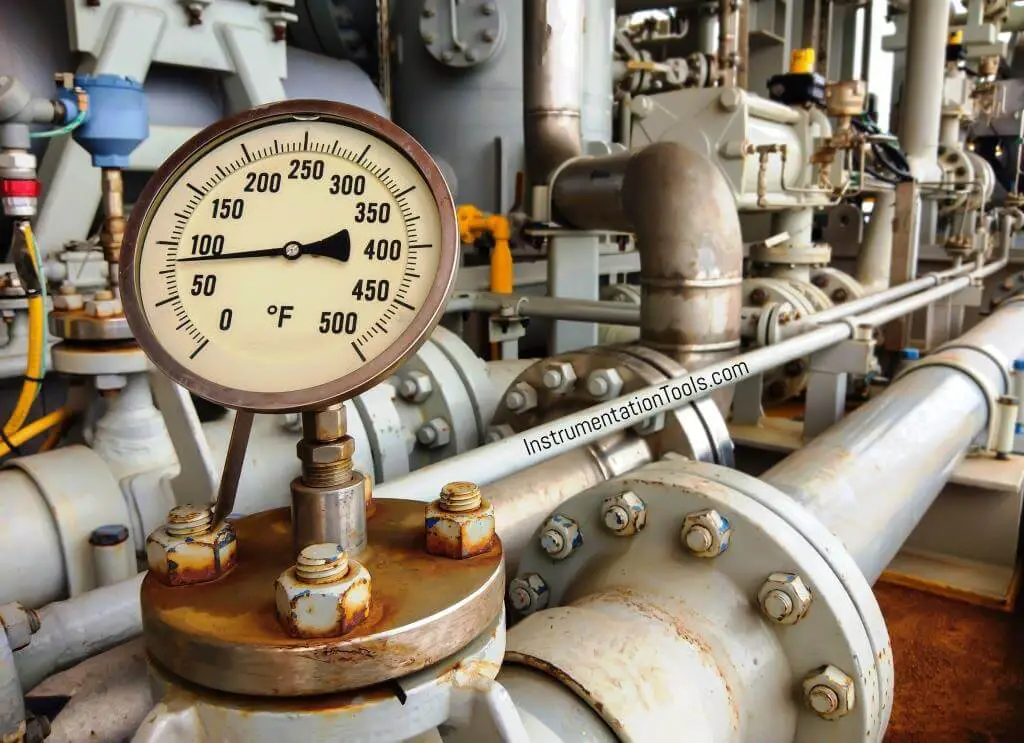 Temperature Element Specification
Here we shall see detailed specifications of Temperature elements.
For remote sensing of temperature, thermocouple or RTD is used. Elements shall be spring-loaded, mineral insulated, and shall have 316 SS sheath as a minimum.
Thermocouple
Thermocouple assemblies shall be furnished with weatherproof screwed-in type heads. The terminals shall be color-coded as per element color code.
Thermocouples shall comply with ANSI MC 96.1 and shall be as per IEC-60584-2 / IS -7358. They shall have a wire size of 18 AWG for single and 20 AWG for duplex thermocouples for most of the applications, in general.
Thermocouples shall be magnesium oxide (MgO) filled ungrounded and K-type, unless specified otherwise. The thermocouple wires shall be joined together by welding to form the hot junction.
The design of thermocouple assemblies shall be such that replacement online is possible.
Thermocouple sheathing material shall be 316 stainless steel as a minimum and shall be constructed from a seamless tube with a wall thickness of at least 1mm. Inconel 600 sheath shall be selected for temperatures greater than 600°C.
It shall be ensured that the thermocouples can be bent with a minimum radius of curvature equal to three times the external diameter of the sheath and also at the swaged tip. This operation of the bending shall not result in cracking or rupture of the sheath. The thermocouples shall be bright annealed to achieve this requirement.
The calibration shall be carried out on all the thermocouples according to IEC 584.2 class 1 tolerances. Measurement of e.m.f. shall be done on these thermocouples at six fixed temperature points ranging from 0 to 1000 deg C in accordance with ITS – 90.
The report of the calibration results shall be supplied to the purchaser in a convenient form. This may be a table of values of measured e.m.f at the respective temperature.
The thermoelectric characteristics of the thermocouples shall conform to IEC 584.1 The e.m.f developed by the thermocouple shall be of the order of 41 micro V per Degree Celsius. The law of variation between e.m.f and temperature shall be linear. Also, the accuracy of the measured value shall be better than ± 1.0 degree C up to 350 degrees C & ± 0.4% from 350 to 1000 degree C.
RTD
RTD shall be preferred where the process service temperature is between -200°C to 650 °C.
Connection on the thermowell for RTD should be ½" NPTM.
Cable entry for RTD should be ½" NPTF.
Generally, RTDs shall be 3-Wire, Duplex type with two single wire wound elements compatible with 99.99% pure platinum 100-ohm wire characteristics.
RTD shall generally be selected for applications requiring low-temperature measurement with a comparatively shorter temperature span requiring accuracies of the order of 0.25% or better.
Twin element sensors, if used, shall have two separate cable entries. Multipoint temperature elements shall be provided with an integral junction box.
Class 'A' / Class '1' tolerance as per IEC 60751 / 60584-2 shall be specified for RTD / thermocouple for temperature measurement in all open and closed loop, interlocking, and shutdown applications. Also, all such loops shall be provided with remote mounted 2 wire temperature transmitters.
Interest to add any further points? Share with us through below comments section.
Author: Kalpit Patel
Read Next: