Even though PCs are widely used for viewing of the processes, there is still no substitute to mimic panels which are also called as mimic display panels.
In mimic display or mimic panels the process or flow charts are pictorially represented on the front panel of the Control desk. Generally nowdays they are printed on polyester or polycarbonate sheets and provided with acrylic front sheet for protection. Super bright LEDs with viewing distance of 100 meters are used in the MIMIC PANELS also equipments are mounted on the MIMIC Display.
The back plate of the mimic can be either bakelite or composite panels or CRCA sheets or aluminum and the mimic display is fitted with the screws to the control desk with cutout of corresponding size.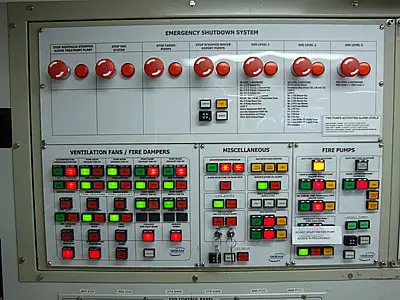 Mimic Panel Used in Fire & Gas Application
Mimic panel is a fire and gas purpose panel on which shows a geographical layout of the installation and equipment to represent rapid visual appraisal of any fire and gas hazard. Mimic panel shall be installed at convience location to the personnel sight. Mimic panel for building should be installed somewhere near building entrance.
Mimic panel shall be furnished with indicator/lamp to indicate the existence of fire or gas leak and pushbutton/switches to do plant shutdown or extinghuisant system manual activation. The panel should also provide indication of fire and gas equipment status such as fire water pumps, foam system, etc. Critical push button shall have guard/protection such as flap or cover to avoid accidental operation.
The following picture shows example of mimic panel. The alternative construction for mimic panel is tile matrix which allows easy modification for additional or removal items by changing the tile.
Mimic Panels and Bus
A mimic panel or bus is a direct or approximate schematic representation used by a broad sector of industries in a variety of applications. Examples include:
A series of electrical symbols and specifications on the exterior of large switchgear panels.
The approximate representation of a process plant to quickly aid in the identification or exact location of faults or break-downs.
In the security/gatehouse of a business industrial or residential complex to identify in which building an alarm has been activated.
Mimic panels are commonly used in cement plants, railways, petro-chemical plants, public utilities, foundries, distribution centers, power generation stations, laboratories, etc.
Types of mimic panels
A. Printed Mimic PanelsThe majority mimic panels utilize 10mil polycarbonate which can be reverse printed in customized colors and sizes with symbols to suit all applications.

B. Engraved Mimic Panels

In the past, a mimic bus was cut from plastic stock and screwed on to the panel. Now, weather proof adhesives can used to anchor plastic mimic bus, eliminating the need to drill mounting holes.
Application :
MIMIC is the representation of any process plant for which is displayed on the Panel or Control Desk.
This representation makes it easy to monitor the whole plant from one location and is also used as a second level backup.