European standard EN 837 and American standard ASME B40.100 talk about pressure gauges. Here we are going to review the information written on dial pressure gauges according to EN 837.
Pressure Gauge Dial
In the picture below more than 11 pieces of information have been shown. Let's look at them.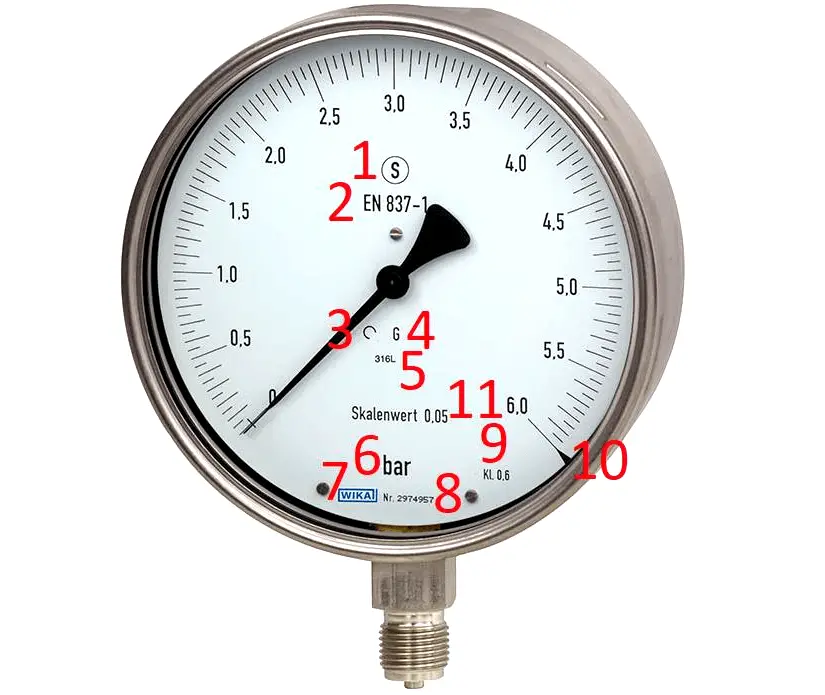 Number 1:
S circled sign shows that this gauge is "Safely designed" in order to protect it in case of overpressure.
Blow-out device, Blow-out back, baffle wall and laminated safety glass are some designs that in some cases must be provided.
Number 2:
En 837 standard has 3 parts:
Part one deals with Bourdon tube pressure gauges,
Part two talks about Selection and installation,
Part three is about Diaphragm and capsule pressure gauges.
In this picture, it has been written EN 837-1. That means the measurement element of the gauge here is a Bourdon tube. Something that is accordant with the number 3.
Number 3:
symbols of the pressure sensing element based on the table below:
Number 4:
If the gauge meets the accuracy requirements on only gas or liquid, then this shall be marked. This applies to 0.1, 0.25, and 0.6 accuracy class gauges.
This is why in our example there is a G mark.
Number 5:
if the wetted parts are different from the brass, tin, or hard solder, then
the material of the wetted parts may be marked. In this case, the wetted part is made of SS 316L.
Number 6:
the unit of the measurement
Number 7:
manufacturers name of the trademark
Number 8:
The serial number of the pressure gauge. if the accuracy is 0.1 or 0.25 it is obligatory, but it may be marked in accuracy from 0.6 to 4. It helps correct calibration and traceability.
Number 9:
Accuracy class.

The accuracy class in the example is 0.6
Number 10:
An identifying mark at the maximum scale value that illustrates the maximum steady working pressure.
Number 11:
scale interval. In fact, it is not obligatory to be shown in the middle of the dial but the scale interval has to follow the EN 837 base on the accuracy, dial size, scale, and the number of the minor scale division.
Author: Hanif Yazdanipoor
Read Next: