Detecting the presence or absence of a metal may seem like a fairly simple concept, but narrowing your selection to a specific sensor can sometimes be a difficult project. These 6 key attributes can help get you moving in the right direction when it comes to selecting an inductive sensor.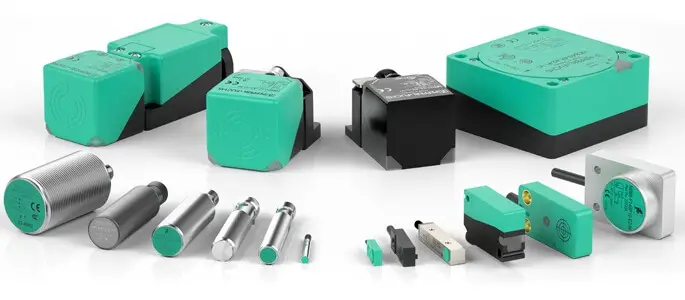 1. Housing design
Choosing a housing design is a great place to get the selection process started, as it simply entails looking at the application and deciding what kind of room you have for a sensor. There are many options to choose from, including rectangular/cube sensors, cylindrical sensors, and ring/slot proximity sensors, to name a few. Making sure you select the correct housing style may seem like a simple task, but it is an important decision to ensure your application is handled correctly.
2. Operating distance
Arguably the most important parameter for an inductive proximity sensor is the sensing range. Making sure that you have the correct sensing range can be the difference between sensing a target and missing it altogether. There are a few variations of sensing ranges, but the most straightforward is the nominal sensing range. The nominal sensing range is a standard value for defining the operating distance of a sensor.
3. Mounting conditions
Determining whether your inductive sensor needs to be flush or nonflush mounted is also an important decision. Flush-mounted sensors are great because they can be installed without leaving a space between the mounting surface and sensing face. Another plus for flush-mounted sensors is the fact that they are better protected and less prone to damage than a nonflush mount. But a nonflush mount has its own advantages. One advantage is that they have the greatest sensing range relative to the sensor diameter. For this higher range to be functional, a metal-free space needs to remain around the sensing face so that no incorrect objects are detected.
4. Electric data
Another important criteria is the type and level of supply voltage. An overview of the output circuits for our sensors also be considered. Many manufacturers  product range includes AC, DC, and AC/DC in terms of supply voltage.
5. Connection types
Inductive proximity sensors are available with quick disconnect connection or with a factory-attached cable (pigtail). The quick disconnects enable easy connection, maintenance, and replacement. Cables for the quick disconnect sensors are available in PUR, PVC, POC, and STOOW for your application needs. The factory-attached cables have advantages also. Because the cable is embedded in the sensor, water, oil, or dust cannot penetrate the sensor, making it less susceptible to failure. These cables come in 2 m lengths and are offered with PVC or PUR jackets.
6. General specification and special features
The general specification section of the selection process is an application-specific portion that really depends on any factor not mentioned in one of the first four steps. It can involve the operating or residual current, what degree of protection the sensor needs to be (i.e., IP69K), or if you need a special sensor feature for a special application. Some examples of special-application sensors would be reduction factor 1, weld-immune, and Pile Driver sensors. This section is the last, yet still important, piece to the puzzle of selecting an inductive sensor.
Selecting the most appropriate sensor depends on the application and the material to be detected, and if that material is metal, an inductive sensor is most likely the right choice. These 6 steps should help you select the best inductive sensor for your specific application!
Also Read: How to Select a Pressure Gauge