Instrumentation engineering root cause analysis (RCA) of CO2 stripper pneumatic differential transmitter stopped working and delays the plant commissioning progress.
| | |
| --- | --- |
| Article Type: | Root Cause Analysis (RCA) |
| Category: | Instrumentation |
| Equipment Type: | Transmitters |
| Author: | S. Raghava Chari |
Note: This root cause analysis (RCA) is from real-time scenarios that happened in industries during the tenure of two or three decades ago. These articles will help you to improve your troubleshooting skills and knowledge.
Differential Pressure Transmitter Stopped Working
The CO2 stripper 5 beds Differential Pressure transmitters (DPT) stopped working within few minutes and it delays the NH3 plant commissioning progress.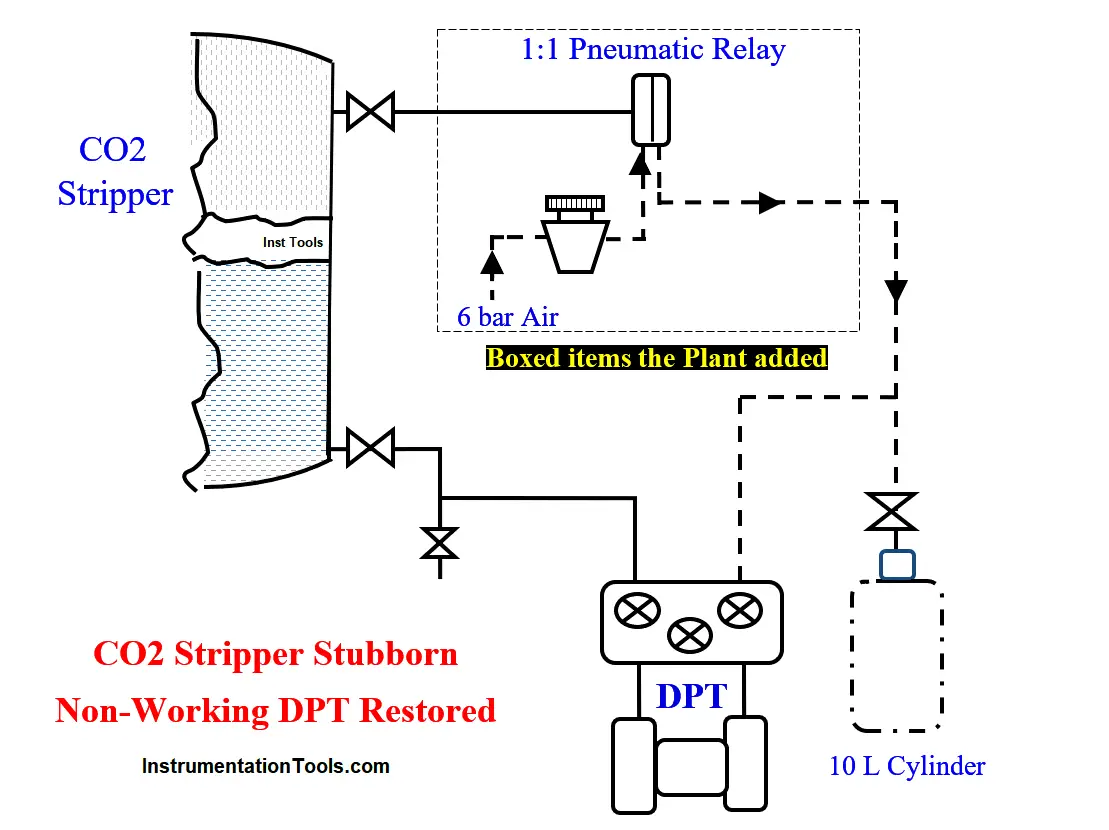 Note: This is a Pneumatic based differential pressure transmitter
Authors Root Cause Analysis
The author traced the problem to the stripper gas carried over water filling both differential pressure transmitters (DPT) leads within few minutes.
Zero suppressing for the short-height high-pressure lead is easy (as shown in the above figure).
On the other hand, no DPT offered zero elevation capability for the 20 m tall LP lead. Even the added 10 Liters LP lead bottom fitted cylinder and the entire LP lead-filled within few minutes.
The process licensor gave up the problem unsolvable.
Author Final solution
The above figure is shown 1:1 pneumatic relay (PRESSURE) was the answer: it senses the LP tap pressure and outputs equal air pressure to the LP: Port.
Zero elevation is not necessary as 1.293 Kg/Nm3 air density is negligible compared to 1000 Kg/m3. water density. Crew zero suppressed for the HP fill.  
Shop made process wetted SS-316 parts replaced the 1:1 relay process incompatible brass parts. A 0.8 mm thick PTFE disc prevents the process wetting the PRESSURE process side diaphragm; hence it lasts forever.
Realized Benefits
Realized Benefits are:
Each tray reliable ▲P measurement let commission progress to completion
It helps the process fine tuning
A DDUDP solved at negligible costs and time
Author: S. Raghava Chari
Do you face any similar issues? Share with us through the below comments section.
If you liked this article, then please subscribe to our YouTube Channel for Instrumentation, Electrical, PLC, and SCADA video tutorials.
You can also follow us on Facebook and Twitter to receive daily updates.
Read Next: