We discussed the basic steps to be followed during healthiness checks and maintenance of PLC, DCS, and ESD marshalling cabinet.
Marshalling Cabinet Checks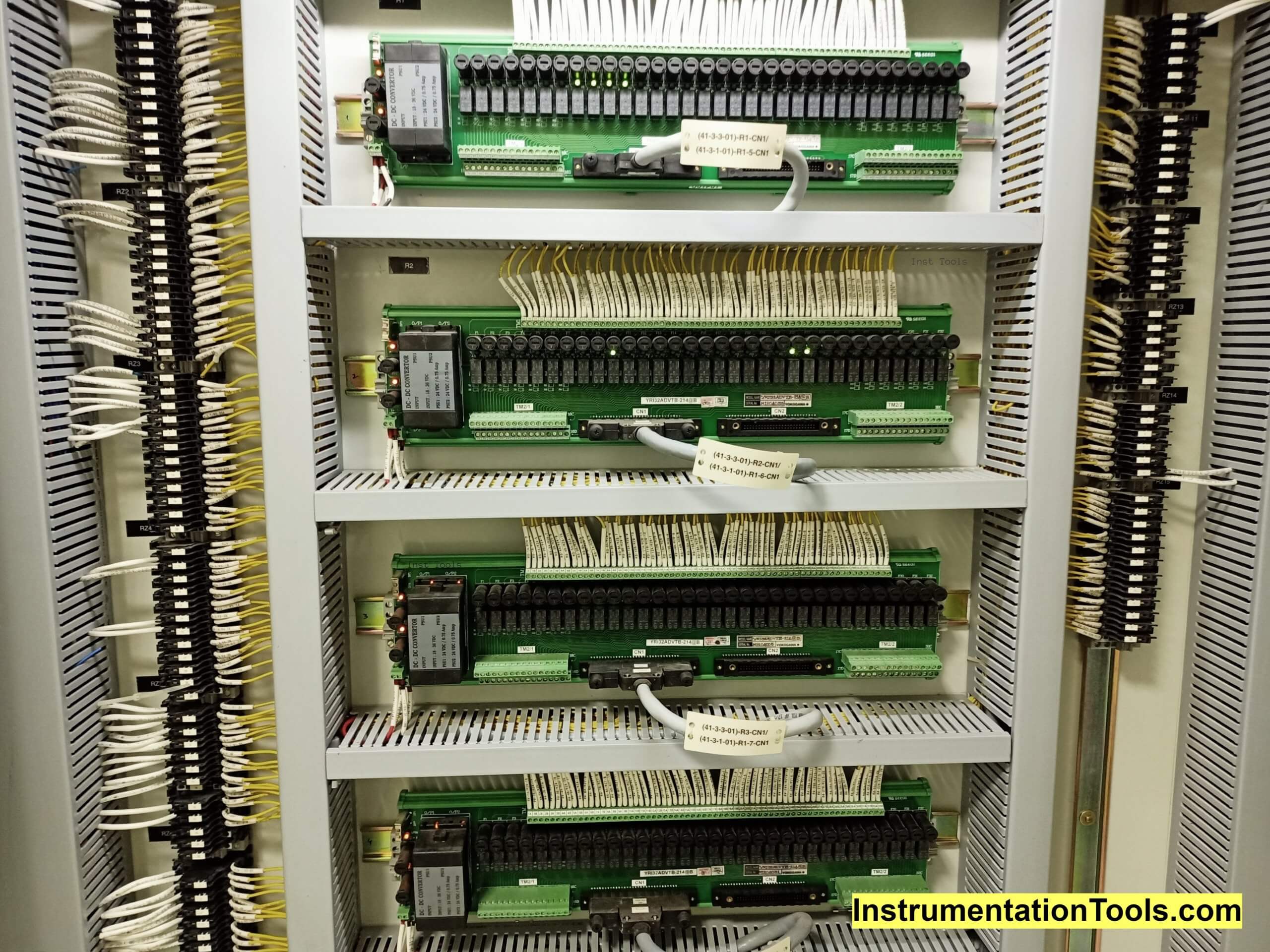 Collect the corresponding Work permit.
Note down the cabinet panel tag/reference name which will be on top of each cabinet door (Ex: 10-3-01).
Check the working condition of door locking system by operating twice.
Check once all the cooling fans are in running condition. Fans are located at the top of the panel and fan switch will be at rear side of each panel.
Check the tube light condition by activate door limit switch which will be on top corner of each panel.
Check all the empty slots are properly covered by blanking (dummy) plates. (No slots should be open on the rack)
Measure and notedown the utility supply voltage at which will be available on rear side of panel.
Check the sealing of spare cable entry slots at bottom of the panel.
Check the grounding of the panel, ground bar will be located at bottom of rear side of panel.
Measure the 24V DC supply MCB which will be located at top corner of panel front side.
Check the thermostat set point (25 deg C). Thermostat will be located at rear side of panel right corner.
Check all the fuses are in healthy condition. If a fuse has brunt then RED LED will glow on respective fuse.
Check for any loose connections in the panel.
Clean all the filters of the panel. (Remove the filter from the panel, clean it with vaccum cleaner and again install it)
Check and ensure cables are properly dressed and cable ducts are covered
Repeat the above steps for each marshalling cabinet.
Note: All panels must be closed after PM activity has been done.
Also Read: Yokogawa DCS Checks
Interest to add any further checks? Share with us through below comments section.
If you liked this article, then please subscribe to our YouTube Channel for Instrumentation, Electrical, PLC, and SCADA video tutorials.
You can also follow us on Facebook and Twitter to receive daily updates.
Read Next: