DCS are used to control production systems within the same geographic location for industries such as oil refineries, water and wastewater treatment, electric power generation plants, chemical manufacturing plants, automotive production, and pharmaceutical processing facilities. These systems are usually process control or discrete part control systems.
DCS are integrated as a control architecture containing a supervisory level of control overseeing multiple, integrated sub-systems that are responsible for controlling the details of a localized process.
A DCS uses a centralized supervisory control loop to mediate a group of localized controllers that share the overall tasks of carrying out an entire production process. Product and process control are usually achieved by deploying feedback or feedforward control loops whereby the key product and/or process conditions are automatically maintained around the desired set point.
Also Read: What is DCS System?
To accomplish the desired product and/or process tolerance around a specified set point, specific process controllers, or more capable PLCs, are employed in the field and are tuned to provide the desired tolerance as well as the rate of self-correction during process upsets.
By modularizing the production system, a DCS reduces the impact of a single fault on the overall system. In many modern systems, the DCS is interfaced with the corporate network to give business operations a view of production.
An example implementation showing the components and general configuration of a DCS is depicted in Figure 1. This DCS encompasses an entire facility from the bottom-level production processes up to the corporate or enterprise layer. In this example, a supervisory controller (control server) communicates to its subordinates via a control network.
The supervisor sends set points to and requests data from the distributed field controllers. The distributed controllers control their process actuators based on control server commands and sensor feedback from process sensors.
Distributed Control System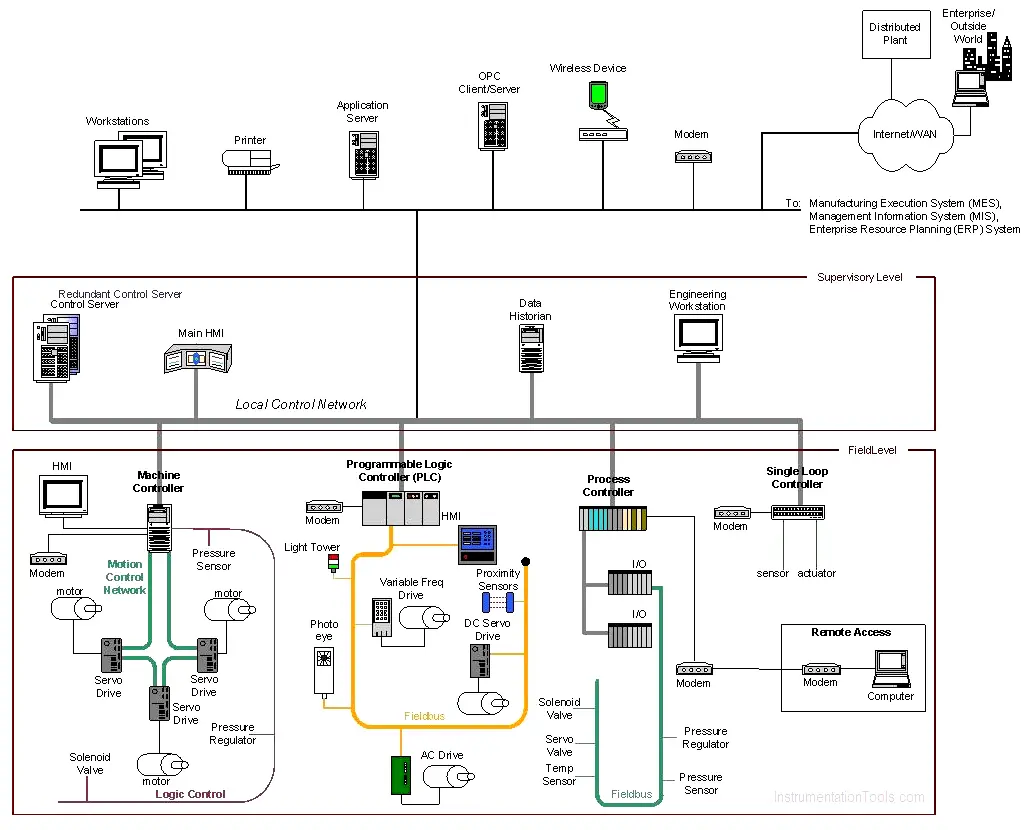 Figure 1. DCS Implementation Example
Figure 1 gives examples of low-level controllers found on a DCS system. The field control devices shown include a PLC, a process controller, a single loop controller, and a machine controller.
The single loop controller interfaces sensors and actuators using point-to-point wiring, while the other three field devices incorporate fieldbus networks to interface with process sensors and actuators. Fieldbus networks eliminate the need for point-to-point wiring between a controller and individual field sensors and actuators.
Also Read: Industrial Control System
Additionally, a Fieldbus allows greater functionality beyond control, including field device diagnostics, and can accomplish control algorithms within the Fieldbus, thereby avoiding signal routing back to the PLC for every control operation. Standard industrial communication protocols designed by industry groups such as Modbus and Fieldbus are often used on control networks and Fieldbus networks.
In addition to the supervisory-level and field-level control loops, intermediate levels of control may also exist. For example, in the case of a DCS controlling a discrete part manufacturing facility, there could be an intermediate level supervisor for each cell within the plant.
This supervisor would encompass a manufacturing cell containing a machine controller that processes a part and a robot controller that handles raw stock and final products. There could be several of these cells that manage field-level controllers under the main DCS supervisory control loop.
Reference: National Institute of Standards and Technology Special Publication 800-82, Revision
If you liked this article, then please subscribe to our YouTube Channel for PLC and SCADA video tutorials.
You can also follow us on Facebook and Twitter to receive daily updates.
Read Next: