Single-pair or Multi-pair Cables
The general types of instrumentation cables are single-pair or multi-pair/tripple cables used to carry electrical signals between different instruments, controllers, PLC, DCS, etc.
The single-pair or multi-pair cables are twisted such that it reduces the effects of electromagnetic interference (EMI) from external sources. These also helps to reduce the cross talk between neighboring pair cables.
The individually shielded pair construction is typically used for analog signals and the construction with total shield only is used for digital signals.
The triad cables are also used for connecting the 3 wire RTD's and respective transmitters. In some applications, triad cables are used for connecting the RTD's mounted on the high-capacity motors and temperature scanners.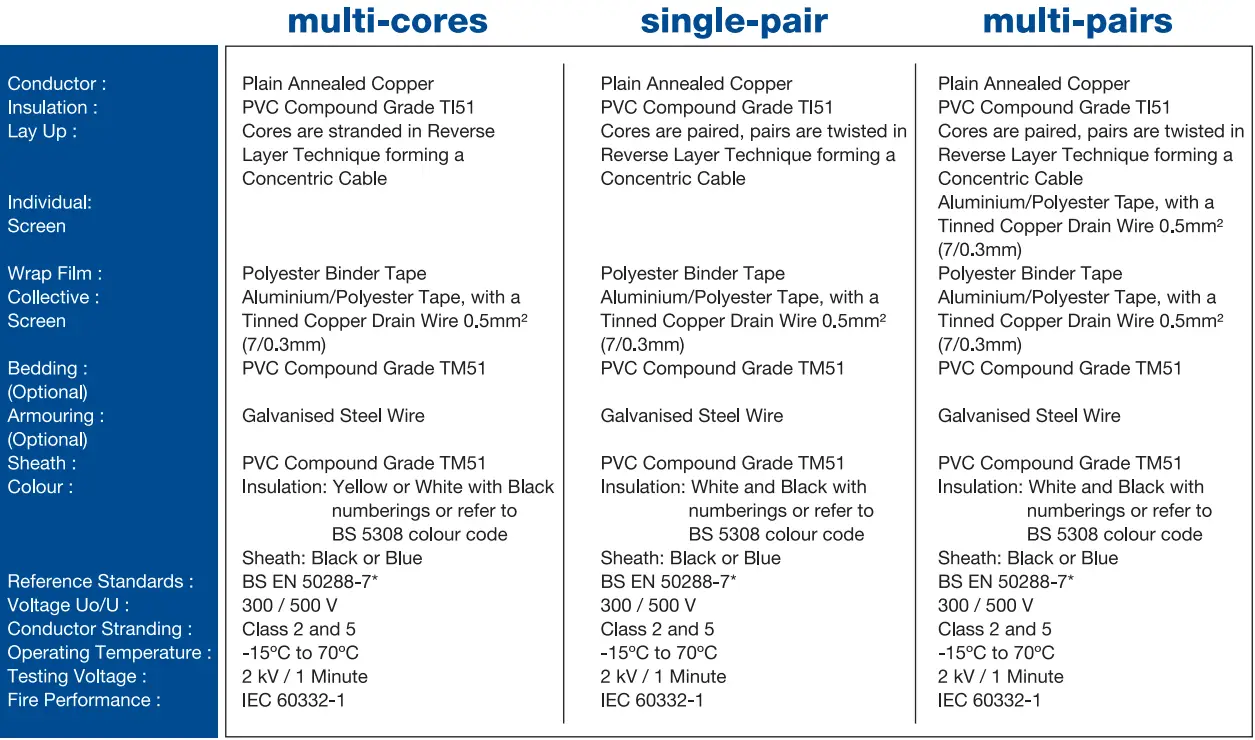 Image Courtesy: lkhpd
Control Cable
The control cables are generally a multi-condctor cables used for the control circuit applications like for example controlling of solenoid valves, compressors, etc.
These are generally used to send or receive ON or OFF signals like for example start/stop commands, open/close feedbacks, permissive or trip signals.
The nature of the type of the signal (on/off) do not require special precaution in terms of shielding and twisting of pairs, in fact the assembling of cores have a simple multi-core structure.
Power Cable
A power cable is used for transmission of electrical power.
They are typically composed up to five conductors for the following purposes:
3 cores for each phase (R, S, T)
1 core for neutral (N)
1 core for protection earth (PE)
Thermocouple Cable
The thermocouple cables are used for connecting the thermocouples and the field transmitters. These cables are made from the same alloys as like thermocouple. There are different thermocouples available with different material constructions, so similarly themocouple extension cables are also available in different material constructions. The thermocouple extension cables are costly as they use same material for construction.
The compensating cables are also available where they use similar materials which provides approximate emf output for the measured temperature range. These are cheap but less accurate when compared to extension cables.
Cable Construction Standards
IEC 502 600/1000 Volt for PVC & XLPE insulations
IEC 227 450/750 Volt for PVC insulation
BS 5308 300/500 Volt for PVC & HDPE insulations
BS 6346 & 5467 600/1000 Volt for PVC & XLPE insulations
Armor
The armor in the cable protects the cable from the physical damages, mechanical forces, and other vibration shocks.
The general type of armor are steel wire armored (SWA), steel wire braid (SWB), and steel tape armored (STA)
Typically, the construction of an aluminium or steel wire armored cable comprises six components:
Conductor: plain stranded copper or aluminium
Insulation: materials such as cross-linked polyethylene (XLPE) provide high temperature resistance and excellent dielectric strength-providing enhanced electrical properties.
Bedding: a layer to create a protective barrier between the insulation and the armour.
Armour: a steel or aluminium armour provides mechanical protection to allow the cable to withstand the mechanical stresses to which it is exposed.
Sheath: the constituent parts of the cable are held together by a sheath offering a further level of protection. Black sheaths can be carbon-loaded for UV stability.
Voltage: voltage ratings of 600/1000V, 6.35/11kV and 19/33kV.
The below image represents a Individual and Overall Shielded cable.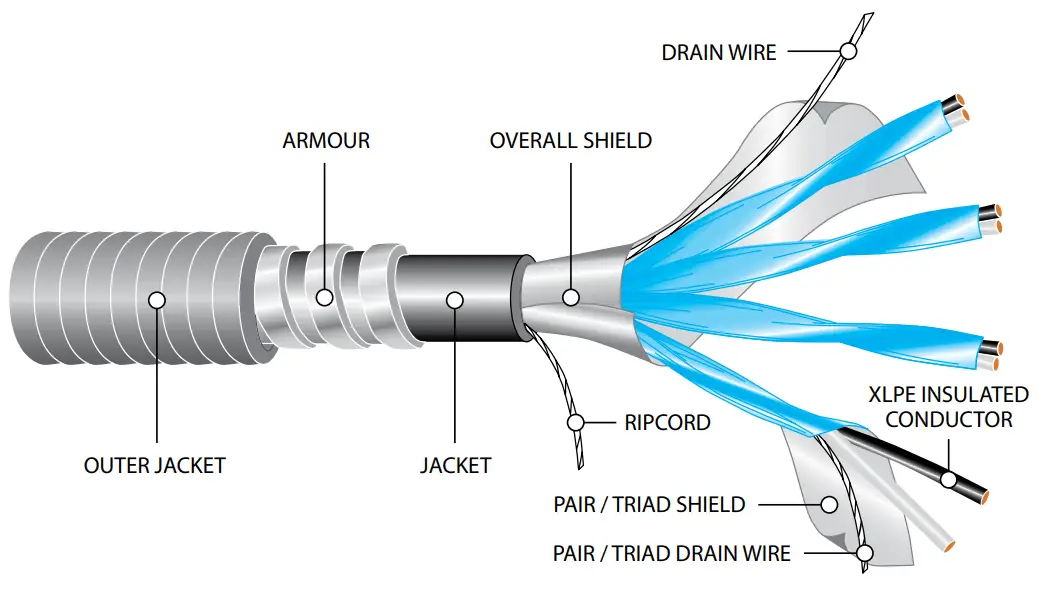 Image courtesy: Texcan
Conductors: Class B stranded bare copper per ASTM B-3 and B-8
Insulation: Premium Grade Polyvinyl Chloride (PVC) plus nylon. Color code: Black/White with alpha-numeric print on each pair. 1-ONE, 2-TWO.
Drain Wire: Tinned copper
Shielded Twisted Pair: 100% coverage aluminum/polyester foil shield with an individual drain wire shown in step 3
Binder: Mylar binder
Overall Shielded: 100% coverage aluminum/polyester foil shield with an individual drain wire as shown in step 8
Rip Cord: Rip cord under jacket for ease of removal
Overall Drain Wire: Tinned Copper
Inner Jacket: Black PVC
Armor: Armor-x continuous impervious weld corrugated aluminum armor
Jacket: Black sunlight and moisture resistant Polyvinyl Chloride (PVC)
Types of Jacket
PVC PolyVinylChloride
CPE Chlorinated PolyEthylene
LDPE Low Density PolyEthylene
TPE ThermoPlastic Elastomer
TPN ThermoPlastic Non-Halogen
HYPALON (CSPE) synthetic rubber
Types of Armoring
Interlock armor, galvanized steel or aluminum
Served Wire armor, galvanized steel wires
Read Next: