Flow Switch operating principle is based on a free floating magnetic piston which responds only to the motion of fluids within the line, not to static or system pressures.
In the presence of fluid flow, controlled movement of the piston actuates an external hermetically sealed reed switch. This switch can be used to actuate audible or visual alarms, as well as relays, or other controls.
The piston's movement by the fluid flow can be seen in the animation
Flow Switch Animation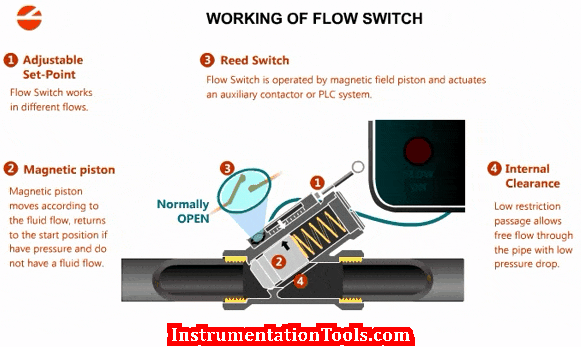 flow switches are used to determine if the flow rate is above or below a certain flow rate. This value (the set point) can be fixed or adjustable. When the set point is reached, the response can be the actuation of an electric circuit.
When the flow switch is actuated, it will stay in that condition until the flow rate moves back from the set point by some amount.
Articles You May Like :