Spring Loaded Variable Area Flowmeter Working Principle
The spring loaded variable area flowmeter (an extension of the variable area flowmeter) uses a spring as the balancing force. This makes the flowmeter independent of gravity, allowing it to be used in any plane, even upside-down.
However, in its fundamental configuration (as shown in Below Figure ), there is also a limitation: the range of movement is constrained by the linear range of the spring, and the limits of the spring deformation.
Also Read : Variable Area Flowmeter Principle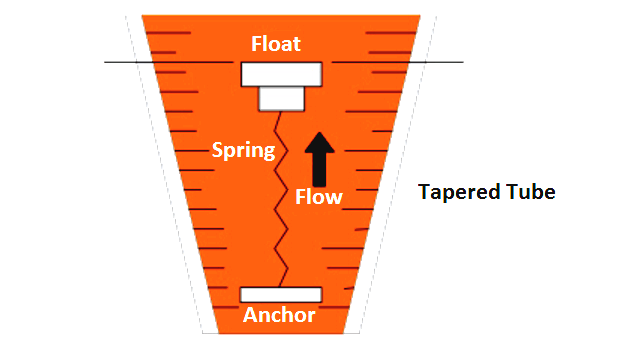 Image Courtesy : spiraxsarco
However, another important feature is also revealed: if the pass area (the area between the float and the tube) increases at an appropriate rate, then the differential pressure across the spring loaded variable area flowmeter can be directly proportional to flow. so Spring Loaded Variable Area Flowmeters can measure the rate of flow with either float movement (variable area) or with Change in Pressure (if a Differential pressure transmitter connected across it).
Advantages : 
• High turndown, up to 100:1.
• Good accuracy ±1% of reading for pipeline unit.
• Compact – a DN100 wafer unit requires only 60 mm between flanges.
• Suitable for many fluids.
Disadvantages
• Can be expensive
Source : spiraxsarco