Root Cause Analysis (RCA) related to the newly installed acid dozing pumps in a urea plant.
| | |
| --- | --- |
| Article Type: | Root Cause Analysis (RCA) |
| Category: | Mechanical |
| Equipment Type: | Miscellaneous Rotating Machine Problems |
| Author: | S. Raghava Chari |
Note: This root cause analysis (RCA) is from real-time scenarios that happened in industries during the tenure of two or three decades ago. These articles will help you to improve your troubleshooting skills and knowledge.
Acid Dozing Pumps
A 15 KW plunger pump dozing sulfuric acid to a Saudi Arabian urea plant's water treatment ion-exchange vessel stopped pumping after first week end.
The exasperated and desperate field crew left with no spare parts sought Author SOS assistance.
Author Solution
The author unfamiliar with the pump studied the instruction manual and sketched shown in below figure to show essentials.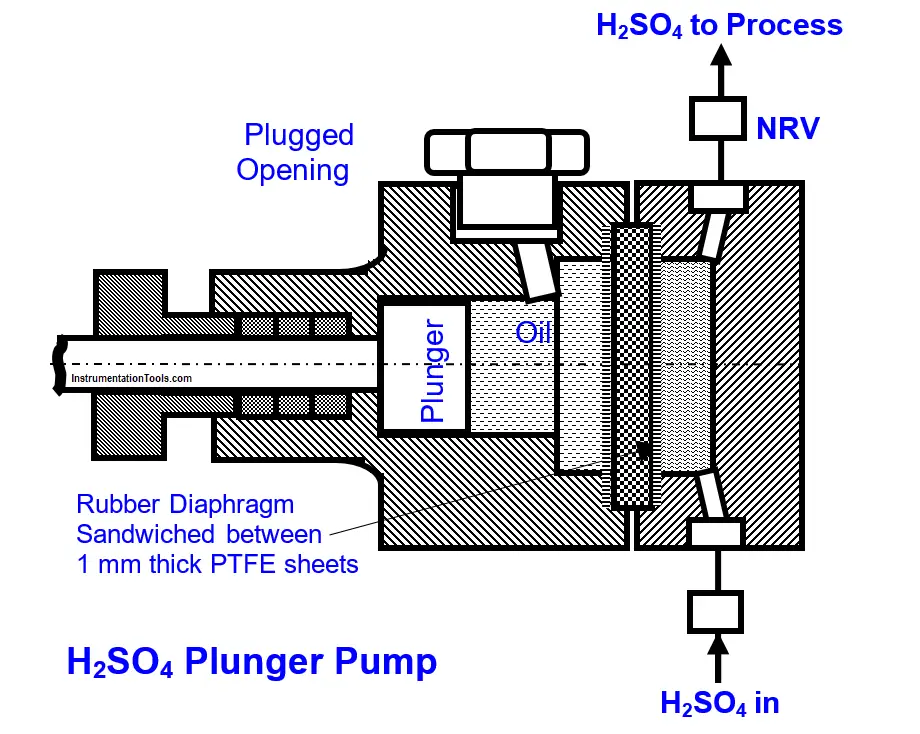 The basics are
A motor driving a crank mechanism reciprocates the oil plunger pump (OPP), creates negative oil pressure in the forward stroke, the rubber diaphragm convex left, draw the acid in the pump chamber.
Plunger return stroke pressures the oil and the acid flows to the process opening the discharge valve. The suction valve closes and prevent acid flow back to the storage tank.
Problem Identified and solution found
brittle, hard, inflexible and cracked diaphragm showed its incompatibility to either sulfuric acid and or oil.
As no spare diaphragm was available, the author got the pump assembled back substituting between two 1.5 mm thick Teflon sheet discs rubber diaphragm cut from 4.5 mm thick conveyor belt – the thinnest available.
Pump rush restoration Benefits
Below given are the benefits of the rush innovative pump restoration:
The assembled pump never failed and averted total ammonia and urea plant shut down
On the vendor provided flimsy diaphragm lost a week only
Both side Teflon sheet protected much stronger conveyor belt cut diaphragm is probably the reason
The acid delivery plunger pump became 'fit & forget'.
Author: S. Raghava Chari
Do you face any similar issues? Share with us through the below comments section.
If you liked this article, then please subscribe to our YouTube Channel for Instrumentation, Electrical, PLC, and SCADA video tutorials.
You can also follow us on Facebook and Twitter to receive daily updates.
Read Next:
The author shared the problems developed during commissioning and the author's 17 years' service in a South Indian Ammonia, Urea, and NPK complex fertilizers plant.