In automation industry, there are various communication protocols are used to connect field devices to controller.
Some of communication protocols are Ethernet, Profibus, Profihub, Modbus, DevicesNet.
Also Read: Industrial Automation Protocols
While connecting device through profibus / Profinet GSD/GSDML files comes into picture. Each device has its unique GSD file.
To setup a device in controller, it is important to know properties of a device.
When you integrate GSD files in controller, controller gets the device parameters and characteristics. It enables you to configure devices as per requirement.
GSD  is abbreviation of German term "Gerätestammdaten."  It is also known as General Station Description.
GSD files are kind of data sheets for particular device. They are written in ASCII text format. It contains internal data structure of device such as
1. Vendor Name GSDML number.
2. Model Name
3. Version Number
3. Baud Rate
4. DP features
5. IO related information
6. Diagnostics Data
GSD File Extensions
GSD files are generally published by manufacture on their Official website. You can find them on internet or in form of CD's along with your field device.
When you search on internet for specific GSD file you may come across various extensions of file. (gs*). The GSD files have language specific instructions.
The last letter specifies the language in which file is written.
GSD – Default format
GSE -English
GSS – Spanish
GSP – Portuguese
GSF – French
GSI – Italian
When device is connected on ProfiNet, GSDML files are used.
GSDML files are nothing but GSD files written in XML format (.XML extension).
How to Import GSD files into TIA portal?
1.  Open TIA portal
2. Go to Options
3. Go to Manage general service description files (GSD)
4. Click on Installed GSDs
5. Give the Source Path of GSD file
6. Select file
7. Click on Install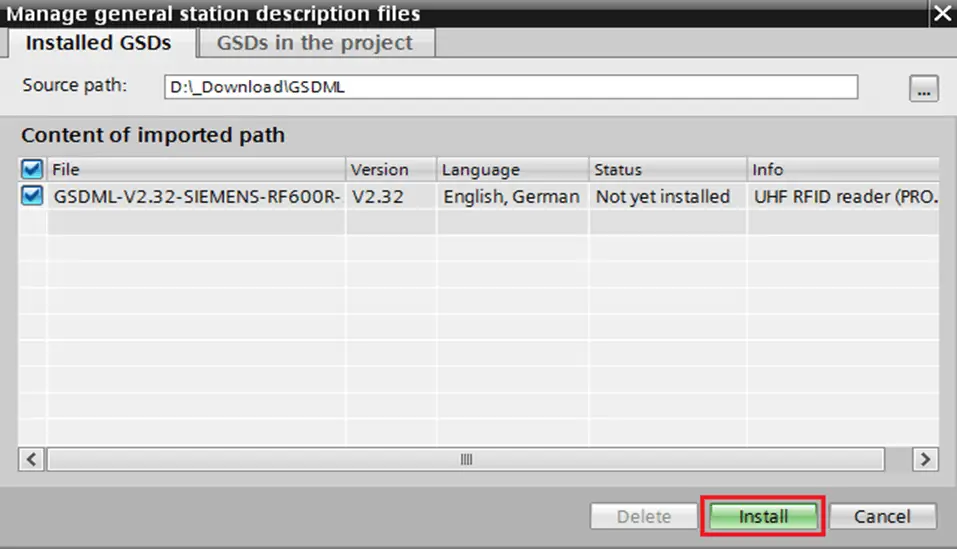 Naming Structure of GSD files
Consider a GSD file with name "abcd1010.gsd"
Here, abcd is Vendor Name
1010 is Unique hexadecimal number (Always 4 digits)
This number is provided by PI (PROFIBUS & PROFINET International) on registering device.
.gsd is language version. (D by default)
Remember to select latest version of GSD files for your device!!
Author: Priyanka R. Lunge
If you liked this article, then please subscribe to our YouTube Channel for PLC and SCADA video tutorials.
You can also follow us on Facebook and Twitter to receive daily updates.
Read Next: