In this system a variable-frequency drive (VFD) sends AC electrical power to an induction motor to control the speed of that motor.
The VFD receives its "command" signal in the form of a 4-20 mA DC current sent from a programmable logic controller (PLC) with an analog output card, 4 mA representing a "zero-speed" signal (no power sent to the motor) and 20 mA representing a "full speed" signal (60 Hz power sent to the motor):
Problem on PLC HMI VFD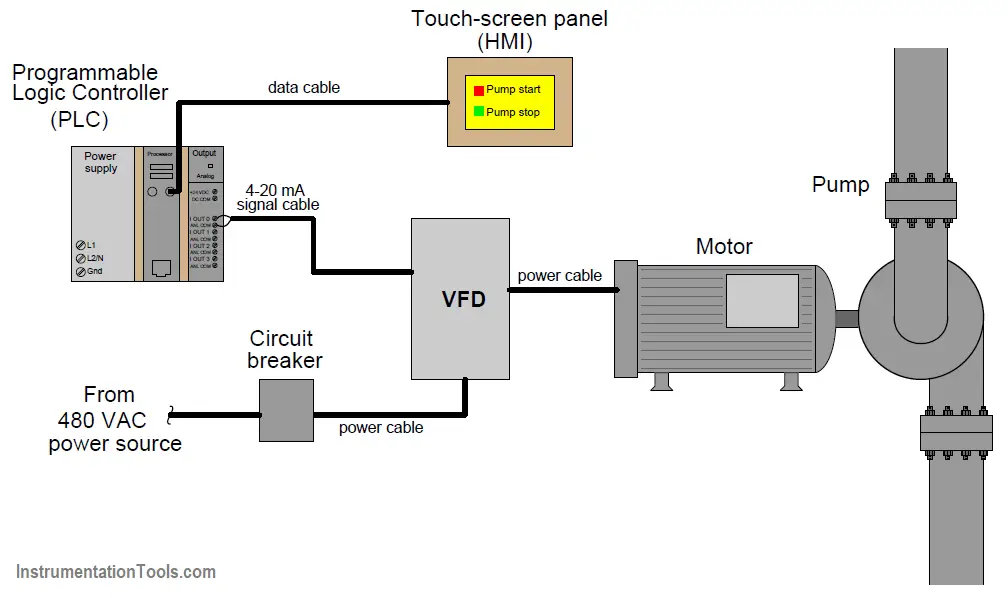 Unfortunately, though, there is something wrong with this system. The pump does not run, regardless of what the operator commands using the touch-screen panel. When you examine the VFD faceplate, you see a few LED indicators lit, but nothing either confirming or denying that power is reaching the motor.
Supposing the only test equipment available to you is a digital multimeter (DMM), what diagnostic tests could you perform to identify the location and nature of the system fault?
Share Your ideas on solving the problem with us through comments.
Scroll down to read the ideas shared by the users.
If you liked this article, then please subscribe to our YouTube Channel for PLC and SCADA video tutorials.
You can also follow us on Facebook and Twitter to receive daily updates.
Read Next:
Credits: Tony R. Kuphaldt