CEMS (Continuous Emissions Monitoring System) is required in power plants, cement plants, fertilizers, steel plants, etc., to monitor air pollution. CEMS measuring methods can be classified into two categories.
The data of Sox & Nox can be continuously sent to the pollution control board through a wireless network for monitoring purposes and optionally from the pollution board can do zero and span gas calibration through remote mode.
Extraction type
In-situ type
In this article, we discuss extraction type.
In analyzer panel, SS tubing material is used to avoid corrosion because of gas.
Sox Nox Analyzer
Sox Nox analyzer unit consists of suction pump, electric heater, No2 converter, rotameter, calibration gas cylinders, auto drain valve, SMPS, moisture detector, PLC unit, HMI.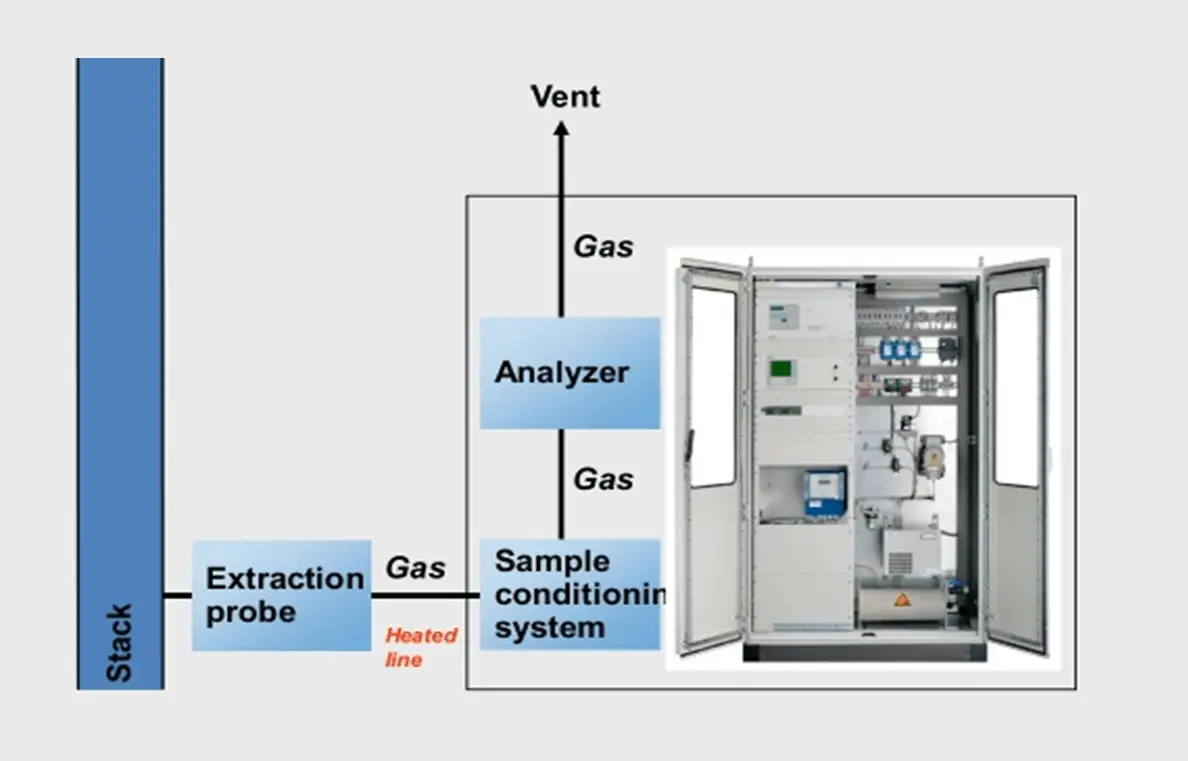 Suction Pump
A suction pump is used to grab the sample from the chimney and sends it to the Sox Nox analyzer unit. It is provided with a 230 VAC power supply.
Electric Heater
In order to prevent the sample from moisture content, electric heat tracing is given on the upper side of the sample line.
SMPS
SMPS stands for Switch Mode Power Supply.
It is used to convert 230 V C to 24 VDC for PLC power source.
Moisture Detector
It is used to detect the moisture present in the sample line. If moisture detects the suction pump will be turned off.
An indicator is used to adjust the sensitivity of the moisture detector.
Two wire moisture transmitter can also be used instead of a detector.
Rotameter
Rotameter is used to control the flow of samples entering into the analyzer unit.
PLC
Digital inputs and outputs can be used to control analyzer functions and external components.
PLC is used to monitor heater temperature relay, moisture detector, and suction pump on/off.
No2 Converter
In the chimney, the sample contains "No content" which is difficult to measure so it is converted to No2.
Front Panel
It consists of an LCD display and a membrane keyboard. It is used to view the current data of sox and Nox values and able to edit calibration reference gas data.
We need to enter the span gas concentration in to the analyzer for calibration purpose.
Calibration Gas Cylinder
Zero and span gas cylinders installed and connected to the analyzer.
Span gas reference will vary for sox and NOx analyzers.
A total of 3 solenoid valves are used to control the flow of zero and span gases. These will be energized when the command is given from the local panel or through remote if provided.
Zero Gas
Sox Span Gas
Nox Span Gas
The Value of the Span Gas Cylinder should be around/more-than 80% of the measuring Range of the Analyzer.
The pressure regulator is installed on the zero and span gas cylinders to control the flow of calibration gas.
Sample Cooler
Sample cooler is used to cool down the sample temperature at required value.
Auto Drain Valve
Auto drain valve is used to drain the condensed liquid from the sample cell to a safe area.
Filter
Filter is used to collect dust particles in the sample line.
Analyzer Working Principle
The IR or UV sources will be used in the analyzer. It passes the IR or UV rays through a sample cell.
A Pyroelectric detector is used to measure the concentration of these IR or UV rays and the output of the detector is equivalent to the measured Sox or Nox.
Other than non-dispersive UV or IR, So2 can also be measured by UV fluorescence, Enhanced Laser, Fourier Transform Infra-red, gas chromatography, mass spectrometry.
Manual and automatic calibration can be performed in the sox-Nox analyzer.
Author: Siva chidambaram
Read Next: