What are the things to be checked carefully during pre-commissioning or commissioning activities for instrument engineer?
Pre-commissioning or Commissioning Activities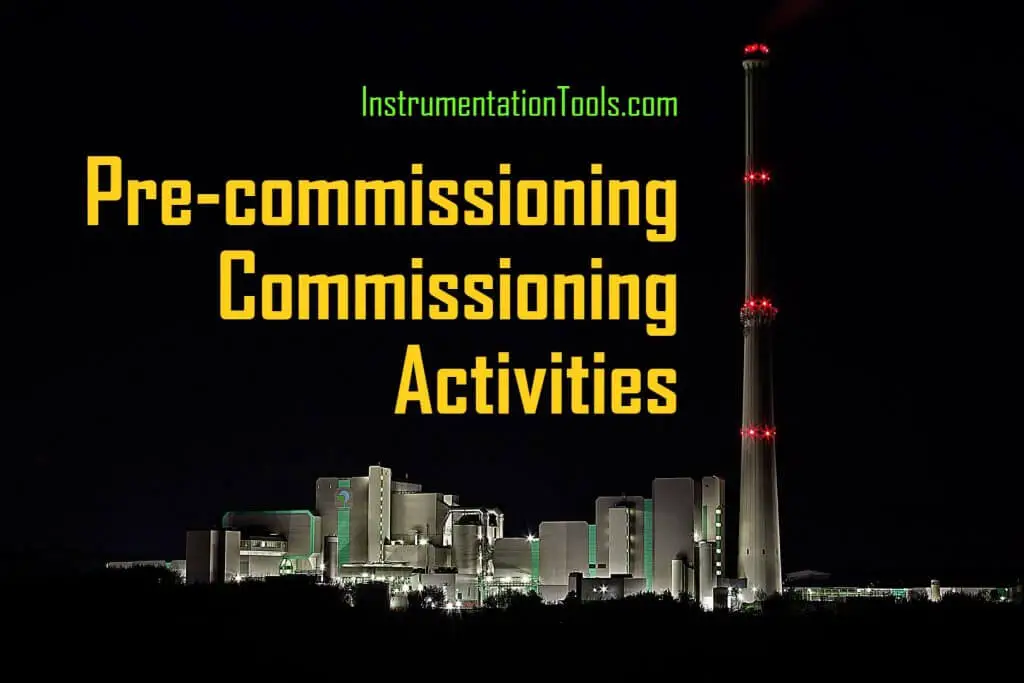 Before a plant or facility is handed over for normal operation, it should be inspected, checked, cleaned, flushed, verified and tested. This process is called commissioning and involves both the contractor and operator of a facility.
The transition from construction to operation is the commissioning and startup. Processing plant commissioning embraces activities such as cleaning, flushing, verifications, leak tests, performance evaluation and functional tests essential for bringing a newly installed plant or facility into routine operation.
Also Read: DCS Commissioning
Correct commissioning is vital to the satisfactory operation of any plant or facility. A schedule must be established with benchmarks and monitoring activities in order to keep track of progress.
Health, Safety, and Environmental (HSE) Management plan:
HSE Plan should be developed for the project. In addition, other plans and procedures to cover the inherent risks associated with pre-commissioning, commissioning, and other activities as well as risks associated with the performance of these activities while others are working in adjacent areas of the facility.
Instrumentation Commissioning takes place when Mechanical completion is completed for a system or part of a system.
Commissioning can be divided into three main activities:
Commissioning preparation
Commissioning execution
Commissioning documentation and handover to operation
Commissioning Preparation
commissioning preparation required to maintain two types of records
1. Commissioning Preparation Check Record
Valves and equipment flow direction correct.
Orifice plates installed check plate tab and its description.
All instruments hooked up.
Also Read: Commissioning Documents
2. Instrument Installation and Inspection Installation check
Check the instrument against the datasheet.
Check CE marking.
Check calibration certificates.
Installation check.
Leakage test.
Flushing carried out.
Few example checklists:
Commissioning Execution
Calibration and testing of instruments prior to installation.
Visual inspection for complete and correct installation.
Insulation and continuity testing of cables.
Cleaning, flushing, pressure and leak testing of pneumatic and hydraulic tubing.
Adjustment of control, alarm and shutdown settings.
Loop testing.
Function testing of control systems.
Function testing of field instruments.
Punch point list for field instruments
Area completion.
Commissioning Documentation Preparation & Handover
Following are the documentation is prepared before the startup or at the end of commissioning and to be handed over once the commissioning process has been completed.
Engineering Documentation
Cable Diagrams/Schedules
Instrument Indexes
System & Marshalling cabinet cable schedules and Junction Box cable Schedules
Vendor Lists
Vendor Manuals including all vendor documents/drawings, Contractor Commissioning and Start-Up plans (CSU) and Operating Manuals
Commissioning Spares Lists
Valve Lists
Cause and Effects Charts
Trip Register/Schedule
System P&IDs
Punch points list.
Also Read: Fire Alarm System Commissioning
Final Documents for Commissioning
After the successful completion of all pre-commissioning activities, the following list of final documents should be available readily for the commissioning activities.
System P&ID's
Decontamination procedure & isolation register
System cleaning procedures
Hazard Study and actions
Equipment Check Sheets, off and on-site checks
System Punch lists
Action upon Alarm Sheet
Handover Certificate Construction/Maintenance to Commissioning
Project documentation check sheet prior to the introduction of safe chemicals
Safe Chemical Commissioning authorization and Pre-commissioning Procedures
Leak Test Checklist and Procedures
Instrument Check Sheet
Motor Check Sheet
Interlock Check procedures
Emergency Shut Down System check procedures
DCS sequence test procedures
Relief Stream Check Sheets
Critical Insulation Checks
Critical Gasket Installation Checks
Lubrication Check Sheet
PSSR, Plant Check-out prior to the introduction of Hazardous Chemicals
Documentation Requirements for Ongoing Maintenance Group
Authority to Introduce Process Chemicals, check sheet & Certificate
Commissioning Procedures
Standard Operating Procedures
Commissioning to Plant Handover Certificate
Did we miss any checklist? Share with us through comments.
Read Next: